The hit Atari coin-op finally comes home in this exciting and challenging 3-D game for your Atari 5200 System. You control the 'Blaster', patrolling the rim of an electric 'tube' playfield, in a constant battle with the myriad enemies that are making their way up the tube's rails.
Your enemies are fast, varied and devious. Each class of enemy has its own special attack. All you have are your wits, your Blaster and your
devastating, but limited, SUPER ZAPPER. Destroy every enemy and you will warp through the liberated tube, on to an even more challenging one.
Tempest was Atari's first color vector arcade game, released to arcades in 1980. Known for its frantic, addictive gameplay, Tempest was one of Atari's most successful vector arcade games. Versions of Tempest were being developed for Atari's 2600 and 5200 game consoles, but they were never completed or released commercially. A box for the 5200 version of Tempest is actually visible in the movie Cloak & Dagger.
For 15 years, the existence of an Atari 5200 version of Tempest was thought to be only myth. No prototypes had ever surfaced. A crude 2600 version had come to light, along with a prototype box. Then, in 1999, an unfinished working 5200 prototype came to light on eBay. The game was eventually dumped and the binary freely distributed around the Internet. Another decade has gone by since the game's discovery, and the original Atari 5200 Tempest programmer, Keithen Hayenga, has been working to complete Tempest so it can finally see the light of day in completed form!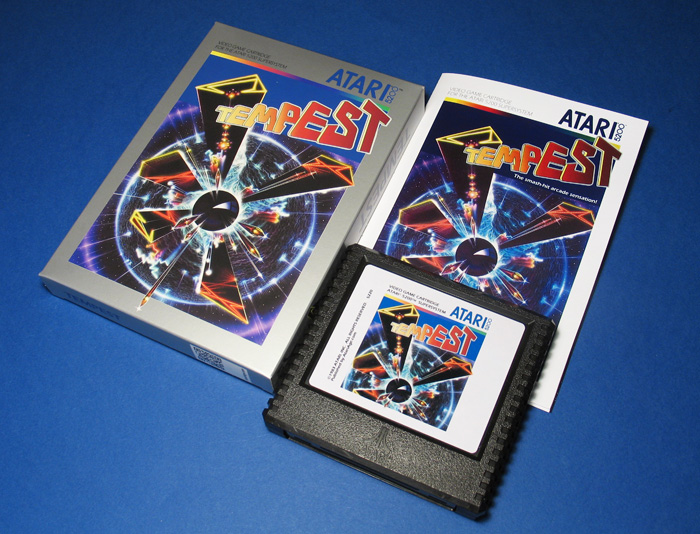 We'll have a playable demo of Tempest at our booth, and you'll have an opportunity to speak with ex-Atari employee Keithen Hayenga. AtariAge will begin selling Tempest at some point after CGE, complete with a professionally printed box, manual and label.
You can read about the "unfinished" 5200 prototype on AtariProtos.com.