Hi,
As I said in this
post
, I'd like to add a passed bridge counter to River Raid (i.e. a kinf of level counter).
I plan to put it on the bottom right of the screen (opposite place to the lives counter):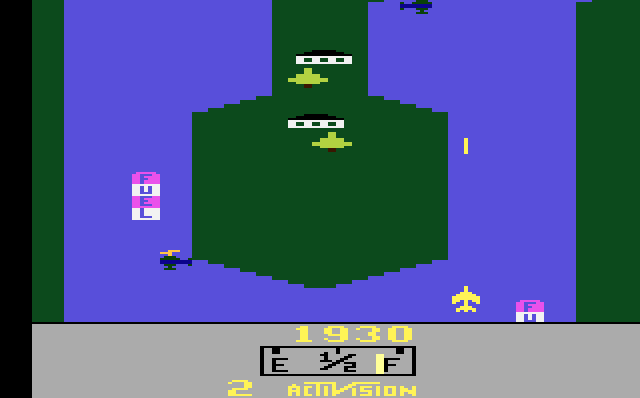 I don't have any real experience in asm programming (even if I did some little thing at school), but I know really well C/C++ and some other languages.
I first obtained the River Raid asm file from Thomas Jentzsch which is well commented (thank you !).
Then I began read some docs:
Randy Hyde's 1981 book "Using 6502 Assembly Language" (for apple II): this is a great book !!!
Stella programmer's guide (mostly talk about the TIA and the PIA)
and of course the River Raid source code commented by T.J.
I know that I have to read "2600 Programming For Newbies"...!
Work in progress !
I first tried to understand the code and add some dummy code, modify sprites, etc.
Then I compiled the source of River Raid with just one more line of code (a dummy LDA for example), the bin file becomes 4352 bytes long:
ls -l
-rw-rw-r-- 1 NicoLarve NicoLarve   4352 fév 13 15:05 RiverRaid-mod.bin
But I only added 3 bytes of code...
Moreover, the ROM doesn't work anymore (testing with Linux/Stella) !
As far as I know, River Raid was really optimized to fit in the 4kB cartridge (thanks to Miss Shaw !).
So, what happens if I exceed 4kB of code ? Is there any problem with DASM ?
So my main question would be:
"Can I expect to compile River Raid to a bigger file (8kB ?), and how ?"
PS: For the moment, I use a DOS version of DASM (DASM V2.20.07) run with wine under Linux (of course, it works very well when to compile the original source code of River Raid)
Edited by NicoLarve, Wed Feb 13, 2008 11:01 AM.