Important Note
: This weeks competition is over and no further scores will be accepted.
Step right up and prove your skill at hitting targets in this challenging carnival shooting gallery. Take aim to build up your score with careful choice of targets, but watch out for the bullet-eating ducks!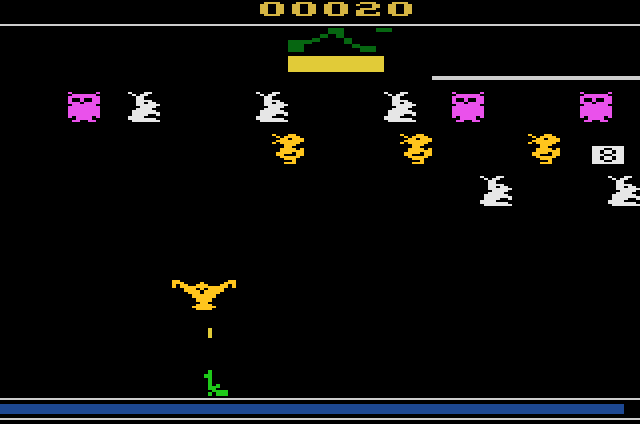 Game Information
Game Name: Carnival
Released By: Coleco, 1982
Left Difficulty: No Effect
Right Difficulty: No Effect
Game Mode: Game 1
Chosen By: [d2f]Iggy*SJB
Post your scores right here in this thread, and I will add them to the list. Remember to play the game with the recommended game mode and difficulty settings as shown above so that your scores will be consistent with everyone elses. The deadline for posting scores is Wednesday, Feb 20th at 1:00 AM (CST).
Current High Scores

100,000 (Captain Beard) [+11]
100,000 (Kurt_Woloch) [+11]
100,000 (keilbaca) [+11]
100,000 (aftermac) [+11]
100,000 (toymailman) [+11]
100,000 (Gemini) [+11]
100,000 (Nathan Strum) [+11]
100,000 (Bentley Bear!) [+11]
100,000 (Deteacher) [+11]
92,040 (Impaler_26) [+10]
56,630 (Mister VCS) [+9]
25,200 (theking21083) [+8]

Best Tips

Challenges

TwinGalaxies Top 3

Game 1, Difficulty B)

1,084,030 (Chase A Hermsen)
510,380 (Todd Rogers)
271,320 (Stephen Knox)

Current Standings
Scoring Points in Carnival
Pipe - 200 points
Bottom Row - 20 points (Add 10 points per level up to 50 points)
Middle Row - 40 points (Add 10 points per level up to 70 points)
Top Row - 60 points (Add 10 points per level up to 90 points)
Swooping Duck - 0 points (but they'll eat 10 of your bullets!)
Extra Bullet - 8 more bullets
Score extra points or bullets by hitting the plus-minus target when the plus sign shows. But look out! If the minus-sign is showing when the target is hit, the points or bullets are subtracted from your score or bullet supply.
Hit two pipes of the same color with two consecutive shots for a score of 200 points for the first pipe and 800 points for the second.
After you clear the gallery, 50 points are added to your score for each bullet remaining at the bottom of the screen. The maximum number of bullets you can have in the Bullet Supply is 40.
Hints and Tips
The Manual
As always, you really should read the manual. In case you don't have the manual, AtariAge has a typed copy available online for your viewing pleasure. Here are the tips the manual provides:

Make sure you use up at least eight bullets before hitting the Extra-Bullet target. Your bullet supply can never show more than 40 bullets.
Knock out the pipes early in the game, while avoiding the moving targets. If the pipes remain in view while you are hitting moving targets, ducks, ducks and more ducks start coming out!
Captain Beard
Here's how you too can roll this game with ease: Pipes, pipes, pipes. Get the pipes. Do nothing else until you've shot all the pipes, with the exception of moving (if you have to) to take out a low-flying duck. This game is all about SPEED. Nail those pipes fast and then worry about everything else. I think it's easier to nail'em on the downswing (to the right of the platform) but if you think the timing's easier on the other side, by all means, shoot'em on the upswing. Just shoot'em. Quickly. Oh, and it's a complete waste of time to go for the pipe color bonus. You'll get it anyway just by hitting the pipes quickly in succession, so don't waste time trying to time it.

Tip: Stay out from under the bonus platform. You never know when a negative "award" will show up and a missed shot could end up costing you a bunch of bullets. There's almost no reason to bother with the bonuses, unless you're really low on ammo and have no choice.
Gemini
I also have a single tip to clarify a part of the manual: It doesn't matter how long it takes to take out the pipes, just make sure you hit as few targets as possible before you do. The more targets you hit before you clear the pipes, the more targets you will have to deal with before the level finally ends. If you hit nearly every target before finally getting rid of the pipes, you're chances for beating the level will plummet.
--Zero