Important Note: This competition has ended and no further scores will be accepted.
Note

- It's time for something a little different... For the month of April, all the High Score Clubs for all the Atari systems (plus the NES) will be staging a little Ms. Pac-Man competition! Here's your chance to show those 5200 and Lynx folks which Atari is the REAL Atari! This will not interfere with the regular game rotation, but it also won't count towards your cumulative score. You're also free to submit scores to any of the other system's Ms. Pac-Man competitions if you wish: Atari 8-bit, 5200, 7800, Lynx, Jaguar, NES (Coming Soon).
Lookout Pac-Man lovers, Atari is proud to bring you the "femme fatale" of computer video game world -- MS. PAC-MAN!
That's right, she's here in all her shining glory. MS. PAC-MAN is sure to steal your heart with her grace and charm. And she's all dolled up with a ribbon in her hair. Just like the arcade MS. PAC-MAN, this ATARI home version has multiple mazes, floating fruit, pretzels, an end-of-game cartoon, and four fearless ghosts -- Inky, Blinky, Pinky, and Sue.
Get ready to feast your eyes on the original video beauty queen. She's ready to bring you many delightful hours of fun and excitement. So, sit back, relax and have a good time playing MS. PAC-MAN.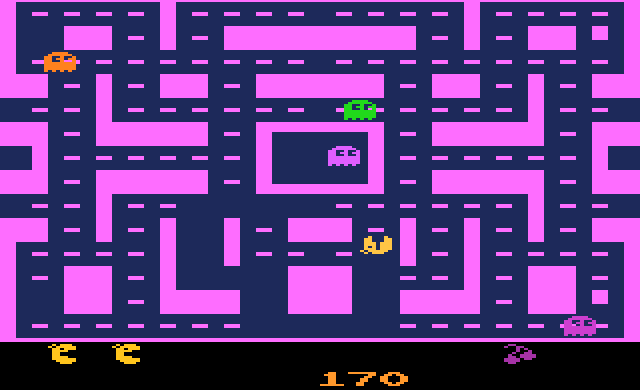 Game Information
Game Name: Ms. Pac-Man
Released By: Atari, 1987
Left Difficulty: N/A
Right Difficulty: N/A
Game Mode: Cherries
Post your scores right here in this thread, and I will add them to the list. Remember to play the game with the recommended game mode and difficulty settings as shown above so that your scores will be consistent with everyone elses. The deadline for posting scores is [b]Wednesday, April 30th, 11:59 PM (CST).
Current High Scores

121,810 (NE146)
120,650 (jimdandy75)
112,170 (Deteacher)
98,820 (SpiceWare)
95,290 (toymailman)
91,860 (Shannon)
89,740 (StanJr)
69,070 (godzillajoe)
60,810 (ed1475)
59,410 (phaxda)
57,130 (Kurt_Woloch)
49,300 (darthkur)
42,720 (Wickeycolumbus)
40,580 (Impaler_26)
21,880 (doctorclu)
4390 (Dan Iacovelli)




Best Tips

TwinGalaxies Top 3

Game 1, Difficulty B)

183,420 (Marc Cohen)
173,410 (Robert T Mruczek)
146,380 (Natalie Purawec)

Scoring Points in Ms. Pac-Man

Dot - 10 points
Energy Pill - 50 points
First Ghost - 200 points
Second Ghost - 400 points
Third Ghost - 800 points
Fourth Ghost - 1600 points
Cherry - 100 points
Strawberry - 100 points
Orange - 500 points
Pretzel - 700 points
Apple - 1000 points
Pear - 2000 points
Banana - 5000 points
Hints and Tips
The Manual
As always, you really should read the manual. In case you don't have the manual, AtariAge has a typed copy and a scanned copy available online for your viewing pleasure . Here are the hints it provides:

Practice clearing the maze of dots before trying to gobble up the ghosts.
Stay close to an energy pill before eating it, and tease the ghosts into moving toward you. When the ghosts get close, eat the energy pill and gobble up as many ghosts as you can.
Use the openings in the maze as escape tunnels. Move to either side to quickly evade the ghosts. Don't forget, different mazes have different tunnels.
We also played this game in the High Score Club before, you might want to check out that thread for more hints and tips
--Zero