Important Note
: This week's competition is over and no further scores will be accepted.
Once upon a time, Bentley Bear was rambling through the woods, daydreaming about poached salmon. He stopped to take a nap in his favorite hollow tree trunk. But when he awoke, he found himself inside a huge castle glittering with diamonds, emeralds, and pearls.
Though Bentley didn't know it at the time, he was trapped in Crystal Castles, home of Berthilda the Witch and her evil cronies. To escape their spell, he must harvest the gems in the castles before Berthilda and her malicious gang send him into permanent hibernation!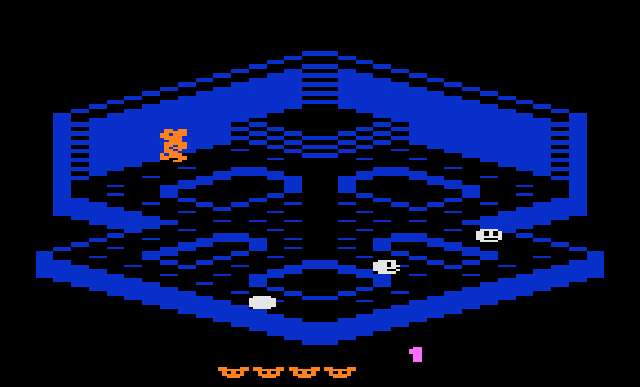 Game Information
Game Name: Crystal Castles
Released By: Atari, 1987
Left Difficulty: B / Novice - Easy Game
Right Difficulty: N/A
Game Mode: Default - Start at Level 1
Chosen By: Mister VCS
Post your scores right here in this thread, and I will add them to the list. Remember to play the game with the recommended game mode and difficulty settings as shown above so that your scores will be consistent with everyone elses. The deadline for posting scores is Wednesday April 30th at 1:00 AM (CST).
Current High Scores

228,783 (RJ) [+11]
215,910 (StanJr) [+10]
215,858 (godzillajoe) [+9]
153,068 (Deteacher) [+8]
136,325 (Mister VCS) [+7]
125,766 (Impaler_26) [+6]
125,081 (Vectorman0) [+5]
117,422 (toymailman) [+4]
114,961 (phaxda) [+3]
111,319 (SpiceWare) [+2]
107,914 (keilbaca) [+1]
78,899 (aftermac) [+1]
70,626 (jimdandy75) [+1]
62,168 (Gemini) [+1]
50,507 (Kurt_Woloch) [+1]
48,601 (Shannon) [+1]
30,317 (theking21083) [+1]
29,999 (Elerach) [+1]
21,746 (LarcenTyler) [+1]
18,802 (opeygon) [+1]

Best Tips

Challenges

Best Level 1 Score - Top score gets 2 bonus points.

2711 (Vectorman0, aftermac, Impaler_26, Deteacher) [+2]

TwinGalaxies Top 3

Game 1, Difficulty B)

860,088 (Todd Rogers)
362,286 (Brian Gilman)
135,739 (Stephen R Riesenberger)

Current Standings
Scoring Points in Crystal Castles
Harvest a Gem - 1 point for the first gem, 2 points for the second gem,
and so on up to 99 points per gem.
Harvest the Last Gem in the Castle - 1000 points for the first castle, increasing 100 points in every castle thereafter.
Don the Magic Hat - 500 points
Eat the Honey - 1000 points
Crush a Gem Eater - 500 points
Smash Berthilda the Witch - 3000 points
At every 20,000 points, Bentley wins an extra life.
Hints and Tips
The Manual
As always, you really should read the manual. In case you don't have the manual, AtariAge has a typed copy available online for your viewing pleasure. Here are the hints it provides:

If Bentley harvests the last gem in the castles, he wins extra points.
Elevators make perfect escape routes. However, they only operate one at a time.
Bentley is invincible while he's jumping.
Bentley can temporarily stun Nasty Trees and Gem Eaters by jumping over them. But this maneuver won't work if he's wearing the magic hat, or while the Gem Eaters are swallowing gems.
When floating scores appear on the scene, creatures can't move through them; nor can the creatures move through each other.
aftermac
Eliminate enemies. On levels with the witch, the first thing I do is grab the hat and kill the witch. Quick 3,000 points. Then I go after the honey pot to keep the bees away for a while. Next, I go after the gem eaters. Try to run over them as soon as they start eating a gem. If you wait too long you will die when you touch them. Killing as many enemies as possible makes it easier to trap the remaining enemies behind walls when you are, for example, waiting for an elevator.
RJ
I guess my best tip would be to learn the elevator patterns on those screens w/ multiple elevators. That & timing when you ride can save your hide!
Also if theres a creature waiting for you to get off an elevator, jump (over it) just as you get off.
Trees & crystal balls (the white faces) ALWAYS make a beeline for you. Use this to control their movements & trap them where they cant get you.
ALWAYS kill the witch, it's an easy 3000 pts & most of the time she's not even dangerous. She'll never chase you, just hangs around waiting for you to get her.
In early levels, leave some gems near gem eaters to eat, them smash em. W/ smart playing, you can often kill all gem eaters. In higher lvls the gem eaters are a bit too fast to safely use this strategy.
Deteacher
1. If you are on a top level, waiting for an elevator, but there's an enemy waiting to kill you at the bottom, hold the joystick down and jump right before you get off the elevator. You'll jump straight up, but once the elevator stops, your jump will continue in the direction you're holding the joystick. I found this tip out in a move of desperation.

2. Here's how to get that last gem in the tower that's being guarded by the ghost. First, clear the board of all gems except for the two towers. Make sure you leave the hat...you'll need it. Once you've done that, go to the right tower and get that gem (nobody is guarding that one.) Now, hop on the elevator and ride down. Once you reach the bottom, make a dash for the hat and get on the left elevator (if you time it right, you should end up on it right as it appears.) Ride it up and get the gem while you're still invincible. This one might take a little practice to get the timing right, but it can be done.

3. I try to start off each level by getting the honey first. This seems to hold off the bees for a while. Then I go after gem eaters. I'll save the witch for last, since she isn't really much of a threat and she doesn't eat gems.

One final note...while the screen can only show 6 lives in reserve, the game keeps track of extra lives beyond 6. I had 8 lives in reserve at one point, but only saw 6 bears. Just FYI.
Shannon
Stay away from the trees, jump over them to make 'em shrink up and avoid them.

Take the time to eat the Gem Eaters and get them as quick as you can before they eat everything up, they are worth alot of points. One thing I noticed about the Gem Eaters, once they get on a trail of Gems they will eat 2-4 before getting lost again, so grab 'em when the do!

Grab the honey quickly, it slows the bee's down (I think) and is worth points.

Always snag the witch with the hat, although there is no big hurry since she is mostly harmless.

A good way to get gems is to step on one and then hit a diagonal direction. You will usually (not always) be lined up pretty well to snag a line of gems.
--Zero