Important Note: This week's competition is over and no further scores will be accepted.
How on earth did you fall into this bizarre world? Look around you -- the sky is filled with knights astride enormous armored buzzards. These characters look mean, and the buzzards they ride don't look very friendly either.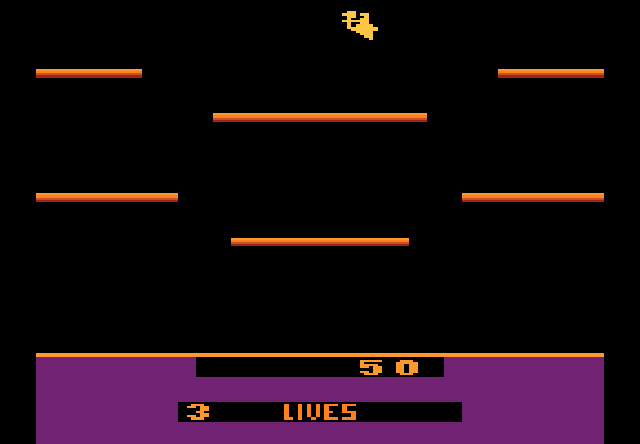 Game Information
Game Name: Joust
Released By: Atari, 1982
Left Difficulty: N/A
Right Difficulty: N/A
Game Mode: Skilled (no teddy bear)
Chosen By: Mister VCS
Post your scores right here in this thread, and I will add them to the list. Remember to play the game with the recommended game mode and difficulty settings as shown above so that your scores will be consistent with everyone elses. The deadline for posting scores is Wednesday March 4th at 1:00 AM (CST).
Current High Scores

223,800 (Mister VCS)

[+11]

193,700 (mcge0053)

[+10]

133,300 (aftermac)

[+9]

124,550 (toymailman)

[+8]

119,000 (Deteacher)

[+7]

118,750 (Impaler_26)

[+6]

111,000 (Kurt_Woloch)

[+5]

109,000 (doctorclu)

[+4]

102,250 (darthkur)

[+3]

54,600 (joeypsp)

[+2]

53,600 (LarcenTyler)

[+1]

42,100 (IHATETHEBEARS)

[+1]

36,800 (theKLT)

[+1]

Best Tips

Challenges

TwinGalaxies Top 3

Current Standings
Scoring Points in Joust
Unseat a Bounder - 500 points
Unseat a Hunter - 750 points
Unseat a Shadow Lord - 1500 points
Collecting Eggs - 250, 500, 750, and 1000 points for ever egg after the third
Lose a life - 50 points
Survive a Survival Wave - 3000 points
Destroying a Pterodactyl - 1000 points
Hints and Tips
The Manual
As always, you really should read the manual. AtariAge has a typed copy available online. Here are the hints it provides:

Play the EASY version first to learn how to control your bird. Try keeping your flight steady and even, rather than bouncing off ledges.
Learn the flight patterns of the Buzzard Riders. Try to predict when an area should be avoided, or where to expect the next Rider.
Clear the screen of opponents as soon as you can. If too much time passes, the pterodactyl will appear.
Collect eggs quickly. If you wait too long, they'll hatch into new Buzzard Riders.
Stay away from the sides of the jousting arena since a Buzzard Rider or pterodactyl could appear unexpectedly.
--Zero