Important Note: This weeks competition is over and no further scores will be accepted.
Aliens from the planet of Krytol have begun an attack on the planet Zardon. The Krytolians are warriors out to destroy and seize the planet of Zardon. Zardon is the last of the peaceful planets. The Zardonians are skillful and hardworking people. Their cities are built-up and rich in resources. It is truly a planet void of crime and violence.
Zardon has built a powerful defense system. Several antiballistic missile bases have been established within the cities of Zardon. The Zardonians are ready for this attack, and are prepared to fight to save their cities.
As base commander it is your responsibility to protect and defend six cities on the planet of Zardon. The Krytolians have begun firing interplanetary ballistic missiles. They are aiming at your cities and missile bases. Your only defense is to fire back with antiballistic missiles. But watch out, the Krytolians are sly, they also have cruise missiles. Cruise missiles look like satellites, but they are just as deadly as the interplanetary ballistic missiles.
Use your antiballistic missiles (ABMs) to stop the enemy before your happy and harmonious planet is destroyed.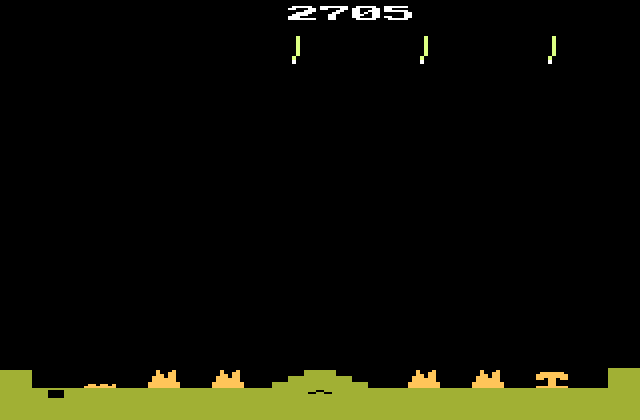 Game Information
Game Name: Missile Command

Released By: Atari, 1981

Left Difficulty: B / Novice

Right Difficulty: N/A

Game Mode: Game 4 - Fast Targeting, Smart Cruise Missiles

Chosen By: Linkz1
Post your scores right here in this thread, and I will add them to the list. Remember to play the game with the recommended game mode and difficulty settings as shown above so that your scores will be consistent with everyone elses. The deadline for posting scores is Wednesday June 10th at 1:00 AM (CST).
Current High Scores

209,025 (Atardi)

[+11]



119,540 (toymailman)

[+10]



96,055 (Deteacher)

[+9]



89,210 (SpiceWare)

[+8]



79,805 (darthkur)

[+7]



68,820 (Shannon)

[+6]



68,340 (Mister VCS)

[+5]



59,320 (Zoyx)

[+4]



59,000 (ballistik)

[+3]



57,120 (Trinity)

[+2]



51,625 (chuckwalla)

[+1]



48,885 (Kurt_Woloch)

[+1]



37,425 (sloth713)

[+1]



36,480 (LarcenTyler)

[+1]



35,735 (aftermac)

[+1]



35,055 (SeaGtGruff)

[+1]



34,665 (vjames)

[+1]



24,285 (Impaler_26)

[+1]



16,515 (4Ks)

[+1]

Best Tips

Challenges

TwinGalaxies Top 3

(Game 1, Difficulty B)

140,000 (Tom Duncan)

136,000 (Robert T Mruczek)

Current Standings
Scoring Points in Missile Command
Interplanetary Ballistic Missiles - 25 points

Enemy Cruise Missiles - 125 points

Unused Antiballistic Missiles - 5 points

Saved Cities - 100 points

Scoring Multipliers:


Waves 1-2 - Single Scoring

Waves 3-4 - Double Scoring

Waves 5-6 - Triple Scoring

Waves 7-8 - Four Times Scoring

Waves 9-10 - Five Times Scoring

Waves 11 and above - Six Times Scoring

A bonus city is awarded every 10,000 points. If your score reaches 10,000 points at the end of a wave and all six of your cities are destroyed, you still receive a bonus city and another wave of interplanetary ballistic missiles will attack.
Hints and Tips
The Manual
As always, you really should read the manual. In case you don't have the manual, AtariAge has a typed copy available online. Here are the hints the manual provides:

You may fire up to three defense missiles simultaneously. After pressing the controller (fire) button, move to the next enemy site and fire again. Do not wait for the explosion before moving.

Once a city is destroyed you no longer can defend it, so concentrate only on your missile base and saved cities. Ignore enemy fire aimed at cities already destroyed.

Smart enemy cruise missiles are easiest to destroy if your target control is directly on them. When it is directly on them, the enemy cannot detect your ABMs.
--Zero