Important Note: This weeks competition is over and no further scores will be accepted.
Strap yourself in, and get ready for the green light. It's time to put the pedal to the metal and burn rubber down the quarter mile. Speed is the name of the game, and you'll have to push your engine to the absolute limit in order to win, because this week's game is
Dragster
!
Important Note: This is the final game of Season 6. Season 7 will start next week with everyones scores reset! For the final Season 6 standings, please see this post.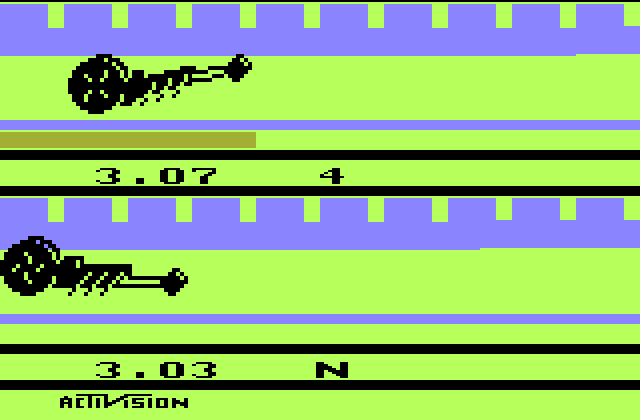 Game Information
Game Name: Dragster
Released By: Activision, 1980
Left Difficulty: N/A
Right Difficulty: N/A
Game Mode: Game 1 - Straight-Ahead Dragster
Chosen By: Ze_ro
Post your scores right here in this thread, and I will add them to the list. Remember to play the game with the recommended game mode and difficulty settings as shown above so that your scores will be consistent with everyone elses. The deadline for posting scores is Wednesday August 19th at 1:00 AM (CST).
Current High Scores

5.54 (Atardi)

[+11]

[+2]

5.61 (the 5th ghost)

[+10]

[+2]

5.77 (rmartin)

[+9]

[+2]

5.78 (Animan)

[+8]

[+2]

5.84 (vjames)

[+7]

[+2]


5.84 (toymailman)

[+7]

[+2]

5.94 (sloth713)

[+6]

[+2]

5.97 (LarcenTyler)

[+5]

[+2]


5.97 (Zoyx)

[+5]

[+2]


5.97 (darthkur)

[+5]

[+2]

6.04 (shadow460)

[+4]

6.17 (ChrisKoopa)

[+3]

6.24 (aftermac)

[+2]

6.51 (godzillajoe)

[+1]

6.64 (Wickeycolumbus)

[+1]

6.68 (Kurt_Woloch)

[+1]

6.94 (roadrunner)

[+1]

Best Tips

Challenges

Patch Challenge - World Class

Dragster

Club - Finish with a time of 6.00
or less and get

2

extra points!

TwinGalaxies Top 3

(Game 1, Difficulty B)

5.51 (Todd Rogers)
5.61 (David B Yancey, Douglas C Korekach)
5.74 (Wolff K Morrow)

Current Standings
Scoring Points in Dragster
This game is all about getting the best time. See the manual for information on how to play.
Hints and Tips
The Manual
As always, you really should read the manual. In case you don't have the manual, AtariAge has a scanned copy and a typed copy available online. Here are the hints it provides:

The key to World Class times in

Dragster

is training your reflexes to clutch and shift quickly, accelerating at maximum power in each gear without blowing your engine. Call it racing shifting, if you like, but it's the only way you'll get your speed down under seven seconds.
There are a couple of tricks that are not so obvious. For example, put the clutch in during the last numbers of the countdown, hold it in, rev up (careful) and pop the clutch by letting go of the Joystick the instant the screen reads 0.
Then you should try to rev your engine to keep the tach in the red as you go through all four gears (without blowing your engine). You've got to keep your revs up for speed.
If you drop out of the red in any gear (and particularly in third or fourth), try tapping the Joystick quickly to the left a few times ("popping the clutch") to get added acceleration.
Do a wheelie? Sure, go ahead. When your front wheels come up off the road, you're getting maximum acceleration. But watch out! Push the gas too hard and you'll blow!
It's also worth pointing out that we played this game a few years back. You might want to check it out for further hints.
vjames
Seems it doesn't matter much when you shift so long as you're getting wheelspin. In fact, I got the same results when I shifted to fourth in less than 2 seconds. Really adds a challenge to have to not blow the engine at the end of the course...
sloth713
The best piece of advice I can give is skip to 2nd gear as quick as possible off the start. Also make sure that your taps to left to shift are as quick as humanly possible.
--Zero