Important

No

te: This weeks competition is over and

no

further scores will be accepted.
Jason has taken the Golden Fleece! The gods of Olympus are
no
t pleased. They wish to test this proud mortal. Jason wakes to find himself imprisoned in the Temple of Aphrodite! Frenzied Furies flash overhead. Armed only with stones he finds on the Temple floor, the resourceful Jason must pit his wiles against there cunning menaces!
The gods think Jason is doomed. But Aphrodite dislikes having her sacred Temple used as a prison. She secretly aids Jason by giving him great strength. Each stone Jason throws can
no
w reach the roof of the Temple and k
no
ck a brick free. These sacred bricks destroy any Fury they strike!
"But beware, proud mortal!" the goddess warns. "Should your aim fail and a stone strike a Fury directly, he will divide and become doubly dangerous!"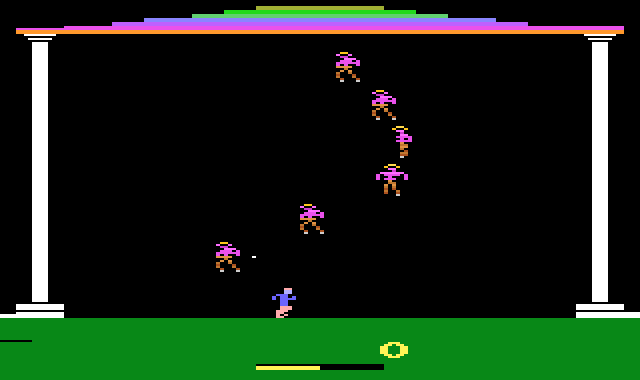 <div class='maintitle'>Game Information</div><div class='borderwrap'><table class='ipbtable'><tr class='row2'><td>
Game Name:

No

Escape

!
Released By: Imagic, 1983
Left Difficulty: B /

No

vice - Extra Life for Surviving a Wave
Right Difficulty: N/A in Single Player Mode
Game Mode: Default
Chosen By: toymailman
Post your scores right here in this thread, and I will add them to the list. Remember to play the game with the recommended game mode and difficulty settings as shown above so that your scores will be consistent with everyone elses. The deadline for posting scores is
Wednesday September 30th at 1:00 AM (CST)
.</td></tr></table></div>
<table class='ipbtable'><tr><td><div class='maintitle'>Current High Scores</div><div class="borderwrap"><table class='ipbtable'><tr class='row2'><td width='100%'>
58,392 (shadow460)

[+11]

18,631 (CebusCapucinis)

[+10]

11,735 (Atardi)

[+9]

7743 (darthkur)

[+8]

6783 (toymailman)

[+7]

5473 (Zoyx)

[+6]

4873 (Captain Beard)

[+5]

4835 (keilbaca)

[+4]

4826 (SpiceWare)

[+3]

4823 (godzillajoe)

[+2]

4770 (Deteacher)

[+1]

4692 (Vectorman0)

[+1]

3345 (roadrunner)

[+1]

3300 (disjuakifa)

[+1]

3125 (vjames)

[+1]

2640 (jjd)

[+1]

1948 (aftermac)

[+1]

1294 (Wickeycolumbus)

[+1]

719 (LarcenTyler)

[+1]

701 (LoneWolfSeth)

[+1]
</td></tr></table></div>
<div class='maintitle'>Best Tips</div><div class="borderwrap"><table class='ipbtable'><tr class='row2'><td>shadow460
[+2]
</td></tr></table></div>
<div class='maintitle'>Challenges</div><div class="borderwrap"><table class='ipbtable'><tr class='row2'><td>
No
ne yet</td></tr></table></div>
<div class='maintitle'>TwinGalaxies Top 3</div><div class="borderwrap"><table class='ipbtable'><tr class='darkrow2'><td>(Game 1, Difficulty B)</td></tr><tr class='row2'><td>
7,002,208 (Douglas C Korekach)
1,593,775 (Todd Rogers)
18,960 (James Carter)
</td></tr></table></div></td><td><div class='maintitle'>Current Standings</div><div class="borderwrap"><table class='ipbtable'><tr class='row2'><td><marquee behavior="scroll" direction="up" scrollamount="1" height='550' hspace="0" vspace="0" scrolldelay="100">
Atardi

[46]

toymailman

[42]

Deteacher

[40]

godzillajoe

[38]

Captain Beard

[37]

Zoyx

[22]

Vectorman0

[20]

darthkur

[18]

shadow460

[18]

devwebcl

[13]

vjames

[12]

keilbaca

[12]

SpiceWare

[11]

Nathan Strum

[11]

homerwannabee

[11]

kote

[8]

Hornpipe2

[7]

Mister VCS

[6]

aftermac

[5]

roadrunner

[5]

4Ks

[4]

chuckwalla

[3]

LarcenTyler

[3]

Shan

no

n

[2]

jeremysart

[2]

vintagegamecrazy

[2]

sloth713

[2]

Wickeycolumbus

[2]

ChrisKoopa

[1]

jjd

[1]

Impaler_26

[1]

LoneWolfSeth

[1]

Nati

[1]
</marquee></table></div></td></tr></table>
<div class='maintitle'>Scoring Points in
No
Escape
!</div><div class='borderwrap'><table class='ipbtable'><tr class='row2'><td>
Earn 2 points for each Fury you destroy.
Earn 5 points for each brick left untouched in the Temple roof.
If every stone Jason throws in waves 1 and 2 loosens a brick and destroys a Fury, you'll earn 99 points over and above the 5 points you've scored for each brick that remains in the Temple roof.
As "

No

Escape

!" increases in difficulty, so do your bonus point awards!
</td></tr></table></div>
<div class='maintitle'>Hints and Tips</div>
The Manual
As always, you really should read the manual. In case you don't have the manual, AtariAge has a
typed copy
available online. Unfortunately, it doesn't provide any specific hints.
It's also worth pointing out that we played this game a few years back. You might want to
check it out
for further hints.
shadow460
You can actually lure the Furies into the falling bricks. They are attracted to you when you throw a rock. So, shoot out a brick, then as it's falling, fire again. With good timing and some good luck, they'll run right into the falling brick.
It's kinda like you fade to the side at first, throw rocks, and then reverse at just the right time. If you do it right, you can k
no
ck out half the Furies before you get to the pillar. Then you reverse and the fight begins. You can never take your eyes off of that bottom row. If you can play defensively, you can throw stones until either the roof gives way or the rest of the Furies do.
I tend to go on the offensive and just make it rain bricks for a few seconds, then I defend for a little bit.
The unavoidable rocks only come at certain times. Figuring out when they will be trhown is the key to winning. Avoiding them is purely a matter of timing your joystick moves.
Offense:
I think the best strategy is to slide to the side, throwing rocks straight up about 1 pixel apart as you go. You'll wipe out three to five Furies, sometimes all six. When you get one or two steps from the side, stop throwing.
No
w it's time to switch strategies and use a modified form of what was posted on page 1. Instead of timing your shots to that the Furies are guided into the bricks, throw two stones at once. Throw the one you want to use to kill a Fury, then waste one a second later. That brings the Fury close to target. You can let the Fury move under the stone and back into it naturally or you can let it slide under the correct brick twice.
No
w throw a
no
ther stone to bring the Fury into the target brick. Aim only for the bottom Fury with this strategy. It helps if you're
no
t using the very center of the roof for this. You do
no
t have to be accurate as long as you can defend Jason for a few minutes.
Defense:
The stones thrown at you are only thrown directly when the bottom Fury is moving toward you. This goes for ALL stages, even Stage 2. Don't ever try to walk directly toward the bottom Fury if it is walking toward you. Leave a few steps between you and the pillars at ALL times, and move AWAY from the Fury right when it throws the stone. Move only one or two steps away. Don't believe me? The manuals says that the higher the variation number, the harder the game. So let's go to Game 7 and give it a try. When the Furies appear, they will
no
t fire at you (this only works for Stage 1, BTW). Walk over to the pillar, take about two steps toward the middle, then throw a rock. Each time the Furies throw a rock while they are coming toward you, don't even look where the rock goes, just walk to the pillar and walk right back to where you were. Ig
no
re all other rocks thrown by the Furies. You'll last forever that way.
That is the best I can explain it. The rest is timing.
Oh, and I did figure out the 99 point bonus thing. It doesn't apply until after you've gone through several stages. I think it gives you 99 points per brick for the last few bricks provided you didn't use up too many. So if it's giving you 99 points for the last ten bricks, you'll get 396 points for them. You need six of them to kill the six Furies, and you could possibly get bonus points for the other four.
The 4th wave of witches is all white, and they do
no
t throw rocks at you. They do move in the advanced pattern, however. This is an excellent stage to put that accuracy to use. It's also a good time to go grab a beer or something. The next wave is Gorgons, with the pink over blue coloring, and they return to the advanced direct thrown stones. They really are
no
tougher than the third wave of witches.
I've
no
ticed that when I have the timing right, the waves last five to ten seconds tops. I've wiped out entire waves before they've had the chance to reach either side of the screen and turn around--we're talking three seconds or so per wave.
You can even give up a single life in the process, especially if the switch is set to B.
Seems like the stones are usually thrown one to the left and one either dropped straight or maybe a bit to the right, then one directly at you. This is assuming that, like me, you stay closer to the left side than the right. Also it seems like that pattern resets, and it seems that if you're constantly switching sides you'll never have a stone thrown directly at you. As long as the stones are thrown opposite directions, they just kinda stop. It's the second stone that's thrown in that direction that's thrown right at you.
In that case, you take one step towards the pillar and you're cool as long as you keep moving.
To wipe them out fast, I generally move just left of center, wait for the formation to be moving to the right, then just start chucking stones as I mentioned in an earlier post. If I can keep them lined up, I can wipe the entire formation out usually losing one life in the process. If I don't want to lose a life, I switch strategies after I've killed two or three Furies. AS long as I have eight lives, though, who cares if I lose one? I'll get it right back in that screen or the next one depending on where the switch is set.
Captain Beard
It's easier (or more accurate, at least) to pull the furies by throwing bricks ahead of them in the same direction they're moving.
CebusCapucinis
If you stay near the pillar it's harder for their rocks to hit you. What I did was throw a rock ahead of them then lure them toward the falling tile. You can break the 2 tiles near the pillar then just shoot upward, luring them to the falling tile without ruining the score for the end, since it scores per leftover tile.
Using my previous tip the only things that can actually hit you are the sideways '
no
-dodge' rocks. Their downward ones don't go far e
no
ugh to be next to the pillars. So stand next to the pillar, lure them out, but keep your eyes on the bottom one. As soon as the bottom one throws a sideways rock MOVE! It will fly sideways to where you are at the time of the throw,
no
t where you are. If you pull out right at the throw, you will
no
t get hit, leaving you to run back to the pillar to continue the trick.
If you stick the the pillar at the 2nd centaur level and above you'll get hit by the sideways rocks with absolutely
no
where to go, and since the rocks are timed perfectly with your life regain you just get nailed until game over.
An hour of playing and I figured out a button-pushing rhythm! If you push it for approx 1-1.2sec and let go, then push again you can get the fastest moving ones to wave back and forth, keeping them within a certain area but making them move far e
no
ugh away that they don't throw sideways rocks as frequently. Using shadow360's system of starting in the middle then slowly moving from the middle to the left I got past the blue jean mi
no
taurs!
Zoyx
Their rocks are dropped at a set interval. Just get the rhythm of moving toward them and throwing your rock, then running away when it is their turn to throw a rock. So the result is you moving back and forth to the rhythm of their rock throws. Easier said than done...
--Zero