This is an overview of my upcoming XB game called Clear for Action, which is a naval combat simulation in the age of sail. Given that my Ultimate Planet project was still lagging, I had decided about 3 weeks prior to the Chicago Faire to quickly develop a program I could demo at the Faire, and XB was the fastest way to do it. And so it happens that I had recently bought an Avalon Hill game of the same name on Ebay for my TRS80 Model IV which came on tape and was also programmed in Basic (Also available for the Atari 400/800), and it was a blast to play.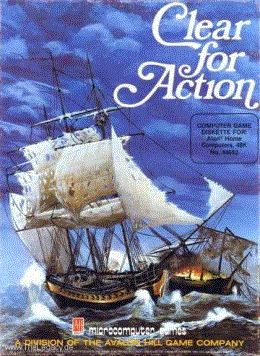 Even better, the simulation was extremely detailed, and the game came with 2 manuals that practically laid out most of the guts of the game it terms of mechanics, formulas and tables (but unfortunately not all, most notably the AI algorithm). I my infinite wisdom, I figured I could do it in the 3 weeks available to me, and in some fashion I did have a workable, albeit very buggy, version just in time for the Faire, with over 760 lines of code so far... A minor miracle. Clearly the program would not fit in one piece, and so I had to break it up into 3 separate programs chained to each other, exchanging variables via a common data file. I have nearly completed all the debugging, and am working at optimizing the AI a bit more, although at it stands it will shred you to pieces if you are too cavalier (see below), but there is still a lot of improvement to be made if it is to provide a decent challenge to a strategically astute player.
My main problem now is that it simply takes too long to load each chained program when it is called, even though the execution speed itself is quite acceptable for XB. As a result, a single turn from ship movement to combat to status display will take about 2 min and 14 seconds, most of it spent waiting for the programs to load. You might as well be playing chess... Do you guys have any suggestions for improvement here? I am aware of prescanning, but my early experimentation has not resulted in huge improvements because most of the loading time is taken by the data file which contains a large number of variables, each occupying a single file record thanks to the designers of XB...
When I play the game in Classic 99 with CPU overdrive on my high end Alienware desktop, the delay is only a few seconds, but for the average computer, the delay was still quite substantial as the owners of laptops at the Faire figured out as I harassed every one of them to try to run my game prior to the demo
In the mean time, here are some snapshots of a game I played this morning: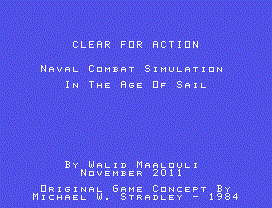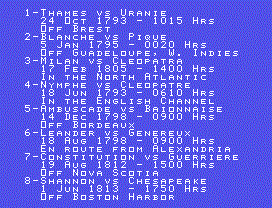 There are 8 built-in historical scenarios, but you can also create your own.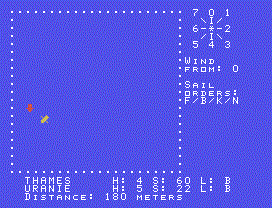 You can set the sails and then the ship direction, taking into account the wind, sailing speed, and points of sail.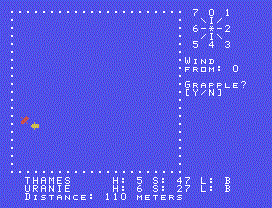 If you get too close, you may grapple to enemy ship. There is also a chance your sails will become fouled.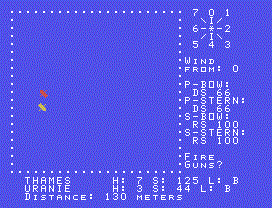 Fire away! You control your guns' loadout which in turn affects the ballistics and the range of the guns. Reloading is not instantaneous either and is affected by the number of gun crews, gun damage factor, and type of load.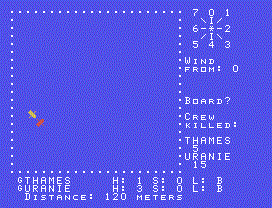 If your ship is grappled or fouled, you may attempt to board. This can be devastating to either ship in terms of crew casualties...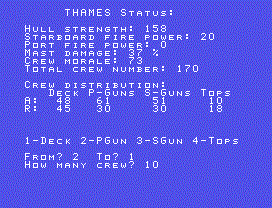 I'm in real trouble here, with all of my port guns destroyed and a third of my masts and sails gone!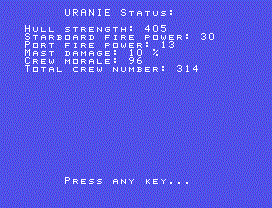 My computer opponent on the other hand is fairing much better...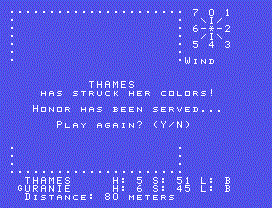 And it just handed me my ass
Edited by Vorticon, Sat Nov 12, 2011 5:43 PM.