Im posting this just in the sake of archiving for possible trouble shooting in the future. Hopefully it can be of help for someone down the road.
This is an easy fix requiring zero to basic skills. The help of a multimeter and soldering iron is optional.
I recently picked up a Jaguar unit that was having sound issue ( in this case extremely low sound). I later fixed 2 other units that had no sound with this same method.
The culprit in all my Jaguar units was the REG1 chip. its located down and to the left of the DSP. This chip regulates the Jaguar voltage to 5v for the sound system. In the case of the low sound system it was only putting out 1.3v and in the other jaguar units it was putting out 0v. This photo is after I completed the project.
Test with a multimeter
You can check this on Pin1. If you do not know how to look at a chip and determine Pin1 its the one with the small notch on the top of the chip beside it. In this case its the bottom row left furthest pin. You can confirm if power is going into the chip set with Pin 8, this is the pin directly across from Pin 1. It should be 9v but depending on the accuracy of your multimeter it may be slightly higher or lower.
Test with out a Multimeter
If you do not have a multimeter you can still check to see if this chip is the culprit. You need about 8 inches of wire cable. You can sacrifice a CAT5 cable or any other old cable for this. Strip off about 1/4 on each end of the wire.
Now you need to access a source of 5v on the Jaguar motherboard. The Jaguar AV Port offers just the source.
Behind the Jaguar Cartridge port locate (L7)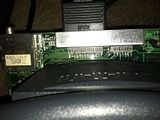 Take one end of your wire and touch it to L7 the silver part only and the other end to Pin1 on the REG1. You should now have sound. If not then your culprit could be more severe but less likely.
Now if your handy with soldering iron solder the wire in place at both contact points. Optional you can firmly tape the wire down at both locations with some electrical tape. Third option is to pick up some conductive wire glue and permanently glue the wires into place. Conductive wire glue runs about $5.
Below is a few photos of the finished project on one of my Jaguar's. FYI this does not hinder the AV port so if you use Composite or Svideo you are fine as they do not require the 5V lead.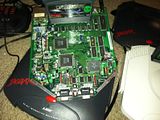 I ran all 3 Jaguars for 36 hours to test. One was playing Fight For Life, One was playing Cybermorph and the other one was playing Rayman.