A few months ago I became aware of a game (by a small company that a friend & past co-worker of mine works for now) for iPhone and Android called "LEX".  It's a fast-action word puzzle that's a lot of fun to play.  So... I've cloned it for the Atari 8-bit, of course!
You can learn more about it, and download it from http://newbreedsoftware.com/iverba/ (or see attachment).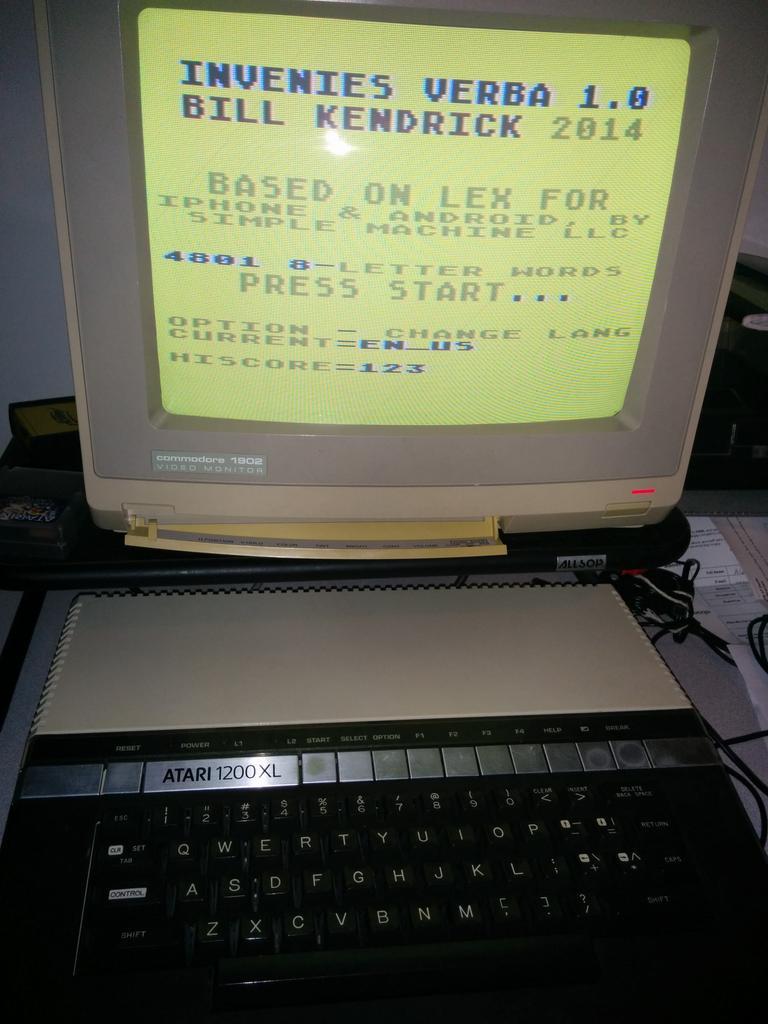 The objective is to get as high a score as you can, by entering words.  You get a stack of random letters, and create words by using some of those letters (they'll get replaced by more random letters).  Similar to games like Scrabble, each letter is given a point value -- common letters have low scores, uncommon letters have high scores.
The catch is, you need to use letters before they run out of time -- in LEX, the letter's color changes (as though it's filling up) from bottom to top; in Invenis Verba, I draw a little vertical line next to each letter -- if any letter "fills up", the game ends!  Different letters' meters fill up at different rates -- common letters fill up fast, uncommon letters fill up more slowly.
The current release of the game (1.0, my first beta release) contains two dictionaries: English (4800 3- to 8-letter words), and German (2000 3- to 8-letter words).  Others can be made, which I'll get into a little below.  (It's late, so in the end, I'll probably wait for people to ask for help before I try to explain everything in too much detail.)
Due to how I've constructed the dictionaries, only 15 ASCII characters (A-Z) from each language's alphabet are used.  (I pick the most frequently-used letters, then grab all of the 3- to N-letter words that contain just those letters.  In English, based on the /usr/share/dict/american-english file on my Ubuntu laptop, it uses A, C, D, E, G, I, L, M, N, O, P, R, S, T, and U.)  I've also had success generating French, Italian and Spanish dictionaries.
I've been developing this game on my Linux laptop, entering TurboBASIC XL code as plain ASCII into a text editor, and then using a tool I made during the NOMAM 2014 contest to convert that to ATASCII, and fire up Atari800 emulator to actually load and run the code.  I made another simple tool (in PHP of all things; it's because I use it all day at my day job!) to come up with, and store/pack the dictionary files.
I use a binary search to find words in the dictionary -- you can't just enter random junk and get points, it has to be a word -- and it's playable but kind of slow in straight TubroBASIC XL.  Therefore, the ATR disk image I released (at the site above, or also attached to this post) contains the compiled TBXL, which runs much faster.  (Note: I'll be tweaking the meter speed, since now that goes a little too fast.)
I've also posted the source code & tools & instructions I use to build the game, so if you have a Linux box handy, you should be able to play with the code. (Maybe I need to post it to github?
)
Anyway, tell me what you think!  And be sure to check out LEX, which is a lot of fun to play.  (Oh, and they recently open-sourced their code!)
Edited by billkendrick, Sat Sep 20, 2014 2:07 AM.