Starting the 2nd half of the season is the excellent platform adventure:
Pitfall II
join in and play; everyone welcome just post a score. If you need any help just ask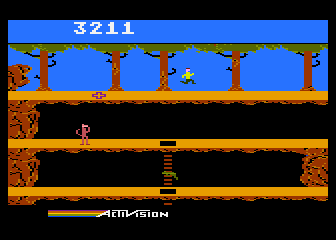 Fandal XEX
Atarimania Info: Activision USA Activision UK Ariola Germany Post #7 (below) has more info
The game features regular restart points which is a nice feature but, for this game only, save states are allowed (so you can take a rest), as it can take a long time to play. BUT, if you are out, you must restart. For real hardware players (like me) best to set aside some time for a serious go. Once you complete the game you will discover there is another game! Readers of Pro© magazine might have seen my wish for a hack to start on the 2nd part "The Lost Caverns". .. well, HSC regular ballyalley recently replied to this (below)
  so once you reach this point you can start here using this version - or you can have a go just for fun but it's hard (top players no practicing on the 2nd part)
Standard HSC scoring with some bonuses for completion etc. There is a maximum score to aim for! See Tables on Post #21
Round ends Sunday in 2 weeks. Don't make me get out the calendar thingy... oh ok it's Sunday 9th August 10pm (again) UK time 
 

Yes, I've beat the game from start to finish.  I came upon this thread because I'm currently reading "Pro© Atari," issue 6. In Jason's article about the High Score Club, he wonders if anyone has hacked "Pitfall II" to start from the second section that is exclusive to the Atari 5200/8-Bit. Indeed, yes! Eleven years ago (2004), I asked for a hack like this in an AtariAge thread:

 

http://atariage.com/...n-lost-caverns/

 

Within an hour or so, someone had hacked the game! The hack is included in the second posting of the above thread.  I still play with that hack now and then; I'm grateful that it exists.

 

In the 1990s, my friend and I used to have a newsletter called "Orphaned Computers & Game Systems."  We still add articles from time to time to our webpage.  The latest article on that page is from June of this year, and we'll be adding another article this month:

 

 

In three different articles written across three issues of the newsletter, he and I cover "Pitfall" in great detail, including how we both beat the "Pitfall II: Adventurer's Edition."  You can read the series of articles here in the pages that were converted to html from the newsletter (sorry, like the original newsletter, there's no screenshots on the web version of the article; I really should remedy that someday):

 

1) "The Legend of Pitfall Harry From the VCS to the PC," by Chris Federico and Adam Trionfo (Orphaned Computers & Game Systems," Vol. II, Issue 2, February 1998)

http://www.orphanedg...sue5/harry.html

2) "Pitfall Update: Pitfall III," by Chris Federico and Adam Trionfo (Orphaned Computers & Game Systems," Vol. II, Issue 3, April 1998):

http://www.orphanedg...6/pitf_iii.html

3) "Pitfall Update: The End of the Secret Level!," (Orphaned Computers & Game Systems," Vol. II, Issue 3, April 1998)

http://www.orphanedg...ue7/pitfall.htm

 

I hope you find the articles fun to read, and the "Pitfall II" hack useful-- I know it's fun for me to play.  For those that haven't played the second part of "Pitfall II," you'll find it an exciting experience, and really quite difficult.

 

I wonder if "Pitfall 2" can be played during the HSC: Round 12 (which is the current round, that is about halfway through right now).