I started talking about this over in the TK-II thread and thought it best to create its own thread. So my thinking is to possibly create an ICSP (In Circuit Serial Programmer) for a specific PIC micro controller chip made by Microchip, and using the Atari 8 as the actual programmer to re-flash the PIC device. So to see what is involved check out this diagram (courtesy: www.learningaboutelectronics.com).
So imagine if you will that what is shown as the PIC Programmer, would be interfaced to the joystick port on the Atari 8, with one exception, that being a means of generating the higher Vpp voltage to initiate programming mode. For the specific PIC I have in mind (PIC16F1847), Vpp would need to be 9 VDC (older PICs require 13 VDC). There are Charge Pump IC's that'll double the 5 V available at the Joystick port, and Maxim is one of the manufacturers of just such a device (MAX1682/1683).
These are good for about 98% conversion efficiency so the output should yield about 9.75 VDC. If that output is then switched by a transistor via a joystick I/O pin, that should bring us very close to 9 V factoring in the semiconductor losses of the switching transistor (example below).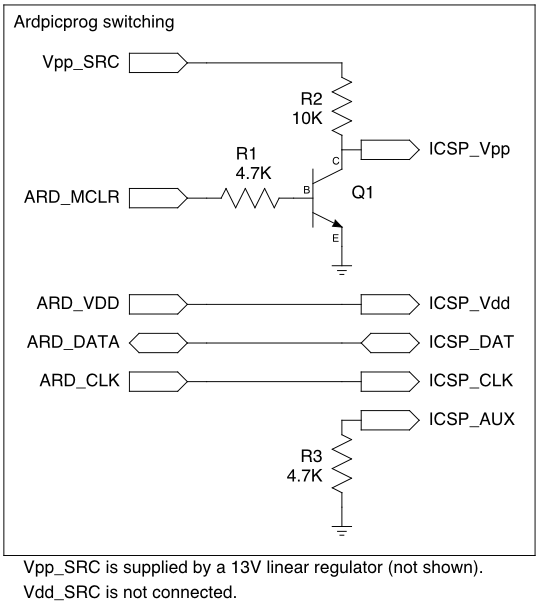 Besides this little bit of circuitry, everything else can be a direct connect to the joystick pins, thus keeping the hardware end of this project ultra simple (substitute a 9 V battery for the charge pump and it gets even simpler).
So it appears that the hardware requirements are rather easily met, what about the ICSP programming (flashing) software?
Well the nice thing is that the HEX files generated by most all of the PIC compilers is an ASCII coded file, and it contains all of the parameters required by the chip, including what are called configuration bit or fuse settings. At this time I don't totally understand the protocol requirements when sending this data to the PIC chip, but when I dive into this project later, hopefully I wont find it too difficult to understand for implementation from the Atari point of view.
Some Reference Material:
Microchip In Circuit Serial Programming Guide
Microchip PIC16F1847 Memory Programming Specification
- Michael
Edited by mytekcontrols, Wed Dec 23, 2015 2:33 PM.