My favorite replacement for the old school (1702-like) monitors is the JVC TM-A13SU. This monitor is a descendant of the TM-13U which is the monitor the 1702 is based on. Like the monitors of old, this one features a standard resolution P22 tube.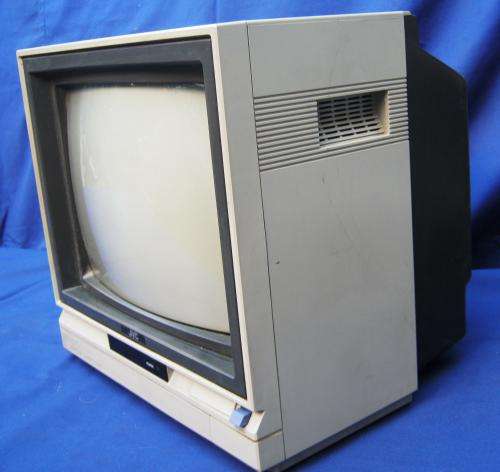 The TM-A13SU is lighter and easier to carry than most 13-14" CRT monitors and has automatic PAL/NTSC switching (it appears to do SECAM as well!). It also has an OSD, front input switching, and both composite and s-video inputs. If you're looking for an authentic experience from a newer monitor, this is the one to get...with one caveat:
Unfortunately, the TM-A13SU employs line blending in both NTSC and PAL mode. This causes weird interactions on horizontal color boundaries and although it is a common feature of PAL sets, it's usually not seen here in NTSC-land. Also, this unit uses comb filtering to remove the chroma carrier from the picture which can cause dot artifacts when used with computer video where every line can have unique colors (as opposed to camera video, where color changes don't tend to happen abruptly on line boundaries).
Looking through the user and service manuals I don't see any way to override this feature, but it appears to be a setting (N-COMB) sent from the onboard microprocessor to the TB1226EN video processor. My goal is to install a small microcontroller which can override settings as they are sent. I plan to use the smallest Atmel AVR I can.
Anyway, here's the service manual for the TM-A13SU.