This guy has tried to estimate MIPS on some CPUs from the seventies.

 
http://drolez.com/retro/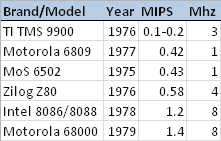 That doesn't look too good for the 9900. And maybe performance was further crippled, when comparing computers, with the TI-99/4A shoehorn design including multiplexer, wait states and read before write stuff.


Edited by sometimes99er, Fri Nov 9, 2018 11:59 PM.