This has been a long time coming, and we are excited to get this out to those who are interested in owning a physical copy of Flappy McFur.  Below is the press release and QA.  Feel free to ask questions here, I will try answer as quickly as possible.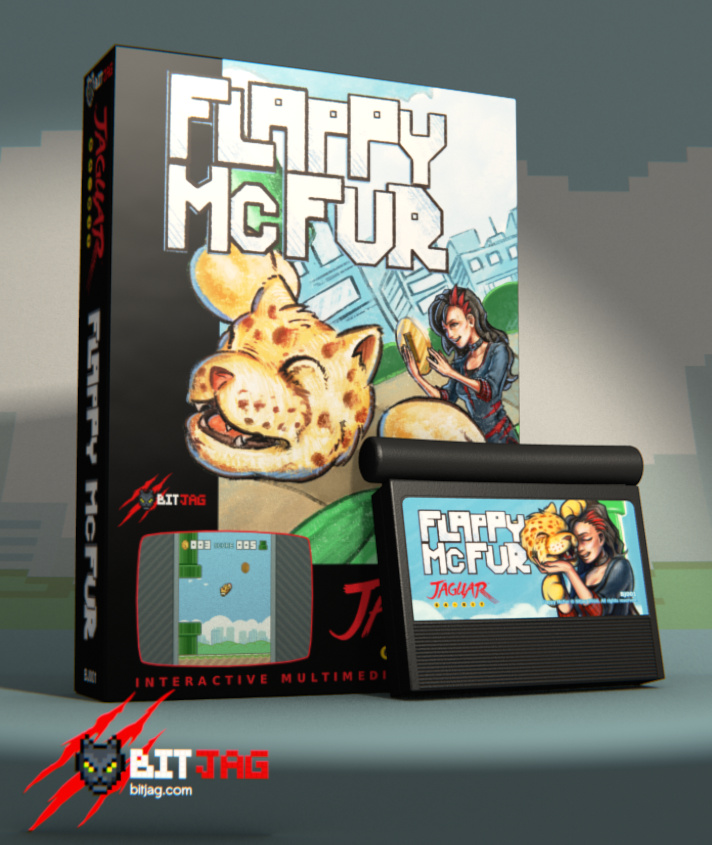 Introduction
You may think that this is just another Flappy Bird clone, and well, you may be right.  Regardless, the already well known format has been expanded by BitJag into four different play modes, offering players more replayability.  Also, a set of 15 awards are ready to be unlocked.  With just a sprinkle of a story added, Flappy McFur is an addicting experience that you will can only find on the Atari Jaguar.
Screenshots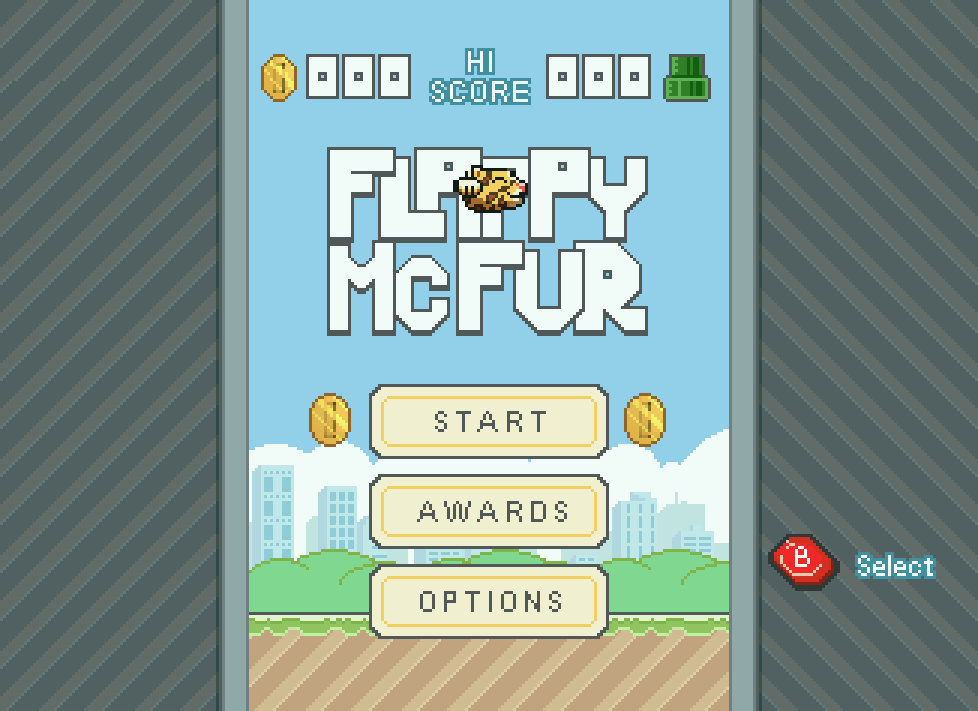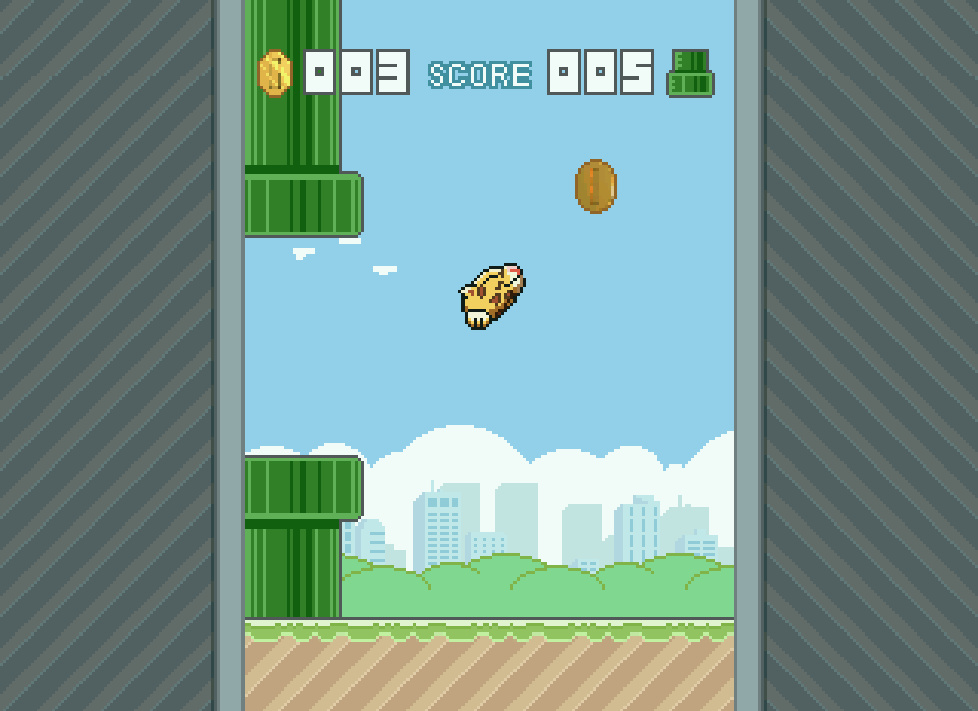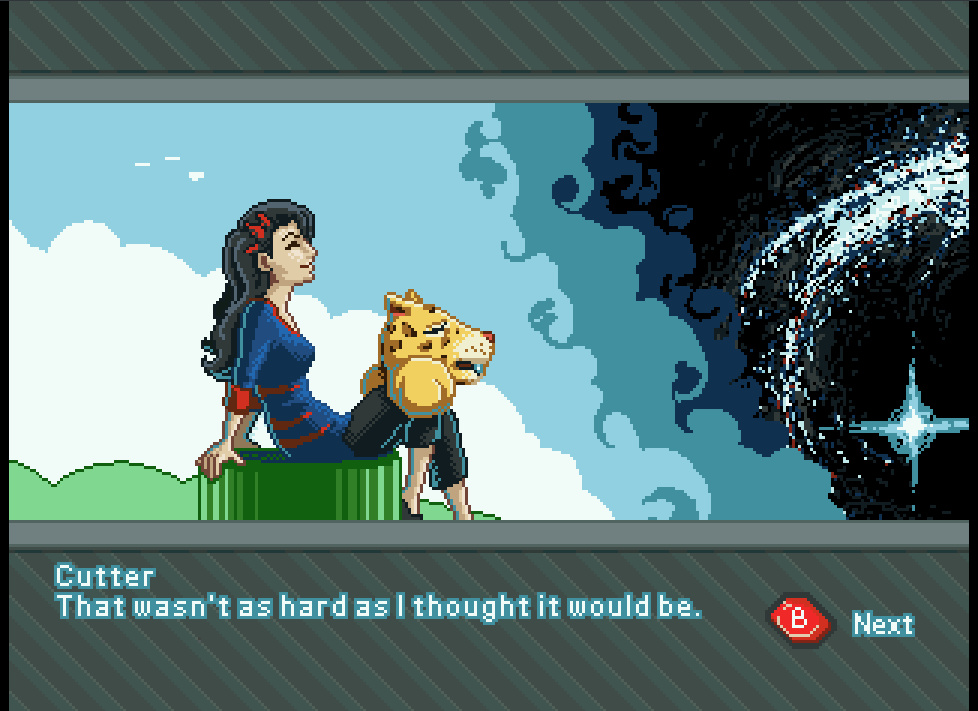 Video
Release Video
Gameplay Footage
Description
A Fun Addition to the Arcade Runner Genre
Flappy McFur follows the popular arcade "Runner" genre.  Simply control Flappy McFur in such a way to avoid hitting the pipes and ground.  You receive pipe points when you successfully pass a set of pipes, and you receive coin points when you collect a coin.  Collecting pipe points and coin points will allow you to finish the game, and unlock awards.
Play Modes
To improve replayability and to cater to playtester feedback, there are four different playmodes.
Classic mode moves McFur at a normal pace, with each set of pipes, and each coin collected increasing the scores by 1.  This mode is designed for the purists who enjoy the long-haul experience.
Mover mode adds a level of difficulty to the classic gameplay, by making each set of pipes move up and down.
Flyer mode is designed for the more experienced player, doubling McFur's Speed, with stationary pipes.
Dodger mode takes the double speed of Flyer and spaces the pipes out so the upper and lower pipe never line up.
Questions
Release Details
 
What do I get and how much does a copy cost?
A single copy includes a standard box, cartridge caddy insert, manual, business card art print, and the game itself.
The cost and pre-order cost of a single copy is $45 USD + shipping (Limit 2 units per customer).
If you would like a little bit more, we have a "Collectors" bundle that includes 1x copy of the game, and 3x art prints (approx. 8.5" x 11") of official Flappy McFur artwork signed by the artist (Will).  This bundle costs $66 + shipping.  See the images below.
Where can I order/pre-order?
On Will's personal website. (It was easier to sell here since his shop was already set up.) 
Normal Purchase - ORDER NOW http://williamthorup...aguar-homebrew/
Bundle Purchase - ORDER NOW http://williamthorup...y-mcfur-bundle/
Why a pre-order?
To pay for the up front production of the printed materials (diecuts are expensive!), and, because we are doing this in batches, this will be used to gauge interest and make sure that we don't overspend on something that we will release for free later on.
Is there a limit on how many copies I can order/pre-order?
We would like to limit it to 2 copies per person (we will cancel orders that are more than 2).  If you are a retailer, and interested in helping with distribution, please PM me.
When will you begin shipping?
Sometime in November.  Again, we will be shipping in batches.
How many batches will you be doing?
This depends on interest, but we are projecting 2-3 batches of around 50.
Other Questions
Why not just release a ROM?
We will release the ROM within a few months after release for free, allowing others to have fun flapping around.  This will be a slightly modified version of the game with some kind of messaging stating that it is free.  There are a few reasons we decided to sell upfront. 
First, this is a first time we have done anything like this, and we felt that producing a finished physical product with a smaller project would help us better prepare for future projects. 
We know there are collector's out there that like to have something more official sitting on their shelves.
Also, a percentage of money made from this game will be used for the next release.
Why not release it on CD?
Not everyone has a CD unit, it is a small game, and cartridges feel so good in your hands.
Will you release the source for Flappy McFur?
Not sure yet.  If we do, it will be when we release the ROM.
Will you port Flappy McFur to the Atari Lynx or other consoles?
We are thinking about it.
How did you make Flappy McFur?
We used Linux, the Removers Library, and the Jaguar C Library.  Both libraries are made by Seb of the Removers.  Thank you Seb!
Other tools were used, such as Jiffi, Skunkboard CD encrypter (Thank you Reboot!), and Virtual Jaguar (a Atari Jaguar emulator.  Thank you Shamus!). 
Also without the Skunkboard and the software behind the device, it would be difficult for us to test on real hardware.  A big thank you to the team behind this wonderful device.
Is this a prequel or a sequel to Trevor Mcfur in the Crescent Galaxy?
Think of it more as terrible fan fiction, that isn't really based in the same universe.
Does this game utilize the full 64-Bit prowess of the Jaguar?
No, it does not, but it does produce some interesting fumes during gameplay.
About BitJag
Who is BitJag?
Two brothers who live in Utah (USA) who grew up with Atari in the home, and want to make games for the consoles of their childhoods, for nostalgia's sake.
We also consider a large group of family and friends a part of BitJag as well.  They put up with allot of crap when it comes to this little obsession of ours.
 
What do you look like?
Meet the family! 
 
What do each of you do in relation to BitJag?
Will is the artist, programmer, composer, and everything else.  Bryce is a much more experienced programmer and helps Will with troubleshooting code, and other consulting needs.
 
Have you made other Jaguar games?
Nope, this is technically our first video game release under BitJag.  We did make a small demo using the Removers Library and it was featured at the 8-Bit Fix booth at the Portland Retro Gaming Convention a few years back.
What kind of programming experience do each of you have?
Neither Bryce or Will grew up programming on older systems in lower level languages like assembler, we missed that boat unfortunately (A little on the Atari ST, but nothing substantial).  Bryce has a background in BASIC, PYTHON, JAVASCRIPT, and other various web languages.  Will has a background in web languages, and a little in C code thanks to this project.
To them, programming on the Jaguar, and other Atari consoles, is an opportunity to start learning to program for consoles that they have always wanted to make games for, but were too young at the time to do anything about it.
Are you planning on making more games for the Jaguar?
Yes we are, check them out at http://bitjag.com. We can't guarantee when or if they will ever be finished because we know we are a bit over ambitious when it comes to these things.  Please keep in mind, for us this is for fun and learning.  Like many other homebrew developers in the past, we may just fizzle and disappear into the ether.  We hope not though, as we are quite dedicated to this now.
Brief Development History
Flappy McFur stems from the brief craze of the success of Flappy Bird in 2013, and the need for Will to begin learning C code in order to utilize the preexisting Removers Library and Jaguar C libraries. Development began in December of 2013.
Over the years, and during the the team's free time, core elements were developed separately and then implemented together later on.  Also, production of illustrations featuring the game's characters, graphic design for box art and other physical elements of the package, and music composition were produced by the team. 
The first public beta version of the game was released in April of 2014 on BitJag,s official website. This received a small but positive response from the Atariage community and from others who were geographically near to the development team.  Since the beta version's release, and up to the official release in November 2016, the beta version has been downloaded approximately 400 times.
During development the game was playtested and publicly demoed multiple times at Thor Media LLC offices in Salt Lake City Utah.  It has also been demoed at various family, school, and community social functions within the Salt Lake valley.
Development for Flappy McFur officially ended September 15, 2016.
Orders and shipment of the product began in November 2016.
Edited by lachoneus, Wed Oct 19, 2016 11:50 AM.