Demo download at sometimes.planet-99.net
- - - - -  
In the footsteps of managing 32 sprites, without more than 4 sprites per horizontal line, as explored in
Bubbles (demo)
. 
If you keep a number of sprites stacked vertically (no vertical overlap), they will only occupy 1 of the 4 sprites allowed horizontally. 
In Bubbles I made each stack move up with their own individual speed. This time I will try and move the 4 stacks in any direction. 
Here's a quick setup of 4 stacks.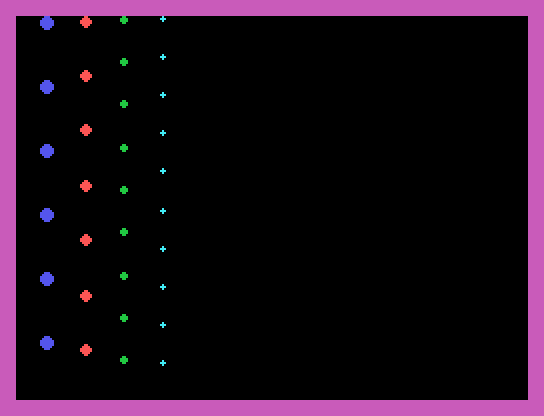 Oh, and instead of having 8 sprites in each stack (or plane), it's 6 + 7 + 9 + 10 = 32 sprites. The number of stars close to you are less than those far away. 
Edited by sometimes99er, Mon Jun 11, 2018 10:15 PM.