Back in the good ole time, when a good third of the world was under Bolchevic rule... KPO ElectronMash, in Kiev, then part of the USSR, released the Poisk-1, (the KPO Электронмаш ПОИСК-1,originally "Poisk", renamed Poisk-1 after the release of Poisk -2 and Poisk-3 computers, which were to my understanding rebadged ordinary 286 and 386 PCs) in 1991. Just in time to be a "made in USSR" product. sales figures are impossible to find, but it seems that the Poisk-1 was produced at least up to 1994, and accessories were made for it up to 1996.




The Poisk-1 is an IBM-XT clone, powered by a KM1810VM88 (8088 clone) @ 4.77Mhtz, 128 Ko of RAM.

It come with a tape input, 3 video output : black and white composite video out, RGB (SCART compatible) output, and CGA output. Under the slot covers lies 4 connectors that allow to plug expensions modules.


Amazingly (or not) several add-on cards were made. The main and most desirable ones add floppy drive support, hard drive support and 512Ko of extra RAM, there is also printer port, COM ports, sound card, joystick support... From what I've seen, none of those expansions have pass-through connectors, so you can only have 4 expansions at once plugged on it.


From what I got, those mentions down the keyboard are "Electronic" and "Information and game complex".
I tried several time, changing the order, etc... but it does seems that this computer was sold as a game machine.
It's showtime ! journée capot ouvert! Let's have some devious motherboard pictures.




Sadly, it appears it didn't survived the travel from Ukraine too well :


Hopefully, the trouble lie in the pwoer supply.
I do'nt have the original one, so I used an old and dirty XT one.
First using this schema :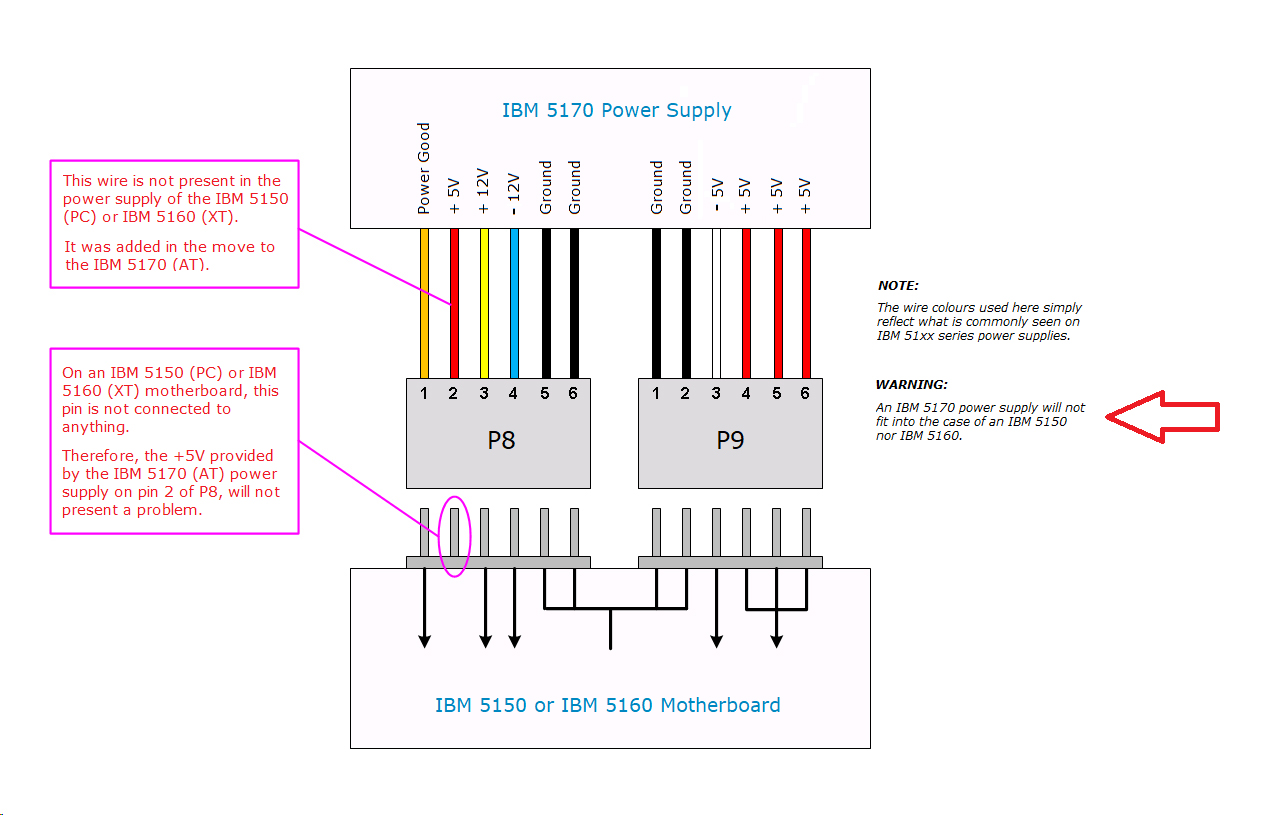 But here, the +5V is "key".


So I used another 5Volts line but it didn't made it much better.