Super Pacman
A warm welcome everyone to Season 14 of the High Score Club 
Super Pacman battled "Gateway to Asphai" to win the first poll. The runner up game will go into the round 2 poll, the other games may appear again later on. I'll handle everything so simply play the game and post a score or two. It's more fun if you post when you play and not just at the end of the round. Screenshots optional.
We'll keep things simple for round 1 so no bonus game.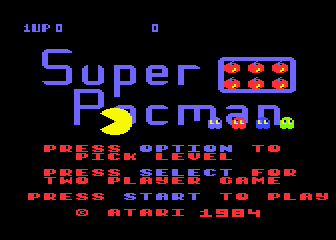 Super Pacman It's nice to start the season with a game that everyone can enjoy, it's similar to regular Pac-Man but you can now collect keys to open doors and use the super pills to embiggen pac-man and bust through the doors. Look out for the bonus match up thing in the middle. Play on the default skill level.
Bonus Point Challenges (to be played as part of normal goes):
#Highest score on stage 1 in 1 man (excludes Dope, trbb, McKong, SHiNjide, Deteacher, Orpheuswaking, RedThunder, CaptainClassic and maybe others!)
#Highest score for first 2 stages in 1 man (everyone)
#Highest score on 1st man  (everyone)
#2 Player Mode - if you get someone else to play.
#Set new HSC record [AB Positive's 171,200 from Season 2!]
If you need any help just post or send me a message.
Scoring this season will be similar to before with 12pts for 1st place, down to 2pts for 11th and 12 places. Extra players add scoring positions from 4th 9pts down to 12th - don't worry it will all make sense
I'll post tables periodically through the two weeks. Please don't be put off playing by the top players battling it out, otherwise it's a slippery slope where we only end up with a few players. As you can see above there are changes to the bonus point challenges this season
Links/Downloads: Ensure the version you play has the title screen text!
Antic Podcast Interview with Landon Dyer
UPDATE: Atariage - Key Bug fixed version ROM version also doesn't have bug where some doors don't open.
Round finishes Sunday 5th February 10pm UK time (USA 5pm ET)
If you are reading this in the future (using a time machine perhaps) then join in on the current round, there will be a couple of chances to catch-up later in the season.
#1 Rule: Have fun
Edited by therealbountybob, Sun Jan 29, 2017 12:53 PM.
Bug fixed version - link added