Super Cobra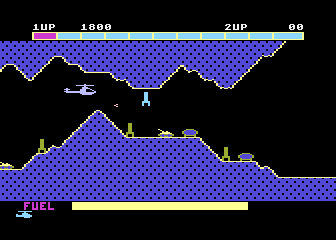 Winning a hotly contested poll is Super Cobra a classic scramble style game, can't remember if ends of gets harder the 2nd time through or just continues... [will check!] It doesn't - last time orpheuswaking managed 3 times through. On the final stage you need to do collect the "[$]" to complete it otherwise it will wrap around. Fairly tricky game to start with but it's the same each go so you can make improvements.
Scoring based on distance "Miles" (not score)
Restart from the beginning each time and no autofire!
Links
Info on Atarimania which has a US and European version listed, wonder if the latter is PAL adjusted? [same]
Bonus Scouting Mission Play any similar Scramble style game (Horizontal scroller where you destroy things on the playfield (not just a shooter like DropZone), that has not played in the HSC before and report back on it. So this excludes the fabulous Beta Lyrae and the more than decent Dawn Raider but you could check out Air Strike I / II and many others. The HSC Ratings & Records lists all games played (apart from Super Cobra for some reason!). See atarimania's horizontal scrollers list for some ideas
Round ends Sunday 5th March 10am UK time
Missed Rounds If anyone missed Round 1:Super Pacman or Round 2: Mr Robot, you can post scores on those threads, or wait until we have a catch-up round later in the season.
Have fun blasting!
p.s. Round 4 will be Rally Speedway - some of the HSC guys are putting some tracks together using the construction kit, details here and no practicing!!