2600 High Score Club - Week 9:
Bronze Medalist Pick (oyamafamily)
Chopper Command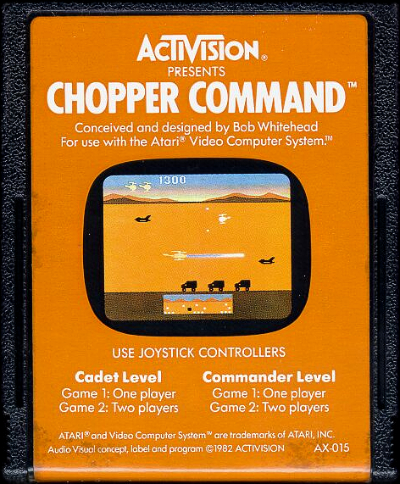 CLARIFICATION: No use of cheats, emulation advantages, bugs, cart frying or other variables that would give you an unfair advantage in this HSC. No game enhancements or favorite settings are allowed for play in the 2600 HSC, unless specifically authorized by your humble yet strict MODERATORS! (Jacob/BAZ.)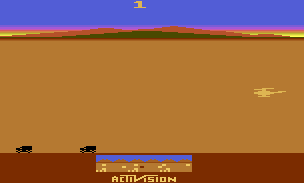 Chopper Command
Released By: Activision 1982
Programmed By: Bob Whitehead
Left Difficulty: B
Right Difficulty: B (N/A)
Game Mode: Game 1 (Cadet Level)
The HSC Record for Chopper Command:  999,999  first scored by D.Yancey (Original HSC Season 3 Week 29, 2006)
-- MAX the score for 3 bonus points.
Post your scores right here in this thread.  They will be duly added to the high score list.  Remember to play the game with the recommended game mode and difficulty settings as shown above so that your scores will be consistent with everyone else.  Please refer to the rules thread for further information on what is allowed and if you
have any more questions about what is considered fair play, feel free to ask about it here.
Have Fun !
The deadline for posting scores is 11:59:59 PM (EST) the evening of March 26th, 2017
bonus:  Post A Pic for bonus point.
1) Post a picture of a helicopter from a movie or TV show  (+1)
2) Tell us what this chopper, movie or TV show has in common with Chopper Command!  (+1)
3) Name the actor/actress who plays the pilot  (+1)
4) Post a picture of the same actor piloting a chopper in a different movie or TV show (sequels to your 1st choice don't count)  (+1)
     --> only movies or shows that no one else has already used will count!
Chopper Command High Scores
(Scoring is +1 point for last place and up from there)
1.  47,700 Jin
2.  15,900 AtariWarlord
3.  15,800 Lauren Tyler
4.  15,500 Gorfy
bonus
AtariWarlord -- M*A*S*H* (+2)
karokoenig -- Blue Thunder (+3)
Jin -- Predator (+3)
nads -- Airwolf (+3)
Gorfy -- Apocalypse Now (+2)
Vocelli -- Fire Birds (+4)
darthkur -- Star Trek IV (+3)
CapitanClassic -- Black Hawk Down (+3)
KaeruYojimbo -- Magnum P.I. (+3)
Eltigro -- Rambo (+4)
Season Standings Through Week 7/8 (Activision Sports)
The New HSC -- SEASON 6! 
EXTRA INFO:
Expect a variety of game selections from the '70's & '80's as well as a few Homebrews sprinkled in.
There will be special rounds consisting of multiple games and lasting more than one week.
Overall the NEW High Score Club Season 6 will last THROUGH August 2017.
 
Bracket Challenge to follow -- TOP 24 players matched up in single-elimination tournament!
Edited by S.BAZ, Yesterday, 1:48 AM.