Getaway
Clear winner of the R5 poll it's Getaway up next for HSC play!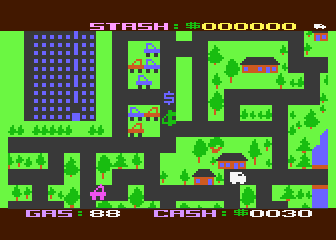 Downloads: Atarimania Getaway , Fandal XEX
"Collect" the money and take it to your hideout avoiding the law. Rob the armoured (white) van for some serious loot. To complete a level collect three "prizes" and then a van (you can collect vans at any time also),  on the 1st level there are no prizes. Indicator on top right shows what to collect
Scoring: Page 8 of the manual on atarimania has the scoring and rankings
We will play for ranking then score. With a bonus point for anyone beating HSC record score of 15,190 held by MaPa.
Bonus Games
New Getaway
There is a New Map for Getaway from the pod cast guys" PlayerMissile" and "Inverse Atascii" so we can play that as a bonus. You can also create your own using the tool provided
[1pt per player ranking then score]
Kaverns of KFest
Keeping on the podcasters theme we'll checkout the quick play Kaverns of Kfest from  Kevin Savetz as a bonus game [1pt for playing +1pt for highest PAL and NTSC scores]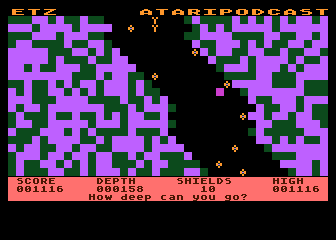 Rounds closes: Sunday 2nd April 10AM UK time
Game On!
Edited by therealbountybob, Thu Mar 23, 2017 11:38 AM.
Info on how to complete the levels! Scoring added.