Mountain King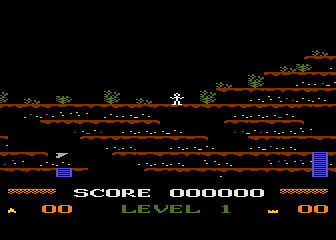 Interesting scrolling platformer with great music
Downloads:
atarionline.pl XEX BIN ATR CAR etc
Some great info here on atariage's 5200 forum "review & retrospective" - looks like comments from the author and some easter eggs? 2nd link to "infinite lives" web site has nice review
See post #6 below for deteacher's guide and a video
Mountain Madness Bonus
Crisis Mountain
this looks pretty reasonable. If your ATR/disk copy has graphical corruption [atarimania] on title screen and game then try the one from Fandal below. There is a working XEX somewhere too [homesoft]! Looks like you can jump and crawl.
See CaptainClassic's guide on post #19
Mountains
Journey into the unknown - it's time for some BASIC goodness [grimaces]. If you need any help configuring emulation just post
Heh! German Text!
Fandal ATR
Scoring standard points for Mountain King, set new HSC record for 1pt bonus. [sloopy 135,550 from S6 R24]
Bonus games probably 1pt per place per player.
Round ends Sunday 16th April 10am UK time
Fandal ATR [BASIC]
Edited by therealbountybob, Tue Apr 4, 2017 4:31 PM.
More Links