This project is firstly a fun that I wanted to develop since many years and that was regularly postponed because of many other projects I wanted to realize too.
This TI(ny)-99/4A is the computer that I dreamed to have in 1983. Of course, it only integrates components that were available in 1983 :-)
I wanted this project a personal work, no any kind of help outside the original TI TI-99/4A schematics. The goal was that this project be as didactic as possible. For many years, TI schematics have been precious to repair  my TI-99/4A computers. My detailed study of them will show me that they were not reliable: Several errors slipped inside. The first step was a precise study of the logic of the microcomputer in order to detect all the errors. It was a very interesting step.
Once the TI-99/4A schematics were corrected, I begun the design of the TI(ny)-99/4A motherboard and the integration of all the improvements defined initially.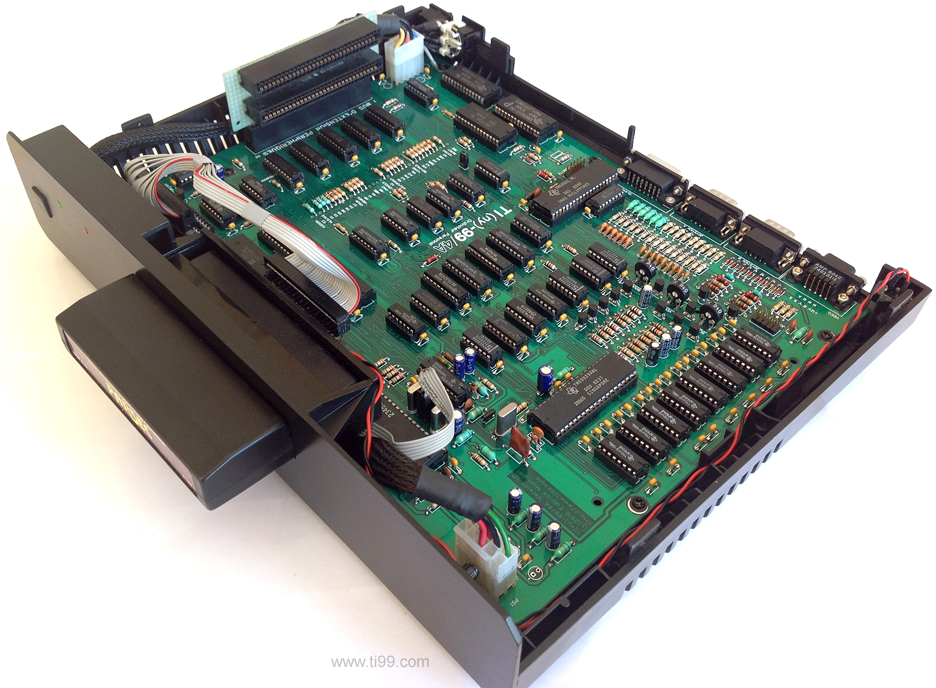 TI(ny)-99/4A technical datas:
TMS-9900 @ 3 MHz or 3.58 MHz
RAM: 32 Kb
Internal GROM: TI-Basic and  Editor/Assembler
VDP TMS-9929A + 16 Kb VRAM (double VDP extension planned, a protoboard tested OK)
RGB video output (with pots for adjustments)
Slot connector for PeBOX cards
Speech Synthesizer CD2501/TMS-5220
Extended keyboard - 63 keys (pictures will come soon)
Joysticks ports (Atari type)
TI Joystick connector (onboard)
Low-profil case ( 34 cm x 26 cm x 7 cm)
You can see my TI(ny)-99/4A Computer here:  http://www.ti99.com/...136/ti-ny-99-4a
Note: The first picture is showing the computer  equipped with a floppy disk controller in order to run the "Don't Mess With Texas" demo (the E/A is onboard)
Edited by fabrice montupet, Mon Jun 12, 2017 1:45 AM.