Always looking for a new game to keep things interesting I often ask myself "What is best game never played in the HSC before?"... perhaps it's...
Shamus: Case II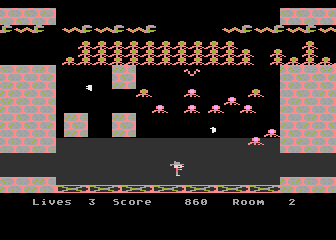 hope you enjoy this one, it's a crazy mix of Shamus with automatic mapping plus some downright weirdness. I've always wanted to complete it so HSCers are you up for the challenge?
Download XEX from fandal. Atarimania has info, be sure to read the story before playing!! Also has a lot of comments that we should probably digest during this round
My old transdisked copy requires the OSA translator utility.
Post if you need help getting it working
Play on Novice?
The antic podcast interview with the author of the Shami... Shamusses... both Shamus games  "William Mataga" is a good listen and talks about this game.
Scoring: 1pt for playing, +1pt for 10K, 30K. 1pt each for a key collected or a door opened. More will be added as we discover things
Round now ends Tuesday 25th 10am UK time
Join in and post a score!
trbb