Hi all, 

I hid the project for some time, but now that I have something "clean" to introduce you, I start!
So here is my new flagship project, Papi Commando Reload !!

I would point out that this is not an official sequel.
In fact, it's an "HD" version, with everything I could not do on the first version made with BEX and edited by WM.

The scenario will remain the same: Papi will have to recover his Commostrad stolen by the evil CePlusPlus!




Il y aura toujours une succession de "Zone" à découvrir et débloquer pour pouvoir aller aux suivantes.

A few details however ...
The areas will be much larger and varied !!
As well as the more colorful graphics, more varied sets also, more in the spirit "16 bits", close to the PC version.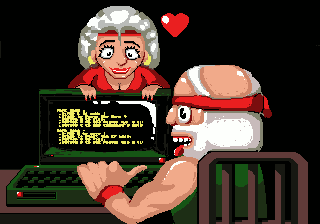 There will be different objectives to pass the different zones ...
In addition, the zones will be locked, which means that at each success you will have a password that will allow you to save your progress (And saves me the backups on EEPROM!)

Not to mention our friends Zombis who should be part (and other surprises !!)
On the other hand, I do not think of creating "Bonus" zones. These specificities will be integrated in the Normal Zones according to the nature / type of terrain!

On my Nomad !! 




The advantage is that I also work with AlekMaul & Grostonton on the port of Papi Commando on SNES.
We will work in parallel with this new version.
Except that on SNES, the graphics will be the responsibility of Grostonton, the code AlekMaul and I who run the joyful team! Wink
These two versions will have to be identical, with some exceptions ready, since the size will be reduced (16x24 px for sprites and 16x16 decors), and probably the little tricks that Alek will manage according to the whims of his beloved SNES!

Now place up to the demo video!


Test on Exodus emulator


On this video a lot of work has already been done:

- a 2048x320 pixel map (the width will be fixed, as the original game).
- Improved graphics being realized (Sprite & Tile game)
- Code optimized thanks to the new version 1.3 of Sgdk.
- Tilemapping engine.
- Basic AI management.
- Scrolling of the two Plan A & B.
- etc ...

But I could create really huge Map for this opus ...

In short, all if ok for a great project that many players expect everywhere in the world (yes yes ^^ )!

See you soon and thank you for your fidelity!

Vetea