Time for some messing about on the river...
River Rescue & River Rat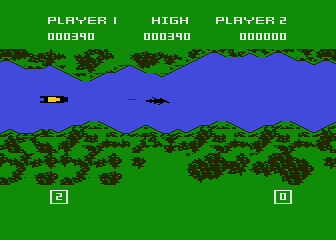 River Rescue
Collect the little guys and take them to the otherside, sort of choplifter with horizontal spy hunter action, probably erm... [no pause but can leave boat moored]
River Rat
Always a favourite in this house, lots of fun here, take the jumps for points but you might regret them. Special bonus after 3 levels I think [4!], time and race bonus at end of each level. Nice game for everyone kids and non Atari people so get them to have a go.
Hints: press fire to toggle speed, 1000pts vs 500pts on the ramps. I like to take the risky ramps on the early stages and then survive on the later ones. Hang on for the special bonus
P=pause.
Bonus point challenge get to the highest level (you will need to not risk the jumps. Level indicated by flags on the sides of the screen so keep track. 2pts highest 1pt 2nd.
Scoring Both games full points
Round ends Friday 11th August 10PM UK time
Round 14 We'll suggest games for the next poll here, so any ideas or pick 1 game and it might make the next poll
Stay Dry!
Edited by therealbountybob, Tue Aug 1, 2017 2:30 PM.
River Rat hints added