If you're an Atari Jaguar fan, we have three new Jaguar games we'll be selling for the first time at this year's Portland Retro Gaming Expo, taking place October 20-22! The three titles are Jeff Minter Classics (containing Llamatron 2112 and Revenge of the Mutant Camels), Escape 2042, and AstroStorm. Each game features a high-quality, professionally printed box, manual and cartridge label. Jeff Minter Classics also includes a double-sided poster featuring the stunning box art created by William Thorup for the package.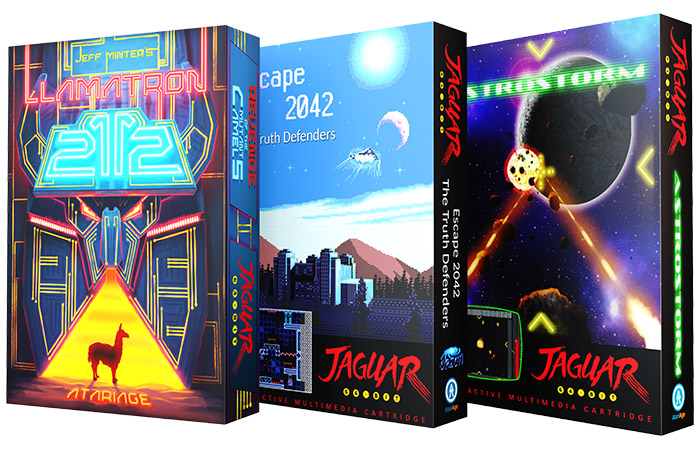 More information about each game below: 

Jeff Minter Classics 

For the first time on the Atari Jaguar, experience Jeff Minter's classic games "Llamatron 2112" and "Revenge of the Mutant Camels". Both games have been brought to the platform with the full blessing of Jeff Minter himself and are contained on a single cartridge. 

Llamatron 2112: You play the part of a totally hard laser-spitting llama. Your mission is to collect all the tiny sheep, llamas, camels and goats you see on each wave. Standing in your way are great herds of unintelligent but numerous Grunt enemies, plus a veritable menagerie of nasty creeps which fire at you, dodge your fire, emit fire hydrants, try to ram you, murder your llamas and shoot your ass off with lasers. Kill them deadly. Not everything can be killed, and some enemies take more than one shot to destroy. Your ultimate objective - destroy the Ozric Tentacle of level 99 and get to Herd Heaven on level 100. 

Revenge of the Mutant Camels: You are a rather threadbare-looking camel. If you are playing CPU Assist or Two-Player, you are accompanied by a large shaggy goat creature called an Ancipital. You are the Good Guys. Your mission is simple: stay alive through 42 zones of 7km each. These zones are populated by rampant telephone kiosks, skiing kangaroos, butch Greenham Common Peace Women, manic Minters, flying sheep and all the usual nonsense. These are the Bad Guys. They try to kill you off and you, naturally, and in keeping with the traditionally calm, rational, and thoughtful nature of videogames, get to waste them with lots of spectacularly destructive weaponry. 
 


AstroStorm 

Sometime in the future, aliens arrive. 

A high quantity of large rocks have started raining from the sky causing devastation all around Earth. You must command the Earth Defense Craft to search our solar system and destroy any anomalous rocks or aliens before it's too late. Is this our last stand? 

AstroStrom features a campaign story with 40 levels, skirmish mode with random levels, arcade modes for quick pick up and play, a mix of gameplay styles between shooting and space flying, powerups you can activate at strategic moments, separate scoreboards for each game type, and more! 

Escape 2042 

In the year 2042, a socialist government is in power, but nobody had foreseen the progressive dictatorship that settled in. The elites of the government hid behind a sham democracy, disconnected from the life the people were leading, and acted solely in their own interests. The regime considered the dissidents as conspiracy theorists, treated them like terrorists and locked them away in highly-secured prisons. 

You are Shun, a computer engineer and member of the Truth Defenders coalition. After a clandestine operation to inform the people, you are locked away in the highly-secured prison Bulor 24. But your knowledge on security systems will enable you to escape. Your turn now to escape as fast as you can from this place! 

Escape 2042 game takes place in three different environments (prison, desert, forest) and is interspersed with two mini-games, including a reversed "Shoot'em Up" and an original rappelling game! Avoid the security cameras, collect grenades to get rid of your enemies, and exercise your working memory by hacking the computers of the prison to unlock the doors or to deactivate the safety systems. 

For those unable to attend the Portland Retro Gaming Expo, we'll be adding all three of these titles to the AtariAge Store in November.