HIGH SCORE CLUB
Round 1 Season 11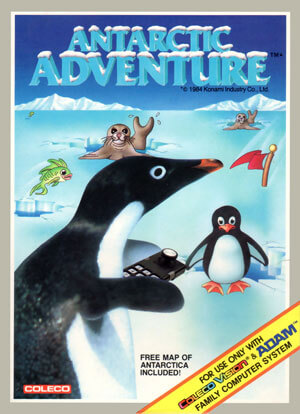 Game Information
Game Name: Antarctic Adventure
Released by: Arcade: Konami 1983. CV: Coleco 1984.
CV HSC High Score: 470,270 jblenkle (12/2010 HSC 4)
Settings: Turn it on and play.
Manual: http://www.colecovis...ture manual.pdf 
Round Ends: Monday January 15th at Noon
Bonus Points: Play the game post a score= +3
Score 50,000= +2, Score 100,00= +3, Score 150,000= +4, Score 200,000= +5 
Beat the Moderators Score Bonus= +4. Score to beat is 79,850.
Break or set a new CV HSC High Score= +10
Everyone who posts a score throughout the season will be entered into a drawing at seasons end for a special prize!
The same rules and scoring system that have been used the past few seasons will be in play this season as well.  Season 11 rules: http://atariage.com/...1-cv-hsc-rules/
Final Anarctic Adventure Scores
1)Bmack36  548,720 +3 +5 +4 +10  Record Breaker!  
2)sega_SHARK  302,270 

+3 +5 +4
3)jblenkle  146,340 

+3 +3 +4
4)Mangia-Boy  115,930 

+3 +3 +4
6)

DuggerVideoGames  71,980  

+3 +2
S,BAZ  44,210 

+3
Round Totals Including Bonus Points
1)Bmack36                     

{122}
2)sega_SHARK               

  {67}
3)jblenkle                         

{37}


4)Mangia-Boy                   

{31}
5)NCG                               

{20}
6)DuggerVideoGames       

{18}
7)ed1475                          

{11}

                          
8)S.BAZ                            

{11}
9)RangerG                        

 {6}