Bosconian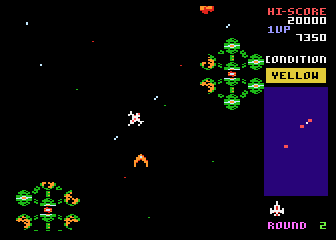 Welcome to Season 15 of High Score Club!
Holding of a strong challenge from Rainbow Walker, Bosconian wins the first poll of the season. Bosconian is a superb new game, possibly exceptionally good? We'll put it through it's paces for the opening round of the season, please comment on the game as the author will surely be keeping an eye on things here
There are NTSC and PAL versions plus 64 and 128K versions to choose from. NTSC is faster so emulator users can pick either.
Download XEXs (Silly Venture 2017 versions), Wikipedia: Info, StrategyWiki: How to Play
AtariMax MaxFlash Instructions on post #68
Scoring will be the same as last season with 12pts for 1st, 11pts for 2nd... down to 2pts for 11th and 12th places with extra players creating scoring postions from 3rd place.
If you're reading this in the future and missed the start of the season just join on the current round, there will be chances to catch up on missed games!
Controls Joystick, fire to start. In game: Start=Pause, Option aborts go when paused.
Tips Try taking out the pod's individual pieces, keep away from them and use all the angles. Keep "space" clear as a priority: use forward shots on fixed objects, rear shots on flying stuff.
Round ends 31st January 10pm UK time. The next poll will start with about a week to go, runner up games Rainbow Walker and possibly Millipede will go back in.
Have fun, join in, play the games and post some scores it's that simple. Screenshots optional. Please don't be put off by some crazily large scores from the top players 
  Any questions just post and someone will help you out