A new issue of FLOP, an electronic floppy disk-based "magazine" for Atari XL/XE computers has been released at the Atariáda 2018 event.

The publisher of the magazine, Atari klub - spolek příznivců historické výpočetní techniky (Association of Historical Computing Enthusiasts), proudly announces that issue 61 is the first issue ever that provides contents also in the English language. The contents of the magazine is now accessible to any English-speaking Atari enthusiasts around the world.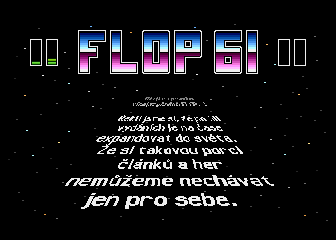 To get more information on the magazine, and to download issue 61, visit FLOP's website.

The magazine deals with various topics related to the world of Atari 8-bit computers. The textual part includes news, interviews with famous personalities, information about events taking place, descriptions of programs and hardware, guides for games or matters of interest for programmers. Furthermore, FLOP includes demos, utilities, and games.
Edited by baktra, Thu Apr 26, 2018 3:15 PM.