Anyone here remember the 1983 game B.C.'s Quest for Tires?  Based on the comic strip B.C. by Johnny Hart (1931-2007), this is basically a clone of Moon Patrol.  You play the character of Thor from the B.C. comic strip (not the Marvel comics character), who rides on a stone wheel dodging obstacles on a quest to rescue the Cute Chick.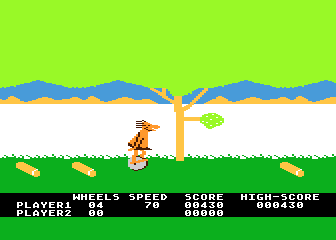 I played the port of Colecovision.  It was also ported to the Atari 800, Apple II, MSX and Commodore 64.
It was a fun game.  Given its similarity to Moon Patrol, I'm surprised that it never got a port to other platforms like the Atari 2600, 5200 or 7800.  (Cue to homebrew developers out there!)
Anyone else play this game?