Contest Results!

There were many great entries submitted to the
Strat-O-Gems Deluxe Label Contest
, and it fell on programmer John Payson to choose a single entry from those submitted. After much deliberation, John chose one of
Jeff Crouch's designs
as the label to grace the shipping version of Strat-O-Gems Deluxe. Jeff's winning label design now appears on all copies of Strat-O-Gems Deluxe sold through the
AtariAge Store
, including the cover of the manual put together by Tony Morse. You can view Jeff's winning entry
here
and all of the submissions
here
. Congratulations to Jeff Crouch and to all the participants who took the time to enter the contest and show off their talents!
Sorry for the delay in posting the results!
---

Strat-O-Gems Deluxe
is a new Atari 2600 game by John Payson, originally created for the
2005 Minigame Competition
that bears similarities to Columns, Jewel Master, and Salu's
Acid Drop
. In
Strat-O-Gems Deluxe
, colored gems fall from the top of the screen in groups of three. Any time three or more adjacent gems of the same color line up vertically, horizontally, or diagonally they will disappear. Any gems above them will then fall down; if these create new groups of three or more gems, those too will disappear, leading to chain reactions. Your job is to score as many reactions and chain reactions as possible before the gems reach the foul line. If any gems remain over the foul line after all reactions are complete, the game will end.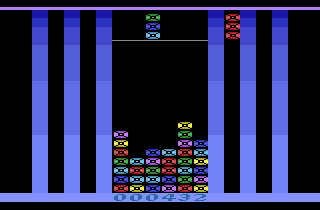 AtariAge and John Payson are sponsoring a contest to create original artwork for
Strat-O-Gems Deluxe
. This label artwork will appear on all copies of
Strat-O-Gems Deluxe
, which will be available through the AtariAge Store. The winner of the contest will receive a copy of
Strat-O-Gems Deluxe
in cartridge form, adorned with their winning label design, as well as a $50 gift certificate in the
AtariAge Store
.
You can learn more about the contest and how to enter by following this link:
Strat-O-Gems Deluxe Label Contest
Good luck!!