Winner Announced! Congratulations David Vazquez!
After deliberating over all the
wonderful entries
submitted to the
Medieval Mayhem Label Contest
, author Darrell Spice Jr. has selected an entry from David Vazquez as the winning label. David Vazquez's
second submission
, pictured below, will be the artwork that graces the Medieval Mayhem label as well as the manual. For winning the contest, David will receive a $50 gift certificate in the AtariAge Store, as well as a copy of Medieval Mayhem featuring his winning design. Medieval Mayhem will be available in the
AtariAge Store
beginning December 1st! Congratulations to David Vazquez and to all the participants who took the time to enter the contest and show off their talents! You can view all the contest entries
here
.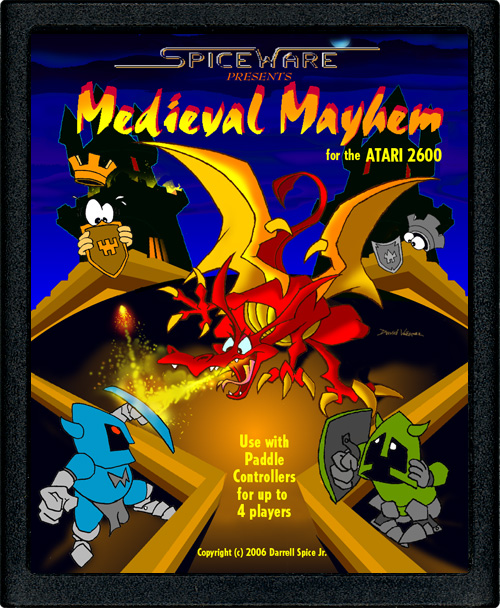 ----
Original contest announcement below:
Fans of the popular four-player Atari 2600 game
Warlords
(itself based on an arcade game of the
same name
) will be happy to learn that 2600 enthusiast Darrell Spice Jr. is nearly finished with
Medieval Mayhem
, an updated take on Warlords. While the original version from Atari is still a blast to play, Medieval Mayhem adds arcade features such as the launch dragon, multiple fireballs and a level of polish missing from the original 2600 release. It also includes a menu to select options before starting the game.
AtariAge and Darrell Spice Jr. are sponsoring a contest to create original artwork for
Medieval Mayhem
This label artwork will appear on all copies of
Medieval Mayhem
, which will be available through the
AtariAge Store
. This artwork will also be featured on the cover of the manual created for
Medieval Mayhem.
The winner of the contest will receive a copy of
Medieval Mayhem
in cartridge form, featuring their winning label design. The winner will also receive a
$50 gift certificate
in the
AtariAge Store
. The contest will run until
11:59pm (CST), Sunday, November 12th, 2006
. To learn how to enter, please visit the
Medieval Mayhem Label Contest
page!