AtariAge News Archive
Previous 1 2 3 4 5 6 7 8 9 10 11 ... 82 Next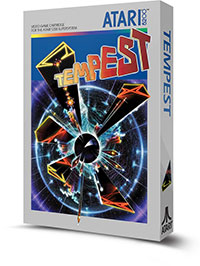 Tempest for the Atari 5200 is now available for purchase from the AtariAge Store!

For 15 years, the existence of an Atari 5200 version of Tempest was thought to be only myth. No prototypes had ever surfaced. A crude 2600 version had come to light, along with a prototype box. Then, in 1999, an unfinished working 5200 prototype appeared on eBay. The game was eventually dumped and the binary freely distributed around the Internet. Another decade has gone by since the game's discovery, and the original Atari 5200 Tempest programmer, Keithen Hayenga, worked to complete Tempest so it could finally see the light of day in completed form!

Tempest 5200 includes the game cartridge with glossy label, twelve page full-color, glossy manual, professionally offset printed box using chipboard paper stock, and cartridge insert to keep the cartridge in place. Only 250 boxed copies of Tempest will be produced! After that, the game will be sold without the box. If you want a boxed copy of the game, don't wait too long!

Order Tempest for the Atari 5200 Today!



Team Pixelboy, maker of many fine ColecoVision homebrew games, is giving ColecoVision fans a chance to order past releases which are currently sold out, namely Pitfall II Arcade, Track & Field, Destructor SCE, Circus Charlie, Star Force, Golgo 13, Ninja Princess, Bank Panic and Konami's Ping-Pong. More copies of these games will be manufactured in February 2013, but only for those who will have placed a pre-order for these games before January 31st 2013. This is a limited-time offer, and after new supplies of these games have been manufactured and sold, they will all be permanently sold out. If you're a ColecoVision fan looking to expand your collection of games, don't miss this opportunity! Visit teampixelboy.com for more information, and contact Pixelboy himself by e-mail to place your pre-order. Note that you can also send him a private message on AtariAge, but Pixelboy prefers being contacted by e-mail for matters of orders and pre-orders.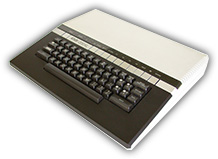 It's been a while since we've posted news about the Atari SAP Music Archive (ASMA), but it continues to be updated on a yearly basis with new music. This year's Christmas update added 315 new Atari 8-bit tunes. The archive now consists of 4,630 songs, comprising a playing time of 7 days 18 hours 33 minutes 33 seconds. Here are some other statistics:
Number of songs: 4,630 (5,795 including sub-songs)
Compared to HVSC: 10.7 % (HVSC r58 contains 43,116 songs)
Disk space occupied: 26,317,431 bytes (excluding documents and playlist)
Average SAP file size: 5,684 bytes
Songs in stereo: 441
Number of musicians: 210
Most active musician: Michal Szpilowski (Miker) (201 songs + 4 cooperations)
The Atari SAP Music Archive contains the best tunes from Atari 8-bit computers in a format that can be reproduced perfectly by various SAP players. You can get the latest collection of music as well as players for a variety of platforms at the Atari SAP Music Archive.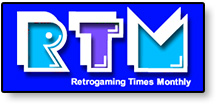 The first 2013 issue of Retrogaming Times Monthly has been published. This month's issue features a look at Wreck-It Ralph, the top retro games of 2012, and more. Here's what you'll find in issue #104:
Caught On Film - Wreck-It Ralph
The Pixelated Mage - Top 10 Of 2012
Apple II Incider - Christmas Gifts For The Apple II Fan
CoCoLicious! - The CoCo's 3rd Time Is A Charm (Part 1)
The Way Things Were - January 1983
MAME Reviews - Astro Blaster
NES'cade - Cabal
Beyond The Plastic - Tom & Jerry (SNES)
The Retro Junkie - NHL '94
And More!
You can read these articles and more inside the Retrogaming Times Monthly, now in its 184th month! You can also browse the RTM archives to catch up on past issues.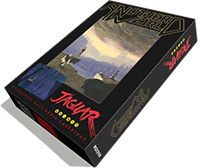 The Retro-Gaming Connexion (RGC) association is proud to announce the upcoming release of the game Another World on cartridge for the Atari Jaguar console. The iconic game, released in the early 90s, has been adapted by Sebastien Briais of the group Removers of Jagware with the blessing of the original developer, Eric Chahi. You can view a video of the game being on YouTube.

The RGC is producing the game in the truest spirit of the original Jaguar releases, in cartridge form with a box and manual. In order to fund the project through the various stages of manufacture the game is being offered by pre-order. Release of the game is currently slated for Spring 2013. Each person who reserves a copy will receive a numbered confirmation slip by e-mail. The price for Another World is 62 Euros by PayPal, and you can pre-order a copy here.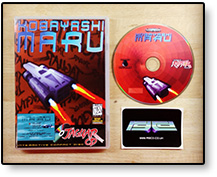 Reboot of Jagware and RGCD are pleased to announce the release of Kobayashi Maru: Final.

Kobayashi Maru: Final is an updated and fine-tuned version of Reboot's freely-released game of a year ago. The game is based on an arcade favorite from the early 80s. Use your rotary controller (adjustable to allow for sensitivity of your particular spinner) or regular Jaguar pad to steer your warpship in this arcade space shooter, battling countless drones and huge boss craft in ever-tougher waves of attack. Featuring subtle use of the Jaguar's RMW graphics capabilities, background graphics blend together as you tear around in the upper atmosphere over four worlds.

This version of the game has updated graphics, new sound effects, webscores, and also supports Memory Track game saves. The physical copy comes cellophane wrapped in a standard DVD box with full color printed inlay and full face printed, glass-mastered CD, direct from the factory (100% professionally produced in the UK). You can purchase your copy directly from the RGCD website.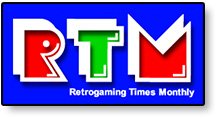 The Christmas 2012 edition of Retrogaming Times Monthly has been published! Inside issue #103 you'll find the following articles:
The Retro Junkie - The Batman Effect
Retro Collecting 101 - Perler Mania!
CoCoLicious! - It Takes Two, CoCo2 That Is!
The Thrill Of Defeat - The Dragon That Faintly Roared
MAME Reviews - Pirate Ship Higemaru
Apple II Incider - Scouting The MicroLeagues
The Retro Junkie (Strikes Back) - TMNT III: The Manhattan Project
Freeware Alert - Iji & Not Tetris 2
And More!
You can read these articles and more inside the Retrogaming Times Monthly, now in its 183rd month! You can also browse the RTM archives to catch up on past issues.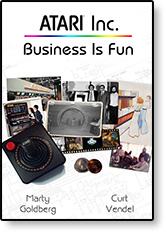 Atari Inc. - Business is Fun, the book that goes behind the company that was synonymous with the popularization of 'video games,' is now finished and for sale!

Nearly 8 years in the making, Atari Inc. - Business is Fun is comprised of thousands of researched documents, hundreds of interviews, and access to materials never before available. An amazing 800 pages, including nearly 300 pages of rare, never before seen photos, memos and court documents, this book details Atari's genesis from an idea between an engineer and a visionary in 1969 to a nearly $2 billion dollar juggernaut, and ending with a $538 million death spiral by June of 1984. Several key and important fully detailed side stories are included, such as:
The creation of "Rick Rats Big Cheese Restaurants" which later became "Chuck E. Cheese's"
The amazing story of Atari's very own "Xerox PARC" research facility up in the foothills of the Sierra Mountains
The dramatic dealings and double-dealings between Atari Inc. and Amiga Corp. for months prior to Jack Tramiel coming into the picture.
You can learn more about Atari Inc. - Business is Fun and order a copy here.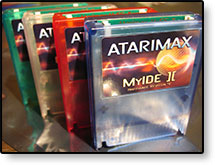 Pre-ordering is now open for the new Atarimax MyIDE-II CompactFlash Cartridge. The MyIDE-II Cartridge is a professionally produced Compact Flash interface for Atari XL/XE computers. The first production run is limited to 100 cartridges, which are expected to ship on or before December 15th, 2012.

The MyIDE-II cartridge includes the following:
Compact Flash Hardware Interface
512kB On-Board User Customizable Flash Memory
512kB On-Board Application SRAM
Mr-Atari's MyBIOS Included
Available in Clear, Red, Blue and Green Cases
CNC Machined Case Openings
Professionally Assembled Immersion Gold PCB
Hardware Support from Atarimax
Real Lifetime Warranty
Pre-order pricing for the MyIDE-II is $69.99 + shipping. To learn more about the MyIDE-II and place and order, please visit Atarimax.com.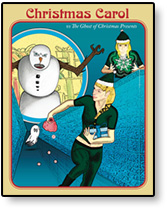 Left Turn Only Productions and the Intellivision® High Score Club invite you to a very special edition of the High Score Championship: Carol vs. The WORLD! Play the game "Christmas Carol vs. The Ghost Of Christmas Presents" and help Carol Greenleaf save Christmas from the Evil Snowman. Rise to the top of the ranks of Santa's Elite Elf Squad and submit your top score to the judges. The person with the highest score received by the deadline of December 31st, 2012, wins a very special gift from Santa Claus himself!

Plus, as if all that were not enough, Left Turn Only Productions is giving away the game to everyone! In keeping true to the Christmas spirit, and as a gesture of good will, they are offering the game in ROM format as a free download.

To get your copy of the game ROM or for more information on the contest, please visit the official Carol vs. The World! Championship web site, or the Intellivision® High Score Club forum here in AtariAge.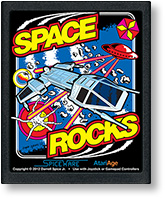 Congratulations go out to Dave Dries for winning our Space Rocks Label Contest! Quite a few great entries were submitted for this contest (over 50 in all!), making for a difficult decision on part of the game's author, Darrell Spice, Jr. For his winning label design (pictured to the right), Dave Dries will receive a $50 gift certificate in the AtariAge Store, as well as a boxed copy of Space Rocks once it is available for purchase.

For the first time, we've decided to award three Runner Up prizes as well! The runner ups for the Space Rocks contest are Brian Ostrowski, André Bolfing, and Nathan Strum. Each of the runner ups will receive a copy of Space Rocks adorned with their winning label.

Congratulations again to Dave Dries and to all the participants who took the time to enter the contest and show off their talents! You can view all 55 submissions here and discuss the contest (and results) with other AtariAge visitors in our Contests Forum. If you'd like to be notified about our next label contest, please use our Contact Page to drop us a line. See you next time!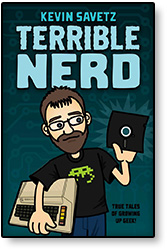 Kevin Savetz has published a new book, Terrible Nerd. It's a memoir about growing up nerdy in the '80s: being part of the first generation of kids with computers on our desks. Pirating games on floppy disk, calling BBSes, coding on the Atari 800, crashing the Internet for all of Europe, helping clueless newbies as AOL's Internet AnswerMan, and many more true stories.

From Amazon:

Rich in detail and personal memories, this is the story of a boy coming of age in the dawn of home computing. This tech memoir gives readers a front-row seat to a self-confessed geek's early experiences with computers. Accessible to non-techy readers and computer nerds alike, this treasure trove of memories shows how growing up as part of the first computer-native generation shaped friendships, hobbies, and, ultimately, a career.

Terrible Nerd brings to life late nights swapping software, hacking the school computer, causing trouble on college radio, a stint as AOL's Internet AnswerMan, and hosting a team of Microsoft suits in his small-town home office. Kevin brings his experiences to life, writing with insightful candor and historical accuracy.

Terrible Nerd celebrates an era in all its geeky glory. You'll enjoy following along as Kevin flunks out of P.E. class, gets busted for reading the Intellivision game catalog at church, and accidentally crashes the Internet for all of Europe – yet ultimately triumphs and even gets the girl.

Terrible Nerd is also the first book with an Atari 800 on the cover in a very long time and is available on Kindle and paperback. Kevin is the creator of AtariMagazines.com and AtariArchives.org (sites hosted by AtariAge). You can discuss Terrible Nerd with Kevin Savetz in our online forum.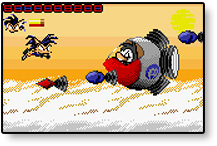 Super Fighter Team is proud to announce that new stock of their popular horizontal shooter for the Lynx is now available for order and immediate shipping! Developed by PenguiNet, Zaku is an all new, all original game that ships complete with full color instruction manual printed in both English and French, sturdy cardstock box and game card encased in a "curved lip" plastic shell!

The game's story:

After stealing a powerful game development tool known as Rarity 9, Captain Bran threatens to flood the markets of the world with his questionable quality software! But in all his plump luxury, he has forgotten about one person: Zaku! Help her soar to new heights and take the world by low coastal fog through 16 beautiful stages filled with lightning fast action and some of the most zany enemies you've ever seen!

You can order your copy at the official Zaku website.



Your elfy mission should you choose to accept it: Send one gift to your randomly assigned recipient. Then get one back from another super secret elf!

The holiday season is quickly approaching and is a time to share with family, friends, and the community here on AtariAge. If you are good natured and wish to enjoy some lighthearted holiday fun, please join us for the 2012 AtariAge Secret Santa gift exchange. To learn how you can participate, visit our Secret Santa 2011 thread. You'll need to submit answers to several questions to help your secret santa send you an appropriate gift. Participants will be randomly assigned one person to send a special gift based on their recipient's answers. In return they will receive a gift from another Secret Santa. The deadline for signing up this year is November 15th. The AtariAge Secret Santa is open to members who have joined our forum no later than August 15th, 2012.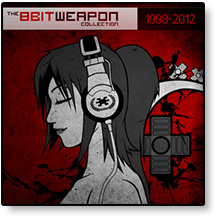 The popular chiptune band 8 Bit Weapon has released a complete collection of their music (from 1998 through 2012) for a low price through their website. 8 Bit Weapon was formed in 1999 by Seth Sternberger and was joined later by Michelle Sternberger. Their instruments comprise of 8-bit and 16-bit computers, including the Vic-20, Commodore 64, Apple II, and game consoles such as the Atari 2600, Nintendo Entertainment System, Game Boy and more. Inspired by classic video game soundtracks and electronic music from the 70s and 80s, 8 Bit Weapon delivers a sound that is as unique as it is original. They have performed their chip music across two continents using their arsenal of classic video game consoles and vintage computers as instruments.

After 14 years, 5 tours, many studio albums, and countless live shows 8 Bit Weapon has amassed a healthy body of work. Multiple albums, singles, remixes and rare demo tracks make "The 8 Bit Weapon Collection" a must for any fan new or old. Even the holiday album with Michelle's solo band ComputeHer is included in the collection! You can sample all the tunes and purchase this collection over at 8 Bit Weapon.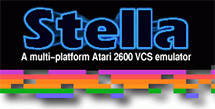 We haven't posted news about the exceptional Atari 2600 emulator Stella in some time, but thanks to its primary maintainer, Stephen Anthony, Stella continues to see frequent releases. Stella is a multi-platform Atari 2600 VCS emulator released under the GNU General Public License (GPL), and versions have been released for a wide variety of operating systems. Emulation is a great way to sample the large Atari 2600 library, including new homebrew titles being developed today. It's also a great tool for developers, as Stella has an excellent debugger built in.

The current version of Stella is 3.7.3. Changes in this version include:
Improved handling of 'illegal' VSYNC signals, which sometimes created 'short' frames that caused massive flickering. Also improved related behaviour when VSYNC isn't used at all
Improved sound generation with ROMs that have irregular scanline counts. This fixes many demo ROMs as well as Quadrun, where previously there would be 'gaps' in the sound output.
Improved emulation of RIOT chip, in particular the behaviour of reading from TIMINT. Also, D6 of the Interrupt Flag register is now properly set on active transition of the PA7 pin.
Fixed bug in DPC+ bankswitch scheme; the music in "Stay Frosty 2" wasn't playing correctly.
The ROM properties database now uses 'Auto' instead of 'Auto-select' everywhere. This makes for less typing when running from the commandline.
Updated included PNG library to latest stable version
Visit the Stella website to download the latest version. To view a detailed list of all the changes, as well as discuss the emulator with Stella's primary developer, please visit our Emulation Forum.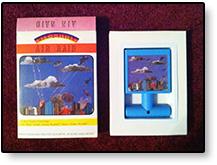 Two years ago a boxed copy of the Atari 2600 game Air Raid was discovered in Austin, Texas. This was the first discovery of a box for this rare title, and little was known about its release or even the company (Men-A-Vision) that produced it. We examined the game in person, deemed it to be authentic, and the game was ultimately auctioned for $31,600 on eBay.

A second boxed copy of Air Raid has now surfaced, after being discovered by a father and his daughter after the game had sat mostly idle the past three decades. The father had worked as an Assistant Manager in a drug store and had been given a copy of this game as a sample by a sales rep who represented smaller third-party game developers (such as Spectravision, US Games, and Imagic). The game was played only a few times and then relegated to sit unused for years, first in a closet and later in a storage unit. It wasn't until its owner read a story about the only known boxed copy of Air Raid selling for over $30,000 in 2010 that he was inspired to locate his copy.

This instance of Air Raid appears to be in pristine condition compared to the copy found in 2010. Additionally, this copy includes the manual, which is the first manual of Air Raid to have been discovered. Given that 30 years have passed since the heyday of the 2600 and because only two boxed copies of this game have surfaced in that time, it's unlikely we'll see another complete example in this condition.

This unique game is now up for auction on GameGavel. The auction contains many photos of the game, two videos, and a more detailed accounting of its history and rediscovery. Many eyes will be watching this auction to see where it ends in relation to the first boxed Air Raid auctioned two years ago. You can discuss this copy of Air Raid with the owners and keep tabs on the auction in our Atari 2600 Forum.

While on a routine Stellar Cartography mission, UESC Rains experienced a malfunction and warped into an asteroid field in an unknown sector of space. Unable to get a bearing to safely warp out, the ship must blast the asteroids into smithereens to prevent imminent destruction. To make matters worse, the local inhabitants are xenophobic and have sent warships and Magna-Mines to eliminate the alien (that's you!) threat.

AtariAge and homebrew author Darrell Spice, Jr. are proud to announce a label contest for the upcoming game Space Rocks! If you're a fan of the arcade games Asteroids or Asteroids Deluxe you'll love Space Rocks. While Atari released a version of Asteroids for the 2600, it pales in comparison to what Darrell Spice, Jr. has crafted in his version. Space Rocks is a 32K game that takes full advantage of our Melody Board resulting in a game that pushes the Atari 2600 hardware to its limits. The graphics, animations, and sound effects are well above what is typically experienced on the 2600.



You can learn more about the contest and how to enter at our Space Rocks Label Contest page, which includes more detailed information about the game and the requirements for entry. You can also discuss the contest with other AtariAge members in our Contests Forum. The contest ends at 11:59pm on Sunday, November 11th, 2012 and all submissions must be received by then! Good luck!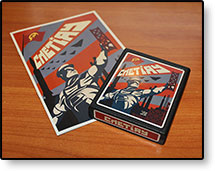 We're pleased to announce the immediate availability of several new Atari 2600 and 7800 homebrew games! We first made these games available at the recent Portland Retro Gaming Expo, and now everyone can enjoy them! Here's a list of the games we've added to the store: In addition to the above games, we still have a small quantity of Boulder Dash for the Atari 2600 available. Only 250 copies of this game were produced for sale, so there's not much time left if you want to own this masterful Atari 2600 game! We also had a fresh run of AtariAge T-Shirts produced before our trip to the Portland Retro Gaming Expo, and we've now added them to the store. Our shirts are quality, heavyweight 100% cotton Hanes Beefy-T shirts and are available in Navy Blue and Maroon.

You can find all of the above games, as well as a large library of other original homebrew titles for the 2600, 5200, 7800, and ColecoVision, in the AtariAge Store!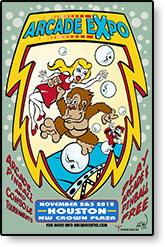 This year's Houston Area Arcade Expo is taking place on November 2nd and 3rd at the Houston Northwest Crowne Plaza. Hosted by the Houston Area Arcade Group, the Houston Area Arcade Expo is an annual event celebrating the electronic games people love to play. Gamers buy, sell, and trade pinball, video game and game console items, and, best of all, pinballs, arcade cabs and consoles are set up on free play. Tournaments with prizes keep competitive gamers busy throughout the weekend.

The first H.A.A.E. was held in 2002, making the 2012 convention the 11th show. Special events to celebrate the occasion include: Disney's Wreck-IT-Ralph give aways and console games by Activision, AtariAge Console Section, a Donkey Kong Multicade raffle, a trivia contest, a pinball shop and repair clinic with John Costa, The History of Pinball with Dan Ferguson of Lone Star Pinball, shop talk with former Williams programmer Ken Graham, Atari Homebrew Programming with Darrell Spice Jr. of SpiceWare, and much more.

AtariAge will be at the show, and we'll have a slew of classic gaming systems setup for play! There aren't many opportunities to enjoy large collections of classic arcade games and pinball machines, so if you are in the Houston area (or can get there!), you should be at this expo! Admission is $30 for a weekend pass or $20 for a single day. You can save $5 by purchasing your tickets in advance. For more information, please visit ArcadeCenter.com.
Previous 1 2 3 4 5 6 7 8 9 10 11 ... 82 Next