AtariAge News Archive
Previous 1 2 3 4 5 6 7 8 9 10 11 ... 81 Next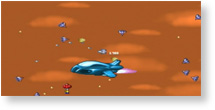 Reboot of JagWare are proud to present Kobayashi Maru, their latest freely-available game for the Atari Jaguar games console, written to utilize the new Raptor game engine. Kobayashi Maru is Reboot's version of an arcade favourite from the early 80s. Use your rotary controller or regular Jaguar pad to steer your warpship in this arcade space shooter, battling countless drones and huge boss craft in ever-tougher waves of attack.

Kobayashi Maru is released hot on the heels of another Reboot release, the port of Downfall for the Atari Falcon030 computer. Head over to the Kobayashi Maru download page to obtain the full game in your favourite file format: BJL, ROM or CDI disc image. Have fun!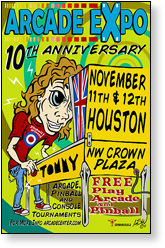 The Houston Area Arcade Group (HAAG) is holding their annual Houston Arcade Expo on November 11th and 12 at the Houston Northwest Crowne Plaza. Admission is $30 for a weekend pass or $20 for a single day, and discounts are available if you buy your tickets in advance. Admission gains you free-play access to over 200 classic and current coin-op pinball machines, video arcade games, penny arcades, and console video games. There will be tournaments, events, music and workshops to keep the young and young at heart entertained.

Speakers include Dan Ferguson (Lone Star Pinball Museum) on the History of Pinball, Ken Graham (former Williams Programmer), and an Atari Homebrew Programming session by AtariAge user Darrell Spice Jr. (creator of Medieval Mayhem). You can also participate in the free swap meet, repair clinics, win door prizes, enter the raffle to win a Donkey Kong Multicade, and take advantage of the concessions and full bar.

AtariAge will be at the show, and we'll have a slew of classic gaming systems setup for play! There aren't many opportunities to enjoy large collections of classic arcade games and pinball machines, so if you are in the Houston area (or can get there!), you should be at this expo! For more information, please visit ArcadeCenter.com.


AtariAge and First Star Software, Inc. are hosting a box and label design competition for the recently announced Boulder Dash® Atari 2600 port (see detailed news item below)! The winning design will be featured on the game cartridge, the manual, and the box. Plans are to release the AtariAge version of Boulder Dash® in time for Christmas. Now you can be a part of the effort to bring about this highly anticipated release!

The winner of the contest will receive a copy of Boulder Dash® in cartridge form with box and manual, featuring their winning label design, signed by Andrew, Thomas, Albert, and Richard M. Spitalny (president of First Star Software, Inc.) The winner will also receive a $50 gift certificate in the AtariAge Store. The contest will run until 11:59pm (CST), Sunday, November 27th, 2011 and all submissions must be received by this time! After the contest has ended, AtariAge, First Star Software, Thomas Jentzsch and Andrew Davie will select one of the entries as the label to be used for Boulder Dash®.

Full details about how to enter the contest are here! You can follow the contest in our Contests Forum. Good luck, and we look forward to seeing your entries!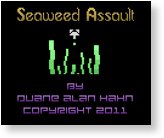 On Oct 26, 2011, Duane Alan Hahn (Random Terrain) finished his first Atari 2600 batari Basic homebrew game called Seaweed Assault. It is an arcade port of a game that never was but should have been. This sci-fi horror arcade shooter is addictive and challenging. Duane Alan Hahn designed Seaweed Assault to use controlled randomness to add replay value and after you try it you will be coming back for more and more.

Here is the story:

"Your name is Captain Nalad Modnar and you are part of an advanced underwater civilization. It's your duty to patrol your section of the ocean in a semi-organic submarine called the Manatee. Highly aggressive seaweed surrounds you and it keeps trying to replicate faster than you can shoot. Use your torpedoes to blast any bits of seaweed that appear before they clog up your sector and spread to others, making it nearly impossible for anyone to travel. Don't let the seaweed strangle your civilization to extinction."

The .bin file and online manual can be found here. Try it out. You won't regret it.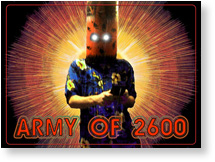 AtariAge user Stan has put together a special offer for AtariAge members! Stan runs a record label called Mind Flare Media and his next release is an album by an artist called Army of 2600. Army of 2600 is an awesome mix of experimental and dance-type music made primarily from Atari 2600 sounds. His first, full-length album is titled Return of the Bloop Beep Buzz and will be officially available for sale by the third week of December. The album consists of 12 different tracks (no remixes) running over 40 minutes. Stan has put together a special promotion to allow AtariAge members to purchase the CD early at a reduced price, bundled together with an Army of 2600 t-shirt.

For this promotion, you will be receiving the regular retail glass-mastered CD at half price for $5. In addition, you will be receiving a high-quality, silkscreened t-shirt printed on black, ultra cotton tees using the color image you see at the top of this thread (based on the album's actual artwork). The total for this offer is only $20 including shipping for those in the United States. This shirt will ONLY be available for this special promotion, and thus, other than close friends and family of the band, non-AtariAge members will have no access to it. After the preorder phase is over and the order is processed, this shirt will no longer be in production.

For complete details about this offer, a sample track from the album, and how you can participate, please drop by our Marketplace Forum.



The November 2011 issue of Retrogaming Times Monthly issue is now available for viewing! Here's what's in this month's issue:
CoCoLicious! - Getting To Know The CoCo
Apple II Incider - Apple II "Turkeys"
Gaming Tetralogies - The Mega Man Series
Retro Collecting 101 - Planet Fun In Savannah, GA
Move 1 Space Forward - Q*Bert The Board Game
Bewitched Brews - Candy Catcher
Beyond The Plastic: Super Adventure Island
Commodore Du Jour - Mail Order Monsters
Dual Perspective - Duck Tales
MAME Reviews - Turkey Shoot
Standalone Spew - The Battle For Football's Second-Best (Part 2)
A Pixelated 21st Century
+ More!
You can read these articles and more inside the Retrogaming Times Monthly, now running 170 months in a row! You can also browse the RTM archives to catch up on past issues.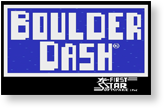 Following the recent release of their amazing Boulder Dash® playable demo, programmers Andrew Davie and Thomas Jentzsch, in association with publishers AtariAge and First Star Software, Inc, are very excited to announce that the original game in the Boulder Dash® series, Boulder Dash® Volume 1, will be available for purchase, exclusively from the AtariAge Store, in time for Christmas 2011!

Andrew Davie and Thomas Jentzsch have been working on this Atari 2600 port of Boulder Dash® for almost a decade. Together these two Atari 2600 veterans have used their insight and sophisticated knowledge about the Atari console to bring to life a faithful rendering of the classic, action-puzzle game (first released on the Atari 8-bit computer platform in 1984) from First Star Software, Inc. Game-play, sounds, and graphics have been faithfully reproduced, culminating in a game for the Atari 2600 unlike any previously seen.

Here's a video of the game showing the title screen and two full levels being played:



With the full cooperation of First Star Software, Inc., this title will finally be available on the 2600!

The game features exact implementations of all 16 caves and 4 intermissions of the original game, playable with 5 levels of difficulty, providing over 80 unique levels of challenging fun. The physics, sound, and graphics are as exact as possible on the Atari 2600, and the game-play and timing are exactly the same as in the original version of the game. In short, this is a not-to-be-missed masterpiece, available in a limited run of only 250 copies.

AtariAge and First Star Software, Inc. will be hosting a box and label design competition! Winners will receive a copy of the game signed by Andrew, Thomas, Albert, and Richard M. Spitalny (president of First Star Software, Inc.) . Keep watching AtariAge for announcements of the competition!

The game will be available only as a cartridge (with professionally printed box and manual) in time for Christmas 2011, with a purchase price of $75 USD. To ensure you receive a copy and to keep tabs on the release of Boulder Dash® for the 2600, please follow our Atari 2600 Forum!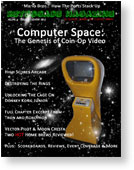 The premiere issue of Retrocade Magazine is available for digital download! 108 pages of classic gaming goodness by classic gamers for classic gamers. Here's what you'll find inside the premiere issue:
Event Coverage (CAGDC Contest at CA Extreme, the Richie Knucklez Invitational and the annual CAGDC 2011Tournament)
Computer Space: Coin-Op Finally Begins
The King Of 3 - Meet George Riley, the best Donkey Kong 3 player on the planet
Unlocking the Cage On Donkey Kong Junior
High Scores Arcade
The Old Warehouse At TNT Amusements
Out of the Box
An Excerpt From Tron and Robotron: 30 Years Of Classic Gaming (and Counting)
Destroying the Rings
Moon Cresta 7800 Review
Vector Pilot Review
Mario Bros.: How the Console Ports Stack Up
Reviews (Gulkave, Space Frenzy, Star Fortress)
Console War: Atari 2600 vs. Mattel Intellivision
And much more!
You can learn more and purchase Retrocade Magazine over at Stone Age Gamer.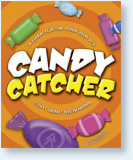 Candy Catcher is a new homebrew game being released for the Atari 2600. The game has been programmed by Grant Thienemann, Disjaukifa on the AtariAge Forums, and is being released as a fun game for the halloween season. Candy Catcher was programmed using Batari Basic and is only 4K in size. Here is a description of the game:

"The Candy Catch event at your Halloween Block Party has just begun. Armed with only your trusty pumpkin bucket, you'll need to catch as much candy as you can in the hopes of ensuring neighborhood bragging rights (and some cavities!) But beware of the wind-up robot toys zipping across the sidewalks. Get hit by one, and you're eliminated!"

Grant is now taking pre-orders for both the Limited Text Label version costing only $20 shipped in the US and for the Cartridge, Manual and Box version featuring label and box artwork created by Brian Ostrowski, Brian O on our forums, for only $35 shipped in the US.

For more information about ordering please visit the Candy Catcher Pre-Order thread in our Marketplace Forum.



Version 2.0 of GUIntv has been released. GUIntv is a graphical frontend for the Mac version of jzintv. It runs alongside jzintv and provides standard controls like buttons and menus that every Mac user is familiar with. After some initial setup, GUIntv will launch and configure jzintv automatically. Just click and play.?

Jzintv is a Mattel Intellivision emulator by Joe Zbiciak that lets you play classic Intellivision games from the '70s and '80s on a modern computer. Originally written for Linux, jzintv has been ported to many other systems including Apple's OS X. Although Jzintv is the best Intellivision emulator for OS X, it is still basically a Unix application, and until now, the only way to use it has been to type commands in the Terminal. Because jzintv is so "un-Mac like", it is inconvenient for many users, and often difficult for newcomers to get started with.

The current version of GUIntv requires OS X 10.6 and higher, but the original Applescript version will work with older versions of OS X and Power PC systems.



The October 2011 issue of Retrogaming Times Monthly issue is now available for viewing! Here's what's in this month's issue:
Your Mom Was Wrong! - Playing Video Games IS Healthy For You!
Retrogaming Turntable - Pac-Man Fever
Retro Collecting 101 - Getting Seemingly Broken Cartridges To Work
Gaming Tetralogies - The Super Mario Bros Series
MAME Reviews - Blaster
Commodore Du Jour - The Castles Of Dr. Creep
Apple II Incider - Mystery House
Vectrexenstein - WebWars
Dual Perspective - Castlevania
NES'cade - Chiller
The Pixelated Mage - Splatterhouse 2
Pixelated 21st Century
More!
You can read these articles and more inside the Retrogaming Times Monthly, now running 168 months in a row! You can also browse the RTM archives to catch up on past issues.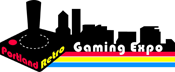 The 2011 Portland Retro Gaming Expo will be held on the weekend of September 24-25, 2011 at the Doubletree Hotel in Portland, Oregon. This year's show features a new venue that will allow more space this year for vendors, arcade games and speakers! The PRGE organizers are very excited to announce that their main speakers this year will include David Crane, Garry Kitchen and Tod Frye.

David Crane is one of the most successful designers of entertainment software in the world. He co-founded Activision and programmed many of the finest videogames of the time. Some of the many mega-hit games he has designed include Pitfall, Pitfall II, Dragster, Fishing Derby, Laser Blast, Freeway, Grand Prix, Ghostbusters, and A Boy and His Blob(NES). Garry Kitchen was a leading pioneer in the videogame industry with a career in interactive entertainment spanning over 30 years. Some of his most notable early works in the videogame industry include programming the 2600 port of Donkey Kong and making Keystone Kapers, which was nominated for videogame of the year in 1983. Tod Frye started as a video game programmer in the classic Atari 2600 days. He produced several games with some never being released. Tod Frye is most remembered for programming Pac-Man for the Atari 2600.

Here is your chance to meet and talk to these great programmers and much more at the Portland Retro Gaming Expo. You can discuss the show in our Events Forum with PRGE staff and AtariAge members.



The most wonderful time of the year is nearly upon us. A time to share with, family, friends, and now the community here on the AtariAge Forums. If you are good natured and wish to enjoy some lighthearted holiday fun, please join us for the AtariAge Secret Santa gift exchange. Members who've joined on or before August 1st, 2011 can sign up in the Secret Santa 2011 thread. A series of questions will then be sent via private message. Participants will be randomly assigned one person to send a special gift based on their recipient's answers. In return they will receive a gift from another Secret Santa. The deadline for signing up this year is November 10th. Don't be selfish, be ELFish! Hope to see you there!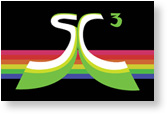 SC3 (Southern California Classic Collectors) and Nucleus Gallery today announced they will host the latest SC3 arcade party Saturday, October 1, 2011 from noon to midnight. SC3 will bring over 30 arcade machines representing video gaming's "Golden Age" to the gallery floor for 12 hours of nonstop play. A dozen vintage home consoles, including the Atari 2600, Intellivision, Nintendo NES and Sega Genesis, will be set up with plenty of games.

SC3 has been hosting vintage video game-themed events at various Southern California locations for over ten years. The October 1 event marks the group's second outing at Nucleus Gallery. "We're very pleased to be back at Nucleus," says SC3 organizer Steve Hertz. "Well over 200 people attended our previous event back in March. We're looking forward to an even larger crowd in October."

Live music, featuring 8-bit and chiptune artists 8 Bit Weapon, ComputeHer and virt, will begin late in the evening. Video game auctioneer GameGavel.com will be present to raffle off vintage gaming items. Traditional SC3 attractions, including '80s music and videos, a video game trading room, and live "Rock Band" competitions will also appear.

Admission to the event is $10 for those who pre-register online or $15 at the door. To buy tickets, visit http://gallerynucleus.com/event/319. You can visit the SC3 website here.



The September 2011 issue of Retrogaming Times Monthly issue is now available for viewing! Here's what's in this month's issue:
Apple II Incider - Steve Jobs: The End Of An Era
Retro Collecting 101 - Hunting Treasures In A Foreign Land
Gaming Tetralogies - The Legend Of Zelda Series
Standalone Spew - The Battle For Football's Second-Best
MAME Reviews - Radar Scope
Commodore Du Jour - Heart Of Africa
NES'cade - Dig-Dug II
Dual Perspective - Double Dragon III: The Sacred Stones
The Pixelated Mage - Jet Grind Radio
A Pixelated 21st Century
+ More!
You can read these articles and more inside the Retrogaming Times Monthly, now running 168 months in a row! You can also browse the RTM archives to catch up on past issues.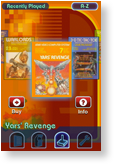 Atari recently released Atari's Greatest Hits for the iOS (iPhone/iPod Touch and iPad), featuring 100 classic Atari 2600 and arcade games. Developed by Code Mystics, this collection includes 92 Atari 2600 games and 18 Atari arcade games that you can play on the go. Atari's Greatest Hits also includes Bluetooth support for head-to-head play with some games, such as Pong and Warlords. You can also browse a gallery of memorabilia for the arcade games and view scans of the original Atari 2600 manuals. The free app includes the Pong arcade game, but you will need to purchase additional games inside the app (bundles are available for 99 cents or $14.99 for all 100 games).

You can download Atari's Greatest Hits in iTunes for your iPhone/iPod Touch and iPad. To discuss Atari's Greatest Hits with Code Mystics founder Jeff Vavasour and fellow AtariAge members please visit our Atari 2600 Forum.


The Atari Jaguar developers Reboot of JagWare have announced the release of Downfall, a freely available game for the Atari Jaguar game console. The game was unveiled at the AC 2011 party in France this past weekend. Downfall is inspired by the games Spike Goes Down (Vectrex) and Man Goes Down (Atari 2600), both created by Alex Herbert.

The object of Downfall is to guide your character through a never-ending chasm on a series of platforms, carefully avoiding rising above or dropping below the viewable area of the screen. Reboot have released the game free for download in ROM, BJL, and CDI format. The source code to the game is also freely available to download from the Downfall website.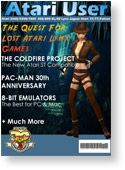 Atari User is a new online Atari magazine covering all Atari consoles and home computers systems. Atari User promises to bring you vital coverage of all the latest Atari related news including exciting new homebrew hardware modifications for your Atari systems and hot new games. Features include reviews of all the original Atari hardware as well as from third party manufacturers and extensive coverage of emulation with an ultimate goal to get you to play Atari today, and everyday. The second issue of Atari User magazine includes the following articles:
A look at the Atari Coldfire Project and their new Atari ST Compatible computer with an interview with their project coordinator
Exclusive Show Report from JAGFEST UK
Kieren Hawken begins his quest for lost Atari Lynx Games
We celebrate Pac-Man's 30th anniversary with a look at the different Atari versions of the game
Joust Head to Head: Which Atari version is the best?
Making Music on the Atari XL/XE
Basic Programming On The Atari 2600
Atari's DOS 2.5 Reviewed
Part 2 of our Atari ST: The Story series
Reviewed: Pick N' Pile, Hat Trick and Jinks
To learn more about Atari User magazine, please visit their website at AtariUser.com where you'll find details on how to purchase the magazine. Current issues are $3.95, or you can subscribe and receive 12 issues for $33. You'll also find a free preview you can download so you can sample Atari User before you buy.



The October 2010 episode of the RetroGaming RoundUp podcast is now online for your listening pleasure. The RetroGaming RoundUp is a monthly podcast that features a wide variety of classic gaming news, opinions and views from around the world. This month's podcast features a two hour interview with Ted Dabney, one of Atari's two co-founders, and is full of new information as it pertains to the birth of Atari and the Computer Space arcade game. Highlights in this month's podcast include:
Editorial
Breaking News!
Hardware Flashback
Guinness Gaming Records
Mike'd Up
Ted Dabney Interview
Atar Rewind
The Desert Dump
Top Ten Atari Arcade Games
Gaming Trivia
News And Mailbag
URLS And Emails
You can download the October 2010 podcast as well as listen to any RetroGaming Roundups you may have missed in their archive.



The Halloween Retrogaming Times Monthly issue is now out! Don't get too scared though! Here's what's in this issue:
Vectrexenstein - Berzerk
Apple II Incider - Transylvania
Dual Perspective - Ghosts 'n Goblins
Mutated Output: Lame Anniversaries & Geek Role-Playing
The Homebrew Sleuth: Star Strike
A Pixelated 21st Century!
And More!
You can read these articles and more inside the Retrogaming Times Monthly, now running 157 months in a row! You can also browse the RTM archives to catch up on past issues.
Previous 1 2 3 4 5 6 7 8 9 10 11 ... 81 Next