H.E.R.O. Maps
---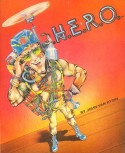 Adam Lewis has created a complete map of each level (1 - 20) of Activision's H.E.R.O. for the Atari 2600. After you complete level 20 these maps are then reused. Adam has also created a few other files of interest:
This last file is a savegame taken with the PC Atari emulator, starting you out at Level 20 with six lives. You can use it in PC Atari by first opening the H.E.R.O. binary image, and then loading this savegame:
Without further ado, here are the maps for all 20 levels. You may want to look at the legend on the right to help you interpret the individual maps. Click on any of the level images below for a complete map of that level.
Jump To Level: 1 2 3 4 5 6 7 8 9 10 11 12 13 14 15 16 17 18 19 20