We've all done it. Pretty much EVERYONE who is here on the Jaguar forum. Sat down with that one Jaguar game that has a distinctly unsavoury reputation, played it and given it more attention than most would on average... more than it deserves, in a quest to try and extract some level of enjoyment from it. Not only that, but to try and understand the game more; maybe what it was trying to achieve, regardless of it falling way, way short.
DDV has been this game, for me, this last couple of week nights for an hour or so after work/before bed.
So, I just wanna discuss my thoughts and feelings on this title as I now have a better understanding of it, on the whole. Most of which, isn't positive. This isn't actually what I would consider a review. More of a general perspective and overview. BEAR IN MIND, all of this is based off playing 1P Tournament Mode. Doubt I could ever subject anyone to playing this in 2P. Anyway...
I'll start off with the visuals etc.
VISUALS:
The graphics are (objectively speaking) very, VERY poor. Shitty, is no doubt, the optimum word that pops into my head. The design style is typical western dev horror of the 16-bit era and the character 'designs' are just shocking. As I say, the distinctly western look and feel of the game is just ugly. Obviously, it extends beyond 'design' and goes into the animation too. Outside of Bimmy, Jimmy & Sekka, all the other punch and kick animations just flat-out 'suck'.
GAMEPLAY
This is the big one really. The make or break, regardless of lacking visual quality.
The game has gamebreaking issues throughout. I'd be absolutely delighted to talk you through them now, in more detail than most would be bothered to go into. Maybe I did this because fighting games (2D, especially, if my username hadn't given it away already) are my favourite gaming genre? Most probably. But I really wanted to sit down and analyse it. I'll try and keep it all as simple as I can.
The core gameplay mechanics of 3P & 3K is fine. A lot of games used a similar system and there's no issue here.
However, obviously trying to utilise the standard Jag Controller for a 6-button game is a logistical nightmare, control wise. It doesn't work. However, you CAN configure the buttons, so that is something. I always recommend just programming 2x Medium & 1 Hard or 2x Hard & 1x Medium  - your choice, depending on preferred character and their relative attacks per button input basis. I play using a Pro Controller, so you can use 4x Face buttons (like a NeoGeo layout, funnily enough) and RH Shoulder. NOT... that bad tbh. I tend to map 2x Medium and 2x Hard to the face buttons and LP to RHS and LK to keypad.
But, about the gameplay itself. Several issues:
Firstly, when ever you attack the opponent, as you all know, all the opponent does is block, block, BLOCK! However, there IS a little more going on than you might realise. The game is actually cheating! Now, some of you more savvy about fighters will probably get this. The CPU actually cancels/interrupts their own attack animation with the block command. This means that. technically, whilst on the ground (as their is no mid-air block) the computer will ALWAYS interrupt/cancel their attack if YOU counter. Meaning, unless you throw the opponent, you will VERY RARELY, IF EVER hit the opponent whilst on the ground.
If you will, block is done in-game a la Street Fighter; hold back to block. However, it's almost as though the CPU uses (in laymans terms) button style blocking, like Mortal Kombat or Virtua Fighter, enabling it to automatically cancel any of it's attacks mid frame/animation.
Yeah... Broken. That's the main one. However, there's more.
The game doesn't allow you to cancel QC motions from standard attacks mid frame (not that there are any real frames to speak of, but most of these characters moves have approx 3 frames of animation - Stand: Chamber > Execute > Chamber: back to Stand). QC motions should be cancellable (in most 2D fighters) on the move being executed and connecting with the opponent. You can't do that in this game (think Street Fighter, when you accidentally fumble a fireball up-close and you do a crouching uppercut INTO a fireball. That's a cancel).
The game doesn't allow you to "buffer" charge moves either. So, when using Bimmy & Jimmy and you wish to use their Fireball attach (Charge < then > +P) you can't be buffering whlst doing other moves. Again, something you can do in other 2D fighters. You have to go out of you way to charge and then execute the move, which, if you are playing 2P, is MASSIVELY obvious as you both probably know each characters moves (Bimmy & Jimmy specifically).
Also, you cannot jump over you opponent at will. You hit an invisible wall in mid air. Lame as f*ck. This also breaks for game for obvious reasons I won't elaborate on. You CAN, very rarely get over them (happened to me ONCE the other night) but, out of a 100% ratio, 95% of the time, you won't jump over the other character.
The gameplay also crunches down to a a terrible slowdown fest at points in the game. The music and gameplay just slow right down, almost like there is a scratch on the non-existent disc! This happens on the 64-BIT Jaguar Multimedia System when the going gets tough in game. Embarrassing.
SOUND:
Now, I haven't played the SNES or MD versions of this game, but will admit, I am now tempted to pick up one of the two (probably MD tbh) just to compare various aspects of both games. Now...
I've listened to the OST for all 3 games, the MD & SNES via YouTube. I find it a bit weird saying this, but so far, I like the Jag music compositions and instrumental arrangements the best of the 3. Objectively, the SNES is probably the best, but... I really like the sound of most of the Jaguar versions > the others. Especially Metro City Hotel and Outside the Shadow Dojo, as well as the character select screen.
As mentioned earlier though, the sound can be really badly effected by what's going on in game, often causing music to play out of key and warble, like when you emulate games on your PC.
SFX are just the usual average fair. Nothing of note here.
OTHER/CONTENT/ETC:
So, this is an intriguing one for me.
The game consists of the usual 8 character fare found in Street Fighter 2 at the time. However, the other 16-bit versions have 10 characters.
Seemingly, to break it down:
MD/GEN & SNES have 10x characters plus 2x bosses (selectable/playable via code/in vs) - one of which, is Dominique. The other is the Shadow Master.
JAGUAR has 8x characters, one of which is Dominique - right off the bat.
So, technically, there are THREE characters missing from the Jag version: Blade, Trigger Happy and Icepick. All of which look decent. Icepick, especially.
However, if you go and grab your DDV box out of storage/off the shelf, you'll see characters listed on the back of the box, NOT INCLUDED in the game and that 1st bold bullet point: "12 big lightning fast characters":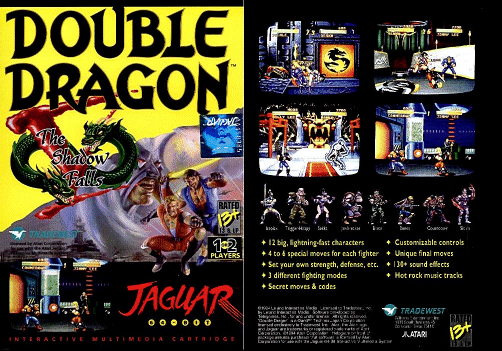 So far, as much as I can ascertain, vs the Jaguar version... this is all lies.
Also, there's a website called "Doube Dragon Dojo". My DDV research took me there. I found this little excerpt (re: GEN version) that I found intriguing:
"This game was originally designed for the Jaguar, then ported to the 16-bit systems"
(http://doubledragon....dv/rddvgen.html)
Really? I don't see this as being true and I would assume it's a hypothetical opinion based on how 3 versions all turned out(?), however... if it IS true, then that would at least be entertaining to think about and even WORSE, from a technical standpoint: Designed for Jaguar and superior versions were PORTED to the MD & SNES!
Anyway, sorry to end this so abruptly, but the whole game became an intrigue for me for a couple of days. I thought I'd share my findings/feelings on the matter.
FWIW, this game is STILL more enjoyable/playable than FFLife...
Edited by NeoGeoNinja, Thu Apr 2, 2015 3:29 AM.