AtariAge News Archive
Previous 1 ... 5 6 7 8 9 10 11 12 13 14 15 ... 84 Next

AtariAge is attending the 2010 Classic Gaming Expo July 31st and August 1st in Las Vegas! The Classic Gaming Expo (CGE) is the world's largest event catering to classic gamers, and AtariAge will have a large booth jam-packed with retro-gaming goodness! At CGE you'll find a wide variety of systems to play, games to trade and buy, tournaments to participate in, gaming celebrities, and tons of like-minded gamers to discuss your favorite hobby with!

If you're attending the show (and we know many of you are!), here's a preview of what you can expect to see at the AtariAge booth! We'll be introducing several new games (Turbo, Duck Attack, K.O. Cruiser, and FailSafe), we'll have demos of upcoming games for the 2600, 5200, 7800 and ColecoVision, we have brand-new AtariAge T-Shirts being introduced at the show, and we will have a large assortment of homebrew games, posters, and magazines available for purchase at the show. And we're introducing Atari 2600 Cartridge Magnets at CGE! These magnets are made from Atari 2600 cartridges and we've created an assortment of 30 unique labels featuring rare and prototype Atari 2600 games.

We're also going to have a surprise homebrew release at the show and will only have a limited number of copies available! You can find detailed information about our booth at the Classic Gaming Expo right here. See you in Vegas!

Discuss in our Forum with other visitors...




Curt Vendel of Legacy Engineering is spearheading efforts to develop an Atari 7800 Expansion Module that would greatly expand the capabilities of the 7800. The module plugs into the cartridge slot atop the 7800 and adds the following features:
128K of program area RAM in 8K segments to allow larger game programs to run on the Atari 7800.
The module will free up the MARIA and improve performance.
A Pokey sound chip (used in the Atari 5200 and 8-bit computers) for enhanced audio of games that implement its use.
The Pokey chip will also be wired to an SIO port to allow for future use of Atari 8-bit SIO computer peripherals.
A DB9 Port is also added for potential keyboard input.
Built in High Score Cart capability
An onboard BIOS is being developed to control certain functions and aspects of the module
A second, more advanced audio processor is being examined to possibly be implemented into the module for even greater audio capabilities.
Games are currently in development to take advantage of these new features, and test boards are presently being built. Cost is expected to be $79-$99 USD with a professional plastic enclosure, packaging and technical documents. Expected release date will be sometime around Fall 2010 if the development schedule continues at its current pace.

The 7800 Expansion Module is a collaborative effort from the hardware and software talents of GroovyBee (Mark), OpCode (Eduardo), Legacy Engineering (Curt), along with some advice from Steve Golson formerly of GCC (original developers of the 7800). It was decided early on in the project to incorporate input from game developers to ensure that the enhancements were tailored to what 7800 developers were looking for to allow them to expand their coding projects on the system.

We'll have the first public demo of this new 7800 Expansion Module in our booth at the upcoming Classic Gaming Expo, taking place at the end of July. You can view a rendering of the 7800 Expansion Module in our Atari 7800 Forum. If you're interested in learning more about the development of this new 7800 hardware, you can read this year-long thread on the subject in our forums.

Discuss in our Forum with other visitors...




The War Continues... After the successful elimination of the terrorists and their missile silo complexes, we have heard through various sources that they have relocated, and have doubled their security! Once again you must invade enemy territory and prevent the missile launching aimed at Washington D.C. and stop the terrorists once and for all!

In FailSafe you must make your way through five different terrains in search of the Depot where you will pick up Fail-Safe clues. One letter in the code, in its correct position, appears in the center of your fuel gauge. The sixth terrain is the most dangerous of all - the missile silo is heavily guarded by all enemies, including a mine field! If you make your way past that, you will have to enter the four-digit hexadecimal code to stop the launch and save the world. Do that, and you will start over in a more difficult environment.

FailSafe is a new Atari 7800 homebrew game by Bob DeCrescenzo (aka, PacManPlus), who has a stellar track record in releasing a variety of high-quality arcade ports under his belt. FailSafe is an unofficial sequel to Atari's original game Countermeasure for the Atari 5200. In February 2010 AtariAge held a FailSafe Label Contest to solicit artwork for FailSafe's cartridge and manual. We had 50 great submissions, with the winning label submitted by AtariAge users Jah Fish and Nonner242.

We've made 50 copies of FailSafe available before this year's Classic Gaming Expo. Get yours now before they're all gone!

Discuss in our Forum with other visitors...




The July 2010 issue of Retrogaming Times Monthly is now available. In this month's issue you'll find the following features:
Abandoned But Not Forgotten: The '80s CRPG
Lunch With Tom Votava
A Super Controversy
Apple II Incider - Stellar 7
Dual Perspective - Contra
Mutated Output: Rituals Of Radio Shack's 'Lost Tribe' Live On
The Homebrew Sleuth: Yie Ar Kung-Fu
Modern Retro - Bionic Commando (360/PS3)
A Pixelated 21st Century!
Arcade Memories - Q*Bert
You can read these articles and more inside the Retrogaming Times Monthly, now running 154 months in a row! You can also browse the RTM archives to catch up on past issues.

Discuss in our Forum with other visitors...




If you grew up in arcades during the early 80's, you're probably familiar with the haunting, "Beware I Live!" emanating from Sinistar. One of Williams Electronics' later games, Sinistar is a fast-paced space-based shooter where you must mine crystals from asteroids, while avoiding enemy drones and Warriors who are building the evil Sinistar. These crystals form the basis of bombs you'll use against Sinistar, who will ruthlessly chase you through space once his drones complete assembling him.

Atari created a nearly complete version of Sinistar for their Atari 8-bit computers, but the game was never commercially released. You can read a thorough review of Sinistar over at AtariProtos.com. Thanks the efforts of Ken Van Mersbergen (Dutchman2000 in our forums), Sinistar is now available for you to enjoy. Ken has posted XEX and ATMAX versions of the game in our Atari 8-bit Forum, and an ATR version is available here.

If you have an Atari 5200, we've made some Sinistar Cartridges available, featuring beautiful, hand-painted Sinistar artwork by David Exton. The Atari 5200 version of Sinistar was ported from the 8-bit version by AtariAge member Mark Keates and is basically identical to that version.

Discuss in our Forum with other visitors...




Have you ever wanted to pause a game while playing your Atari 2600? Has the phone rang, have you had to run to the bathroom, was dinner ready, or one of many other scenarios where you had to abandon your attempt at a perfect game of Pitfall? We're proud to offer an Atari 2600 Pause Kit that you can install in your favorite Atari 2600 console! Once installed, you'll be able to pause any 2600 game, allowing you to resume your paused game right where you left it!

The Atari 2600 Pause Kit includes:
Populated Atari 2600 Pause Kit circuit board
Red, Black, Blue, Green and Orange (x2) wires
Heat shrink tubing
Toggle switch
Double-sided tape
Basic soldering skills are required to install the kit. We've provided detailed installation instructions to help you add pause capability to your favorite 2600 console. Order your Atari 2600 Pause Kit today!

Discuss in our Forum with other visitors...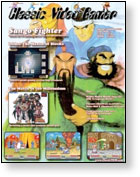 Classic Video Gamer Magazine (ClassicVGM) has announced they are now accepting pre-orders for Issue #4, due to be released shortly. In addition, ClassicVGM has just launched the long-awaited digital subscription feature. Those interested in an electronic version of Classic Video Gamer Magazine can now purchase a 1-year Digital Subscription. As a bonus, all Digital Subscriptions will receive the previous digital releases for free with their purchase.

ClassicVGM is a full-color, professionally printed magazine covering classic video games. The fourth issue features a guest appearance by Brandon Cobb of SuperFighterTeam, software and hardware reviews, a report on the 2010 TooManyGames Expo, CAGDC 2010 Coverage, and much more. Pre-orders for ClassicVGM #4 end on June 19th, 2010. You can learn more about ClassicVGM by visiting their website at www.classicvgm.com.

Discuss in our Forum with other visitors...




The June 2010 issue of Retrogaming Times Monthly is now available. In this month's issue you'll find the following features:
Happy 30th Birthday Pac-Man!
Hack The Pac: Explaining/Modifying The Code of Google Pac-Man
My Mid-Life Crisis Is Sponsored By The Sega Master System
Atari 5200 Zone - Super Pac-Man
Apple II Incider - Ms. Pac-Man
Dual Perspective - Mega Man 3
A Timely Time Soldiers Review (SMS)
The Champ Of Champ-Games - Pac-Em
Mutated Output: Less Evil Than The Competition
The Homebrew Sleuth: Atari 2600 Dungeon
A Pixelated 21st Century!
Behind The Pixels - Paperboy
You can read these articles and more inside the Retrogaming Times Monthly, now running 153 months in a row! You can also browse the RTM archives to catch up on past issues.

Discuss in our Forum with other visitors...




The United Kingdom's biggest Atari show is back for 2010 with the announcement of JagFest X - Retro Revival, scheduled to take place September 24th - 26th at the Thistle St Albans in Hertfordshire, England. Originally envisioned as an Atari-centric event, JagFest has now expanded to become an all-systems multi-format gaming event.

This year's event will feature:
Gauntlet 2 - Full 4 Player experience!
The Atari Owl Project - See how the Jag's most exciting new game is progressing!
Multi Format Gaming - Including all the Atari machines along side Sega, Nintendo, Philips and even modern consoles!
Gaming Tournaments - Win lots of prizes!
Coders Corner - Speak to real programmers and get the insight on all their projects!
16/32 Systems Webshop - A host of great Atari items you can buy at discount prices!
Jaguar VR - A chance to experience this lost wonder!
Some very special guests - TBA!
Limited edition T-shirts
Secret Projects - Now that would be telling!
You can learn more by visiting the official JagFest X Site.

Discuss in our Forum with other visitors...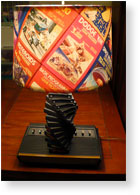 What classic gamer wouldn't want an appropriately-themed lamp lighting their game room? AtariAge user Cebus Capucinis has created a working lamp fashioned from an Atari 2600 console and a stack of Atari 2600 cartridges. The colorful lampshade consists of box artwork from a variety of 2600 titles and complements the 2600 console and cartridges perfectly.

This is the third iteration of Cebus' Atari lamp (Atari Lamp 3.0), and for this model a dead Atari 2600 6-switch is used as the lamp base. This model features an in-line "hidden" light switch in the back of the Atari for easy switching on and off and a nice stack of cartridges up the middle with an improved pipe core to keep the stack complete. The wiring for the lamp itself runs out the RF hole from the Atari so it looks just like an actual Atari would.

Here's a video of the lamp in action:



You can read more about the Atari Lamp in our Atari 2600 Forum, which has more details about the production and a large assortment of photos. Cebus also started another thread where he sold a small run of lamps and lampshades, with the intent to sell more in the future.

Discuss in our Forum with other visitors...




The May 2010 issue of Retrogaming Times Monthly has been published and is available online. Features from Issue #72 include:
A Cryptic Telegram
The Champion Of Champ-Games
Mutated Output: Atonement By A Heretic At The CoCo Altar
Dual Perspective - Pac-Man
NES'Cade - Tiger-Heli
The Homebrew Sleuth: Atari 2600 Mean Santa
Modern Retro - Gunstar Heroes
What Is The Meaning Of Three?
You can read these articles and more inside the Retrogaming Times Monthly, now running 152 months in a row! You can also browse the RTM archives to catch up on past issues.

Discuss in our Forum with other visitors...




Version 3.1 of the popular, multi-platform Atari 2600 emulator Stella has been released. Among the many improvements, this new version includes several enhancements to the debugger, as well as fixes to help prevent lockups and crashes. The OS X version of Stella has received additional attention to bring it more in line with other systems as well as Apple's application standards. To view a detailed list of all the changes, as well as discuss the emulator with Stella's primary developer, please visit our Emulation Forum.

Discuss in our Forum with other visitors...




In a somewhat surprising move, Atari co-founder Nolan Bushnell has been appointed to the Board of Directors for present-day Atari SA. Online business veteran Tom Virden has also been appointed to the board, while Phil Harrison and David Gardner have resigned their positions. Nolan Bushnell is most famously known for his association with Atari and launching the wildly successful Atari 2600 game console. He is also responsible for founding the Chuck E. Cheese restaurant chain and has started numerous other companies since then (most of which have not been successful).

Bushnell made the following statement regarding his appointment, "I am very excited to be reacquainted with Atari at a time when it is poised to make interesting strides in key growth areas of the games industry. The company and its iconic brands have always been important to me, and I look forward to further guiding them at the board level."

Reactions from our members have been mixed. Some feel that this is a public relations stunt and that Nolan rode the coattails of others to greatness and has no place being involved with today's Atari. Others welcome this change and believe that without Bushnell there would have been no Atari and that today's video game landscape might have evolved differently (or not at all). You can discuss this announcement in our Classic Gaming General forum with other AtariAge visitors.

Discuss in our Forum with other visitors...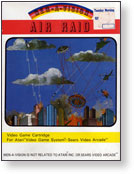 Unless you've been disconnected from the Internet this past week, you've certainly heard by now about the Atari 2600 Air Raid auction that ended for $31,600 several days ago. To our knowledge this is perhaps the single most expensive purchase price for a video game ever, even including the NES Stadium Events that ended at over $40,000 recently on eBay (the actual sale price of that Stadium Events was purportedly significantly less). The winner of the Air Raid auction is an AtariAge member well-known for his impressive collection of Atari 2600-related games and artifacts. The auction resulted in 52 valid bids, and in auction's final seconds bidding jumped from $17,528.28 to its final price of $31,600.

This auction generated quite a bit of publicity for the game's original owner, Tanman, with news of the "$31,000 Atari Video Game" spreading all over the web. CNN even had an Air Raid story linked from their front page and Tanman appeared in a television interview by a local Fox affiliate. Since the boxed Air Raid auction concluded, at least two loose copies of the game have popped up on eBay, including this cartridge being sold by AtariAge member HollowBeers, which is already at $1,525 with eight days to go until the auction's completion.

Discussion in our forum of this auction has resulted in a thread with over 1,600 posts. Thus far, no additional boxed copies of Air Raid have surfaced.

Discuss in our Forum with other visitors...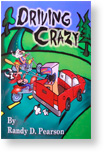 AtariAge forum member Atari Smeghead's debut novel has been published and is now available.

Award-winning author Randy D Pearson has written his first book, a humorous adventure about two lifelong friends who travel across the country to pick up a Crazy Climber machine. They find themselves in all sorts of trouble, and will have to rely on their luck and ingenuity if they hope to get this classic arcade game, and themselves, home in one piece.

According to Randy, this 262-page novel is filled with humor, drama, exciting chases and features many video game scenes, including such arcade classics as Galaga, Tempest and of course, Crazy Climber. Even the Atari Jaguar has a cameo.

Retail price for Driving Crazy is $12.99. For more information, including excerpts and deleted scenes, please visit www.randypearson.org or join the discussion in our Marketplace Forum.

Discuss in our Forum with other visitors...




A new issue of Retrogaming Times Monthly has been published and is available to read online. Features from the April 2010 issue (#71) include:
The Cybernet Society 1995-1997 R.I.P.
Vectrexenstein - Pole Position
Apple II Incider - Mario Bros.
NES'Cade - 720 Degrees
All Eyes On...Super Hang-On
Dual Perspective - Final Fight
Mutated Output: Patsies, Pioneers, and Politics
The Homebrew Sleuth: Atari 2600 Cave In
Modern Retro - Spyro The Dragon
A Pixilated 21st Century!
Arcade Memories
You can read these articles and more inside the Retrogaming Times Monthly, now running 151 months in a row! You can also browse the RTM archives to catch up on past issues.

Discuss in our Forum with other visitors...




AtariAge user Tanman has recently discovered he owns a previously unseen box for the extremely rare Atari 2600 game Air Raid, produced by a company called "Men-A-Vision". Less than 20 copies of the game are known to be in hands of collectors, and until now, a box for the game has never surfaced (although existence of such a box has been claimed in the past). Air Raid is a hacked version of Space Jockey and appears to have been produced in Taiwan. Tanman was the original owner of this copy of Air Raid, having purchased it in a Tuesday Morning store in Arlington, Texas in the mid 1980s. We had a chance to view the box in person and have no reason to doubt its authenticity. Scans of the box will be added to the AtariAge database soon, but you can view this thread (already up to 18 pages), which includes pictures of the box in the first post.

Tanman is selling this boxed copy of Air Raid on eBay and bidding for this Atari 2600 "holy grail" is already over $4,000 as I write this. You can view the auction here.

Discuss in our Forum with other visitors...




Former Atari 2600 Activision programmer David Crane has published his second 2600-related iPhone app, Dragster Magic, volume two of his Technical Wizardry Series. David Crane has been developing games for over 30 years, getting his start writing games for Atari and later going on to found Activision where he created the venerable classic Pitfall! David Crane's Technical Wizardry Series beings with the 2600 Magic app, explaining the internal video circuitry of the Atari 2600 and how that hardware is used by programmers to write Atari 2600 games. Dragster Magic continues along these lines, detailing the obscure tricks invented to create Activision's first game, Dragster. If you're curious at all as to how the Atari 2600 ticks and you have an iPhone or iPod Touch, these apps are a great way to learn what's going on behind the scenes when you fire up your favorite Atari 2600 game. You can learn more about 2600 Magic and Dragster Magic in the iTunes Store.

Discuss in our Forum with other visitors...




AtariAge and Digital Press are proud to announce Retro Rumble, a joint venture aimed at joining retrogaming communities in a little spirited competition as well as co-op play. Retro Rumble will debut in Las Vegas at the Classic Gaming Expo 2010 on July 31st. The AtariAge and Digital Press exhibit areas will be mirror images with plenty of the great products you'd expect, but between the two booths will be a gaming area where various tournaments and challenges will be hosted throughout the 2-day event.

Are you the king of the road in Indy 500? Can you fend off the competition in a round robin Warlords tournament? Are you a better Mario in Mario Bros? Prepare to test your skills in an unforgettable union of gaming communities. Watch all THREE sites for more info and hints of what's to come: AtariAge, Digital Press, and Classic Gaming Expo in the days that lead up to the event.

Naturally, we'll see YOU there!

Discuss in our Forum with other visitors...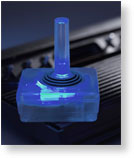 AtariAge Forum member Gulag Picture Radio is better known as Bohuš Blahut, co-editor of retrothing.com. The madmen behind Retro Thing have teamed up with Legacy Engineering to come up with a limited edition product that's cool enough for serious collectors, but affordable and fun enough for anyone who remembers classic video gaming.

The Clear Classic USB Joystick is modeled after the iconic joystick from the 70's and 80's, but the similarity ends there. This joystick plugs into a USB port to play retro games on a modern PC or Mac. The stick is transparent plastic with a blue circuit board and a blue LED that illuminates the stick from within for a slick retro-futuristic look. The Clear Classic stick works with almost any emulator, so now you can play your Atari, Amiga and Commodore 64 favorites in retro style.

The stick is a limited edition item, and is bound to sell out fast. The complete package sells for $29.95 and includes the stick, numbered certificate of authenticity, USB cable, and a copy of the excellent Stella 2600 emulator on CD. You can learn more at Reflex Audio Systems.

Discuss in our Forum with other visitors...

Previous 1 ... 5 6 7 8 9 10 11 12 13 14 15 ... 84 Next