AtariAge News Archive
Previous 1 ... 2 3 4 5 6 7 8 9 10 11 12 ... 84 Next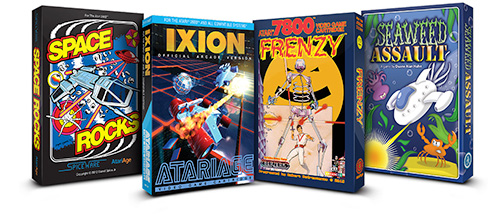 AtariAge is attending this year's Portland Retro Gaming Expo, and several new homebrew games will be making their debut at the show! These games are:
Space Rocks (Atari 2600) - A mix between Asteroids and Asteroids Deluxe, Space Rocks brings the arcade action home in a way never before seen on the 2600! Created by experienced Atari 2600 developer Darrell Spice, Jr., this is the version of Asteroids Atari could only dream of producing back in the day!


Seaweed Assault (Atari 2600) - In this original homebrew game by Duane Alan Hahn, you must wield your Manatee submarine against highly aggressive seaweed before it clogs up your sector. Don't let the seaweed strangle your civilization to extinction!


IXION (Atari 2600) - This previously unreleased prototype (itself based on an obscure arcade game) finally sees the light of day in cartridge form! We've even created a more challenging version of the game titled IXION ULTRA with all new levels, with both versions available on the same cartridge.


In addition to these new games, we'll also have a large number of systems setup where you can play new games currently in development. These titles include Star Castle Arcade, Zippy the Porcupine, Bentley Bear: Crystal Quest, The Byte Before Christmas, and many others! And, as always, we'll have a large assortment of homebrew games from our online store as well as AtariAge t-shirts.

If you're attending the show and would like an AtariAge name badge, please visit this thread in our forums for more details.

Discuss in our Forum with other visitors...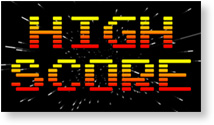 HighScore.com, a new high score registry based on peer review, is holding a contest where $500 in AtariAge Store gift certificates are up for grabs! Prizes are available for the best qualifying scores posted for Yars' Revenge, Lady Bug (2600), U.F.O. (Odyssey 2), and more. HighScore.com enables average players to see how they rank relative to their peers. The site can show users how they rank in their city, state, country, and the world, and awards trophy icons (a.k.a. badges) to users who hold the highest score in their region. Users can submit scores along with photos or videos to document their accomplishment, then other site users can vote on whether or not they believe the score is legitimate. After the voting is finished, the user will receive any trophies they qualify for, and they will then also receive a ranking.

The contest ends on October 31st. See the AtariAge Contests Forum for more details on how you can participate!

Discuss in our Forum with other visitors...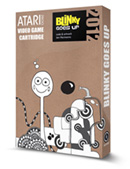 We've just added several new Atari 2600, 7800, and Jaguar homebrew games to our online store! Here's a list of what's new, and you can follow the links for more details about each game: You can find these homebrew games and many more in the AtariAge Store!

Discuss in our Forum with other visitors...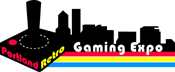 AtariAge will be returning to Portland for this year's Portland Retro Gaming Expo, taking place on October 5th and 6th at the Oregon Convention Center. We like the show so much, this will be the third time we're making the trip to Portland for this event! If you can be in Portland that weekend, we strongly encourage you to attend!

The Portland Retro Gaming Expo has much to offer classic gaming fans, and is one of the largest such events in the country. You'll find a large number of vendors selling classic gaming consoles and games, a huge 200 game arcade organized by Portland's own Ground Kontrol, two separate auditoriums for speakers and panels, an after-hours party Saturday evening, a live auction, cosplay contest, video game tournaments, and much more!

AtariAge has plans to release several new boxed homebrew games for the Atari 2600 and 7800 at the show! We'll also have demos of games currently in development, with a sneak peak of some homebrew games to be released during the holiday season. Our booth will be even larger than last year's, allowing us to setup more game systems for show attendees to enjoy! In addition to releasing several new games, we'll also have a large selection of other homebrew games from our online store, as well as other classic gaming merchandise.

Please visit the official Portland Retro Gaming Expo website to learn more about the show. We've also setup a forum to discuss the event for those who are attending. If you're attending the show, please stop by our booth and say hello!

Stay tuned for an upcoming announcement detailing all the games and demos that will be available from AtariAge!

Discuss in our Forum with other visitors...



You know a story about old Atari video games has hit the mainstream when friends and family who probably haven't touched an Atari 2600 in 30 years start forwarding you news stories! That's the case with recent news being reported by the Alamogordo Daily News . A Canadian-based multimedia entertainment company by the name of Fuel Industries plans on digging up the Alamogordo landfill in New Mexico, where Atari purportedly dumped truckloads of games decades ago. The Alamogordo City Commission has given its approval to Fuel Multimedia to excavate the landfill site over a six month period. Fuel plans on creating a documentary about the Alamogordo landfill legend.

The Alamogordo Daily News reported in September 1983 that between 10 and 20 semi-trailers from an Atari facility in El Paso, Texas were buried at the landfill. The story even appeared in The New York Times, and an Atari spokesman confirmed the report. To keep people from getting their hands on this merchandise, the games were supposedly crushed and buried under concrete. Although no specific Atari merchandise was mentioned as being dumped, many reports have (perhaps erroneously) stated that upwards of 3.5 million copies of the 2600 game E.T. The Extra Terrestrial may have found their way to the landfill. It's more likely that the Atari dump contains a wide variety of Atari game console and computer hardware, as well as unsold video game cartridges. If Fuel Industries is successful in their excavation, we may soon know for sure!

Discuss in our Forum with other visitors...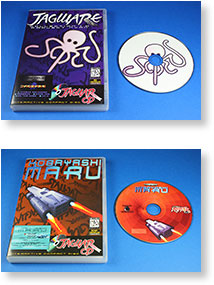 AtariAge has added two new Jaguar CD titles to our online store, Jagware Collection 1.0 and Kobayashi Maru: Final. Both game feature a glass-mastered, pressed, silkscreened CD in a shrinkwrapped DVD-style case with professionally printed insert. A Jaguar CD unit is required to play both titles. You can learn more and get your copies today in the AtariAge Store.

Jagware Collection 1.0

Jagware Collection 1.0 is a collection of games from four different groups, presented by Jagware. The games included in this collection are: Do The Same from Cerebral Vortex, Diamjag by Orion, Atomic Reloaded from The Removers, and Beebris by Reboot. All four games support online scoreboards. Also included is an exclusive early look at the alpha build of Project II, an upcoming scrolling shoot'em up from Reboot.

With each team offering one of their titles, this collection is not only a great way to own some of the Jaguar's best visceral experiences, but also an opportunity to say thanks to Jaguar hardware developer SCPCD, creator of the JagCF and Jagtopus 4-cart programmer.

Kobayashi Maru: Final

Xu approached the balcony of his presidential suite in his usual calm and purposeful manner. This time was different, however. As he looked out to the stars for what was sure to be the last time, he knew he had only one card left to play and that it offered no realistic hope of success. The Ebil Alliance was determined to take the whole galaxy... their invading forces too great in number and their simultaneous attack on all four worlds impossible to defend. As he raised his finger and gestured towards the hangar below, signaling the launch of the Tetrad's prototype warp ship, he knew his coalition of the last four free worlds in the system could not hope to survive such an onslaught.

Kobayashi Maru: Final is a 50/60 fps rotary action shooter for the Atari Jaguar games console and was written utilizing a version of the new Raptor Engine by Reboot. It can be played with either a rotary controller (such as Chaos Reins, Tyrant or Jonathan Ascough pad) or a regular Jaguar joypad. As with all our other games, it's freely available for download in a number for formats to suit your setup.

Discuss in our Forum with other visitors...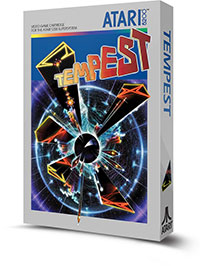 Tempest for the Atari 5200 is now available for purchase from the AtariAge Store!

For 15 years, the existence of an Atari 5200 version of Tempest was thought to be only myth. No prototypes had ever surfaced. A crude 2600 version had come to light, along with a prototype box. Then, in 1999, an unfinished working 5200 prototype appeared on eBay. The game was eventually dumped and the binary freely distributed around the Internet. Another decade has gone by since the game's discovery, and the original Atari 5200 Tempest programmer, Keithen Hayenga, worked to complete Tempest so it could finally see the light of day in completed form!

Tempest 5200 includes the game cartridge with glossy label, twelve page full-color, glossy manual, professionally offset printed box using chipboard paper stock, and cartridge insert to keep the cartridge in place. Only 250 boxed copies of Tempest will be produced! After that, the game will be sold without the box. If you want a boxed copy of the game, don't wait too long!

Order Tempest for the Atari 5200 Today!

Discuss in our Forum with other visitors...




Team Pixelboy, maker of many fine ColecoVision homebrew games, is giving ColecoVision fans a chance to order past releases which are currently sold out, namely Pitfall II Arcade, Track & Field, Destructor SCE, Circus Charlie, Star Force, Golgo 13, Ninja Princess, Bank Panic and Konami's Ping-Pong. More copies of these games will be manufactured in February 2013, but only for those who will have placed a pre-order for these games before January 31st 2013. This is a limited-time offer, and after new supplies of these games have been manufactured and sold, they will all be permanently sold out. If you're a ColecoVision fan looking to expand your collection of games, don't miss this opportunity! Visit teampixelboy.com for more information, and contact Pixelboy himself by e-mail to place your pre-order. Note that you can also send him a private message on AtariAge, but Pixelboy prefers being contacted by e-mail for matters of orders and pre-orders.

Discuss in our Forum with other visitors...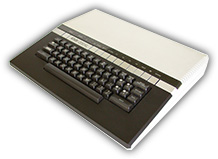 It's been a while since we've posted news about the Atari SAP Music Archive (ASMA), but it continues to be updated on a yearly basis with new music. This year's Christmas update added 315 new Atari 8-bit tunes. The archive now consists of 4,630 songs, comprising a playing time of 7 days 18 hours 33 minutes 33 seconds. Here are some other statistics:
Number of songs: 4,630 (5,795 including sub-songs)
Compared to HVSC: 10.7 % (HVSC r58 contains 43,116 songs)
Disk space occupied: 26,317,431 bytes (excluding documents and playlist)
Average SAP file size: 5,684 bytes
Songs in stereo: 441
Number of musicians: 210
Most active musician: Michal Szpilowski (Miker) (201 songs + 4 cooperations)
The Atari SAP Music Archive contains the best tunes from Atari 8-bit computers in a format that can be reproduced perfectly by various SAP players. You can get the latest collection of music as well as players for a variety of platforms at the Atari SAP Music Archive.

Discuss in our Forum with other visitors...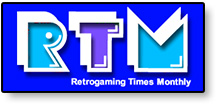 The first 2013 issue of Retrogaming Times Monthly has been published. This month's issue features a look at Wreck-It Ralph, the top retro games of 2012, and more. Here's what you'll find in issue #104:
Caught On Film - Wreck-It Ralph
The Pixelated Mage - Top 10 Of 2012
Apple II Incider - Christmas Gifts For The Apple II Fan
CoCoLicious! - The CoCo's 3rd Time Is A Charm (Part 1)
The Way Things Were - January 1983
MAME Reviews - Astro Blaster
NES'cade - Cabal
Beyond The Plastic - Tom & Jerry (SNES)
The Retro Junkie - NHL '94
And More!
You can read these articles and more inside the Retrogaming Times Monthly, now in its 184th month! You can also browse the RTM archives to catch up on past issues.

Discuss in our Forum with other visitors...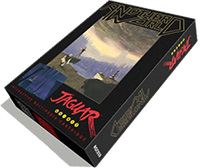 The Retro-Gaming Connexion (RGC) association is proud to announce the upcoming release of the game Another World on cartridge for the Atari Jaguar console. The iconic game, released in the early 90s, has been adapted by Sebastien Briais of the group Removers of Jagware with the blessing of the original developer, Eric Chahi. You can view a video of the game being on YouTube.

The RGC is producing the game in the truest spirit of the original Jaguar releases, in cartridge form with a box and manual. In order to fund the project through the various stages of manufacture the game is being offered by pre-order. Release of the game is currently slated for Spring 2013. Each person who reserves a copy will receive a numbered confirmation slip by e-mail. The price for Another World is 62 Euros by PayPal, and you can pre-order a copy here.

Discuss in our Forum with other visitors...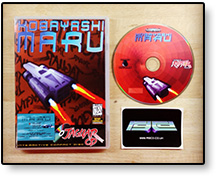 Reboot of Jagware and RGCD are pleased to announce the release of Kobayashi Maru: Final.

Kobayashi Maru: Final is an updated and fine-tuned version of Reboot's freely-released game of a year ago. The game is based on an arcade favorite from the early 80s. Use your rotary controller (adjustable to allow for sensitivity of your particular spinner) or regular Jaguar pad to steer your warpship in this arcade space shooter, battling countless drones and huge boss craft in ever-tougher waves of attack. Featuring subtle use of the Jaguar's RMW graphics capabilities, background graphics blend together as you tear around in the upper atmosphere over four worlds.

This version of the game has updated graphics, new sound effects, webscores, and also supports Memory Track game saves. The physical copy comes cellophane wrapped in a standard DVD box with full color printed inlay and full face printed, glass-mastered CD, direct from the factory (100% professionally produced in the UK). You can purchase your copy directly from the RGCD website.

Discuss in our Forum with other visitors...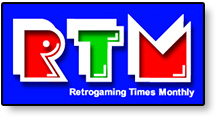 The Christmas 2012 edition of Retrogaming Times Monthly has been published! Inside issue #103 you'll find the following articles:
The Retro Junkie - The Batman Effect
Retro Collecting 101 - Perler Mania!
CoCoLicious! - It Takes Two, CoCo2 That Is!
The Thrill Of Defeat - The Dragon That Faintly Roared
MAME Reviews - Pirate Ship Higemaru
Apple II Incider - Scouting The MicroLeagues
The Retro Junkie (Strikes Back) - TMNT III: The Manhattan Project
Freeware Alert - Iji & Not Tetris 2
And More!
You can read these articles and more inside the Retrogaming Times Monthly, now in its 183rd month! You can also browse the RTM archives to catch up on past issues.

Discuss in our Forum with other visitors...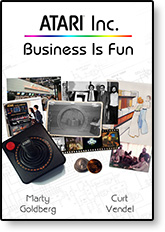 Atari Inc. - Business is Fun, the book that goes behind the company that was synonymous with the popularization of 'video games,' is now finished and for sale!

Nearly 8 years in the making, Atari Inc. - Business is Fun is comprised of thousands of researched documents, hundreds of interviews, and access to materials never before available. An amazing 800 pages, including nearly 300 pages of rare, never before seen photos, memos and court documents, this book details Atari's genesis from an idea between an engineer and a visionary in 1969 to a nearly $2 billion dollar juggernaut, and ending with a $538 million death spiral by June of 1984. Several key and important fully detailed side stories are included, such as:
The creation of "Rick Rats Big Cheese Restaurants" which later became "Chuck E. Cheese's"
The amazing story of Atari's very own "Xerox PARC" research facility up in the foothills of the Sierra Mountains
The dramatic dealings and double-dealings between Atari Inc. and Amiga Corp. for months prior to Jack Tramiel coming into the picture.
You can learn more about Atari Inc. - Business is Fun and order a copy here.

Discuss in our Forum with other visitors...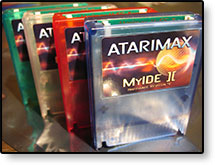 Pre-ordering is now open for the new Atarimax MyIDE-II CompactFlash Cartridge. The MyIDE-II Cartridge is a professionally produced Compact Flash interface for Atari XL/XE computers. The first production run is limited to 100 cartridges, which are expected to ship on or before December 15th, 2012.

The MyIDE-II cartridge includes the following:
Compact Flash Hardware Interface
512kB On-Board User Customizable Flash Memory
512kB On-Board Application SRAM
Mr-Atari's MyBIOS Included
Available in Clear, Red, Blue and Green Cases
CNC Machined Case Openings
Professionally Assembled Immersion Gold PCB
Hardware Support from Atarimax
Real Lifetime Warranty
Pre-order pricing for the MyIDE-II is $69.99 + shipping. To learn more about the MyIDE-II and place and order, please visit Atarimax.com.

Discuss in our Forum with other visitors...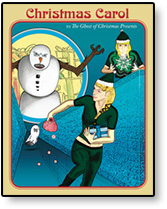 Left Turn Only Productions and the Intellivision® High Score Club invite you to a very special edition of the High Score Championship: Carol vs. The WORLD! Play the game "Christmas Carol vs. The Ghost Of Christmas Presents" and help Carol Greenleaf save Christmas from the Evil Snowman. Rise to the top of the ranks of Santa's Elite Elf Squad and submit your top score to the judges. The person with the highest score received by the deadline of December 31st, 2012, wins a very special gift from Santa Claus himself!

Plus, as if all that were not enough, Left Turn Only Productions is giving away the game to everyone! In keeping true to the Christmas spirit, and as a gesture of good will, they are offering the game in ROM format as a free download.

To get your copy of the game ROM or for more information on the contest, please visit the official Carol vs. The World! Championship web site, or the Intellivision® High Score Club forum here in AtariAge.

Discuss in our Forum with other visitors...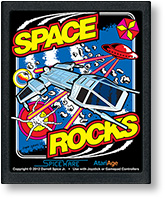 Congratulations go out to Dave Dries for winning our Space Rocks Label Contest! Quite a few great entries were submitted for this contest (over 50 in all!), making for a difficult decision on part of the game's author, Darrell Spice, Jr. For his winning label design (pictured to the right), Dave Dries will receive a $50 gift certificate in the AtariAge Store, as well as a boxed copy of Space Rocks once it is available for purchase.

For the first time, we've decided to award three Runner Up prizes as well! The runner ups for the Space Rocks contest are Brian Ostrowski, André Bolfing, and Nathan Strum. Each of the runner ups will receive a copy of Space Rocks adorned with their winning label.

Congratulations again to Dave Dries and to all the participants who took the time to enter the contest and show off their talents! You can view all 55 submissions here and discuss the contest (and results) with other AtariAge visitors in our Contests Forum. If you'd like to be notified about our next label contest, please use our Contact Page to drop us a line. See you next time!

Discuss in our Forum with other visitors...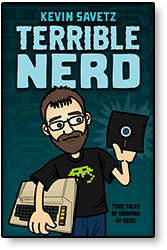 Kevin Savetz has published a new book, Terrible Nerd. It's a memoir about growing up nerdy in the '80s: being part of the first generation of kids with computers on our desks. Pirating games on floppy disk, calling BBSes, coding on the Atari 800, crashing the Internet for all of Europe, helping clueless newbies as AOL's Internet AnswerMan, and many more true stories.

From Amazon:

Rich in detail and personal memories, this is the story of a boy coming of age in the dawn of home computing. This tech memoir gives readers a front-row seat to a self-confessed geek's early experiences with computers. Accessible to non-techy readers and computer nerds alike, this treasure trove of memories shows how growing up as part of the first computer-native generation shaped friendships, hobbies, and, ultimately, a career.

Terrible Nerd brings to life late nights swapping software, hacking the school computer, causing trouble on college radio, a stint as AOL's Internet AnswerMan, and hosting a team of Microsoft suits in his small-town home office. Kevin brings his experiences to life, writing with insightful candor and historical accuracy.

Terrible Nerd celebrates an era in all its geeky glory. You'll enjoy following along as Kevin flunks out of P.E. class, gets busted for reading the Intellivision game catalog at church, and accidentally crashes the Internet for all of Europe – yet ultimately triumphs and even gets the girl.

Terrible Nerd is also the first book with an Atari 800 on the cover in a very long time and is available on Kindle and paperback. Kevin is the creator of AtariMagazines.com and AtariArchives.org (sites hosted by AtariAge). You can discuss Terrible Nerd with Kevin Savetz in our online forum.

Discuss in our Forum with other visitors...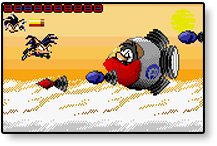 Super Fighter Team is proud to announce that new stock of their popular horizontal shooter for the Lynx is now available for order and immediate shipping! Developed by PenguiNet, Zaku is an all new, all original game that ships complete with full color instruction manual printed in both English and French, sturdy cardstock box and game card encased in a "curved lip" plastic shell!

The game's story:

After stealing a powerful game development tool known as Rarity 9, Captain Bran threatens to flood the markets of the world with his questionable quality software! But in all his plump luxury, he has forgotten about one person: Zaku! Help her soar to new heights and take the world by low coastal fog through 16 beautiful stages filled with lightning fast action and some of the most zany enemies you've ever seen!

You can order your copy at the official Zaku website.

Discuss in our Forum with other visitors...




Your elfy mission should you choose to accept it: Send one gift to your randomly assigned recipient. Then get one back from another super secret elf!

The holiday season is quickly approaching and is a time to share with family, friends, and the community here on AtariAge. If you are good natured and wish to enjoy some lighthearted holiday fun, please join us for the 2012 AtariAge Secret Santa gift exchange. To learn how you can participate, visit our Secret Santa 2011 thread. You'll need to submit answers to several questions to help your secret santa send you an appropriate gift. Participants will be randomly assigned one person to send a special gift based on their recipient's answers. In return they will receive a gift from another Secret Santa. The deadline for signing up this year is November 15th. The AtariAge Secret Santa is open to members who have joined our forum no later than August 15th, 2012.

Discuss in our Forum with other visitors...

Previous 1 ... 2 3 4 5 6 7 8 9 10 11 12 ... 84 Next