Welcome to the AtariAge Store
Lynx GameDrive Now Available!
We now have stock of RetroHQ's Lynx GameDrive, and you can purchase one immediately without having to get on a waiting list! The RetroHQ Lynx GameDrive cartridge allows you to play all your Atari Lynx games and homebrew games directly from a memory card. This updated version of the Lynx GameDrive cartridge has support for EEPROM save games as used by some homebrew software as well as improved game load time (no longer than one second for even the largest games), and an improved game selection menu.
You can learn more about the Lynx GameDrive and purchase one here.
New Jaguar Titles Arrive - Pre-Order Today!
We're proud to announce the addition of three new Atari Jaguar games to the AtariAge Store, Last Strike, reBOOTed, and Brawn and Brains! We've also re-issued an older Jaguar title, Xenon 2, with an updated box and label, as well as a completely new manual! Pre-order these games today, and we'll have them shipped to you as soon as they are ready (currently aiming for the end of November).
Here's a brief description of each of the new games:
Last Strike: Last Strike is a fun shooter with both horizontal and vertical scrolling levels. You must defeat the enemies you encounter while traversing each level, rescuing any stranded humans you encounter along the way. And you'll want to rescue the humans, as you earn credits that you can later use in the shop to upgrade your ship! Some of the upgrades include the Megabomb, Twin Shot, Rear Shot, Shield, Extra Life, and Speedup. At the end of each level, you'll encounter an enemy boss that you must destroy in order to proceed to the next level!
reBOOTed: From space, to the open highway, to the sea. The worlds of Reboot return in a multi-game cartridge that will make your head spin and TV explode with hours of fun! These landmark, thoroughly updated classics, can now be easily enjoyed in one cartridge! reBOOTed is a collection of seven Jaguar games on a single 6MB cartridge! The games featured in this multipack have all been given an update with new graphics, music and other additions such as Pro Controller support and cartridge saves. Some of these titles have previously never had a physical release, while others were only available on Jaguar CD or in extremely limited runs due to production costs.
Brawn and Brains: Brawn and Brains is a collection of three unique Atari Jaguar games, each from a different Jaguar developer. This collection features Dragonkeep (Lawrence Staveley), Tiles (Rik Day), and Do the Same (Matmook/Jagware). This is the first release of these games in cartridge form, offered in an economical release with cartridge and manual.
Lynx GameDrive from RetroHQ Available!
We have a limited number of Lynx GameDrives from RetroHQ in stock! Once this batch sells out, it'll be about two months before we have the next batch.
The Lynx GameDrive from RetroHQ allows you to play all your Atari Lynx games and homebrew games directly from a memory card. This updated version of the Lynx GameDrive cartridge has support for EEPROM save games as used by some homebrew software as well as improved game load time (no longer than one second for even the largest games), and an improved game selection menu.
And if you're a Jaguar fan, we expect to have stock of the RetroHQ Jaguar GameDrive cartridge, and we expect to have those available in a few months. If you're not already on our waiting list, you can add yourself to the list here.
New 2019 Homebrew Releases Now Available!
The new releases from October's Portland Retro Gaming Expo are now available to purchase online! In total we have nine new 2600 games, one new 5200 game, and one new 7800 title! You can click on the images below to jump directly to each game's entry in the store.
Here's a list of the new games:
We also have the AtariVox+ back in stock, which is used by four of the above new games for saving high scores, as well as by Wizard of Wor Arcade to replicate speech from the original arcade game! And, finally, we've added boxes as an option for about 50 games, including last year's new 2600, 5200, and 7800 boxed releases (Dungeon II: Solstice, Mappy, Space Game, Froggie, and RealSports Curling).
Speedball 2 and Fantasy World Dizzy for the Jaguar!
We've just added two new Atari Jaguar titles to the AtariAge Store! We're proud to reveal that
Speedball 2: Brutal Deluxe
and
Fantasy World Dizzy
are now available to pre-order. Each game includes a high-quality, professionally printed box, manual and label. Fantasy World Dizzy (like Treasure Island Dizzy before it) is limited to 250 copies. We will be shipping pre-orders for these games as soon as printing for the boxes, manuals and labels is complete, so order today to make sure you're among the first to enjoy them! You can keep abreast of our production progress
in this thread
in our Atari Jaguar forum.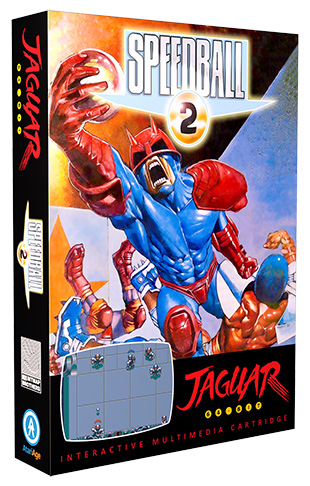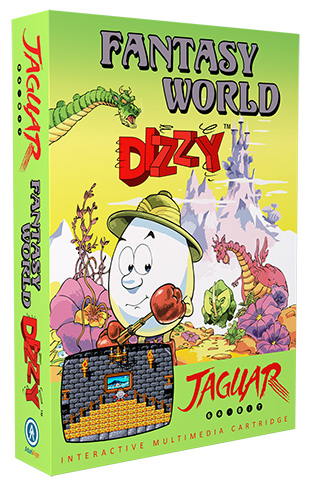 Speedball 2: Brutal Deluxe
It's been two years since the last ball was thrown on a Speedball pitch. There are new teams, new stadia, and new rules. The arena is bigger, the players are tougher, and the action is faster than ever before.

The challenge is this: take control of Brutal Deluxe, the worst team in Speedball history, and turn them into champions.

Speedball 2 is a different ball game!
Speedball 2: Brutal Deluxe
is a video game based on a violent futuristic cyberpunk sport that draws on elements of handball and ice hockey, and rewards violent play as well as goals. The concept of the game is very reminiscent of the 1975 film
Rollerball
. The original game was developed by Bitmap Brothers and is one of their most successful titles. Originally released for the Atari ST in 1990, Speedball 2: Brutal Deluxe has been ported to a variety of additional systems and has finally made it's way to the Atari Jaguar!
Fantasy World Dizzy
Dizzy & Daisy strolled through the enchanted forest without a care in the world... But suddenly the Evil King's trolls seized poor Daisy! She was sent to the Wizards Weird's Tallest Tower, while Dizzy was dragged away and thrown into the deepest, darkest, dankest of the King's Dungeons in the bowels of Fantasy World.

Dizzy was frightened! Who knew what fate awaited him...and he still hadn't done this week's homework! But then he remembered that he had a fresh green apple that he had planned to give to his teacher to escape detention, and he cheered up. And there was some bread and water on the table!

A cunning plan began to brew in his mind...
Dizzy and The Yolkfolk are characters created by the Oliver Twins, and these characters would appear in many games during the 8 and 16-bit eras. Most of their appearances were in multi-screen platform adventure puzzle games, however, they also appeared in some great arcade games as the title characters.
Slowly, over the course of the series, we learn more about this odd little family and help them out of the tricky situations they find themselves in by visiting the many varied locations of their magical world.
Fantasy World Dizzy
is our second Dizzy release, following on the heels of
Treasure Island Dizzy
, which is still available for purchase (get it while supplies last, though!)
Learn more about
Speedball 2: Brutal Deluxe
and
Fantasy World Dizzy
today!
New Jaguar Hardware!
We've added some new Atari Jaguar hardware to the AtariAge Store: a reproduction of the Atari Jaguar Pro Controllers and a Mouse Adapter that allows you to use Atari ST and Amiga mice with games that support them (such as Defender of the Crown and Jeff Minter Classics).
Many existing games can take advantage of the additional buttons on the Jaguar Pro Controller, and more homebrews will take advantage of them in the future. And right now four different games include mouse support, with more coming down the road. You can learn more about the above hardware by clicking on the images.
New Trak-Ball Series Now Available!
Ever wish there were games that properly used the Atari CX-22 and CX-80 Trak-Balls on the Atari 2600? No need to wish any longer, as we've just added TEN Atari 2600 games that have been modified to use the trak-ball, as well as Atari ST and Amiga mice! Atari didn't release any games for the 2600 that used the proper trak-ball mode on these controllers, but thanks to experienced 2600 coders Thomas Jentzsch and Jeff Johnson, you can now put your Atari trak-ball controller to proper use!
Here are the ten games in the AtariAge Trak-Ball Series. You can click on the individual images to learn more about each game:
You can browse all the trak-ball games here! Enjoy!