I can now build custom, one-off carts for the 2600, 5200 and 7800 with high-quality, glossy, die-cut label using a new printer, custom label die and label stock I recently purchased. For the 2600, with the
Melody Board
, this means I can produce cartridges with virtually any bankswitching method. All you need to do is send me the binary and the label files you want me to use and I can make you a spiffy cartridge. Here's an example of two carts I made recently using this process: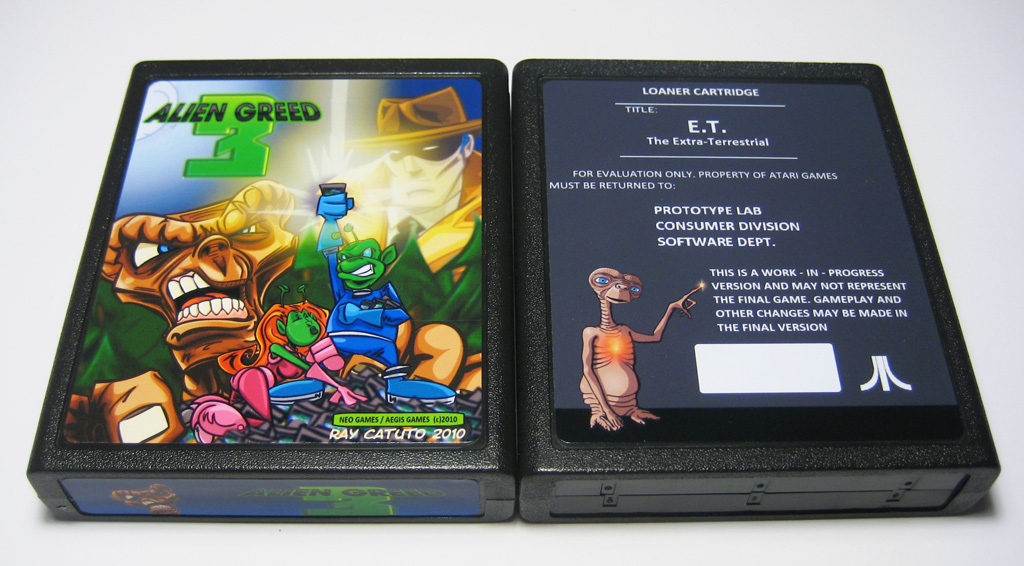 The labels have a glossy appearance, nice, rounded corners and have a strong adhesive so they won't peel up off the cartridge. These are the nicest labels I've been able to print myself without having to have large runs of labels professionally printed. Since 2600, 5200 and 7800 carts all use the same size labels, I can easily make custom carts for any of those systems (I will offer this same service for the ColecoVision soon as well).
Follow these links for complete details on how to order these custom cartridges:
Custom Atari 2600 Cartridge
Custom Atari 5200 Cartridge
Custom Atari 7800 Cartridge
Note that I will not produce cartridges of homebrew games or hacks without the author's permission. Also, if you ask me to create cartridges of rare 2600 titles, I will add "REPRODUCTION CARTRIDGE" in small type somewhere on the label (and I'll get your approval before printing the labels). I don't want to see these cartridges hit eBay with the intent to deceive buyers.
I'll add pictures of carts as I get orders for them and permission to display them publicly (I'll probably create a gallery of pictures so people can see examples). I'm also hoping to build up a library of label art that I can offer to people wanting custom carts of this nature.
If you have any questions, please feel free to ask here or send me a message privately.
..Al