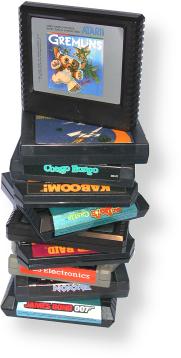 Unlike the Atari 2600, the 5200 has a much smaller library of games, making it one of the easiest systems to build a complete library for. The 5200 has a high ratio of enjoyable games compared to many systems, making it a pleasure to collect for. Most of the games for this system were produced by Atari, as the system didn't have a long enough life for many third party companies to join on. As such, when you do find 5200 carts in the wild they're almost always from Atari (and if you're lucky, Activision or Parker Brothers)

The rarest games for the 5200 are those produced by third parties. These include Meteorites (Electra Concepts), Zenji (Activision), Frogger II (Parker Brothers) and Bounty Bob Strikes Back (Big Five Software). The rarest Atari produced cartridge is Gremlins. If you plan on purchasing a 5200 system to play games on, be sure to get the 2-port version as this one uses a standard RF box.

The rarity scale is a general indicator of how easy or difficult it is to come across a game. The scale starts at 1 (very easy to find) and finishes at 10 (nearly impossible to locate). Thanks to auction sites such as eBay, even extremely rare games come up for auction frequently enough, but these often command a fairly high price depending on the rarity. If you have any comments about the listing of a title or its rarity, please post them to the Rarity Guide Message Board.