For those who are not aware of this game, please
read the FAQs here
in the Homebrew forum. You can read through the history of the development cycle.
Even if you don't own an Odyssey, you may still enjoy this game because it's playable as a strategy board game without the video game component.
The final draft of the instructions are attached to get a good idea of the way the game works.
Here is an overview of the four games that are included (read the attached PDF for further details):
Mentis - Two player strategy board game.
Mentis Strike - Same as Mentis, but utilizes the Odyssey for additional game play elements.
Ego Mentis - A singer player strategy game similar to peg solitaire that only requires the game peices.
Mentis Siege - An Odyssey version of Breakout. Also single player.
Buying Instructions
The game will cost $57. That includes the cost of production for each unit, all of the materials, shipping, packaging, a little extra for me to recoup the cost of licensing the artwork for the box and the time I put into it. The board alone is almost $40. These shipping costs may not be 100% accurate. If it turns out to be more, I'll ship anyway and send an invoice.
PM me your name (as you would like it to appear on your certificate), address, and the email address you use for Paypal.
I will reply with my Paypal address, and send an invoice. I prefer to not use any method other than Paypal. But if you cannot use Paypal for whatever reason, and can show that you have good rep here or elsewhere, then feel free to contact me with an alternative method for payment.
I'll notify everyone when their item is shipped. Orders will run for a week or two until most people who wants one can get one, and I can make one single order of PCBs.
International buyers please add $5.
Please send the money as a GIFT or add $2 for Paypal fees. I didn't do this with Odball last time, and the losses to fees really added up.
List of people who made orders*:
0. Rev. Rob
1. njb12287
2. ianoid
3. zodiacprime
4. retrogmr
5. slapdash
6. jeffgamer
7. y-bot
8. frap
9. swlovinist
10. mb7241
11. Uppy
12. rpgcollector
13. soloman
14. PsychedelicShaman
15. Dave
16. Coyo5050
17. Sold
18. Sold
19. Sold
20. Sold
21. Sold
*Games will be numbered in the order of first come, first serve.
What you get:
Pictures of the final prototype are shown below. The following items are included with the game:
Tube
Two vellum screen overlays
1 Instruction Sheet - double sided
9 Game Pieces
Vinyl Game Board
Pouch
6 Dark Game Peices
6 Light Game Peices
Hand Numbered Certificate of Purchase with your name (not pictured)
Prototype game box with instructions shown and screen overlays (graphics on the final will look more professional):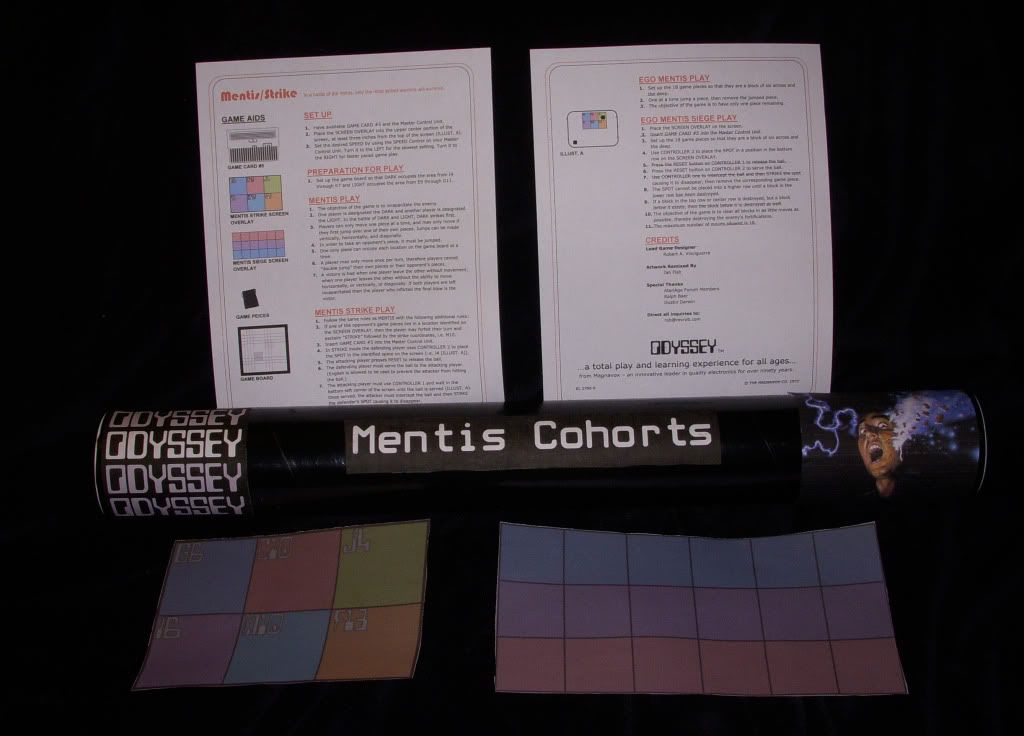 Mentis Board set up to play with pouch in picture: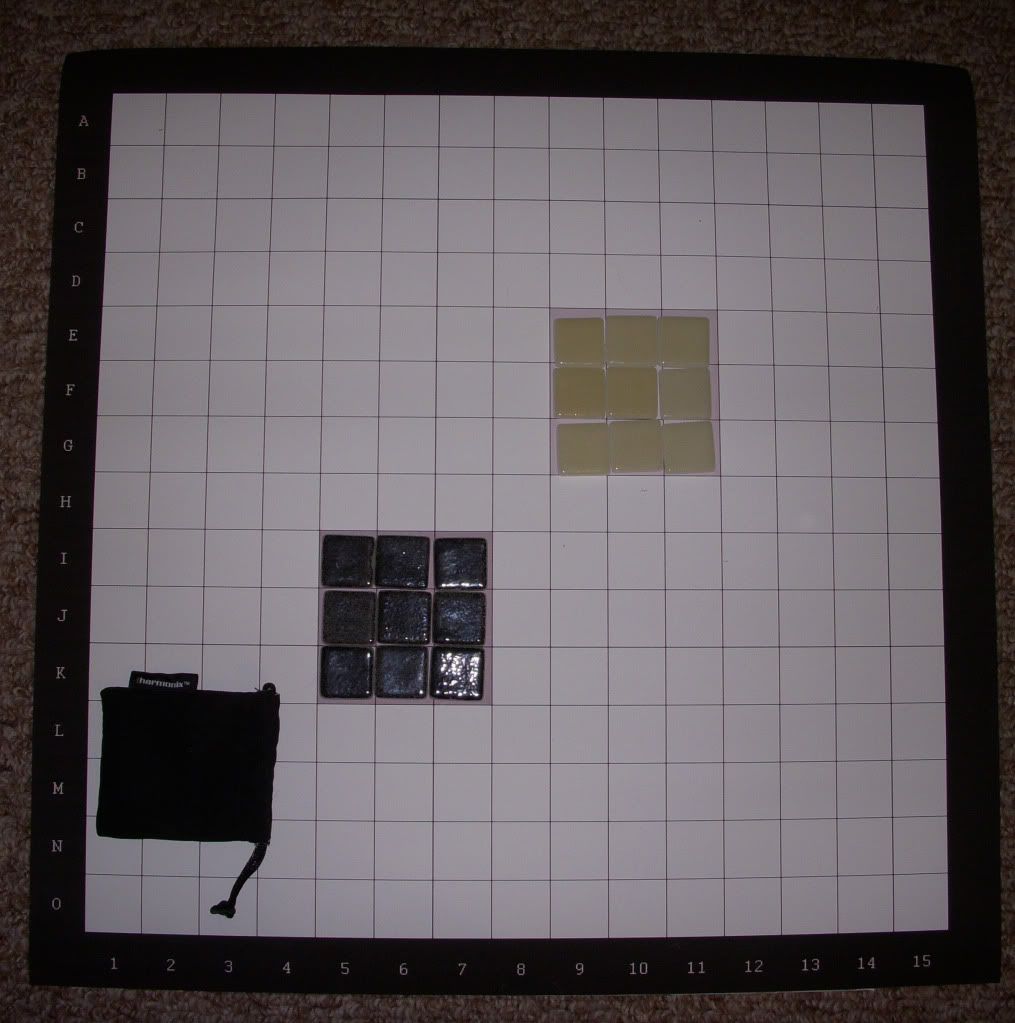 Mentis - Game in progress:
Mentis - Dark Victory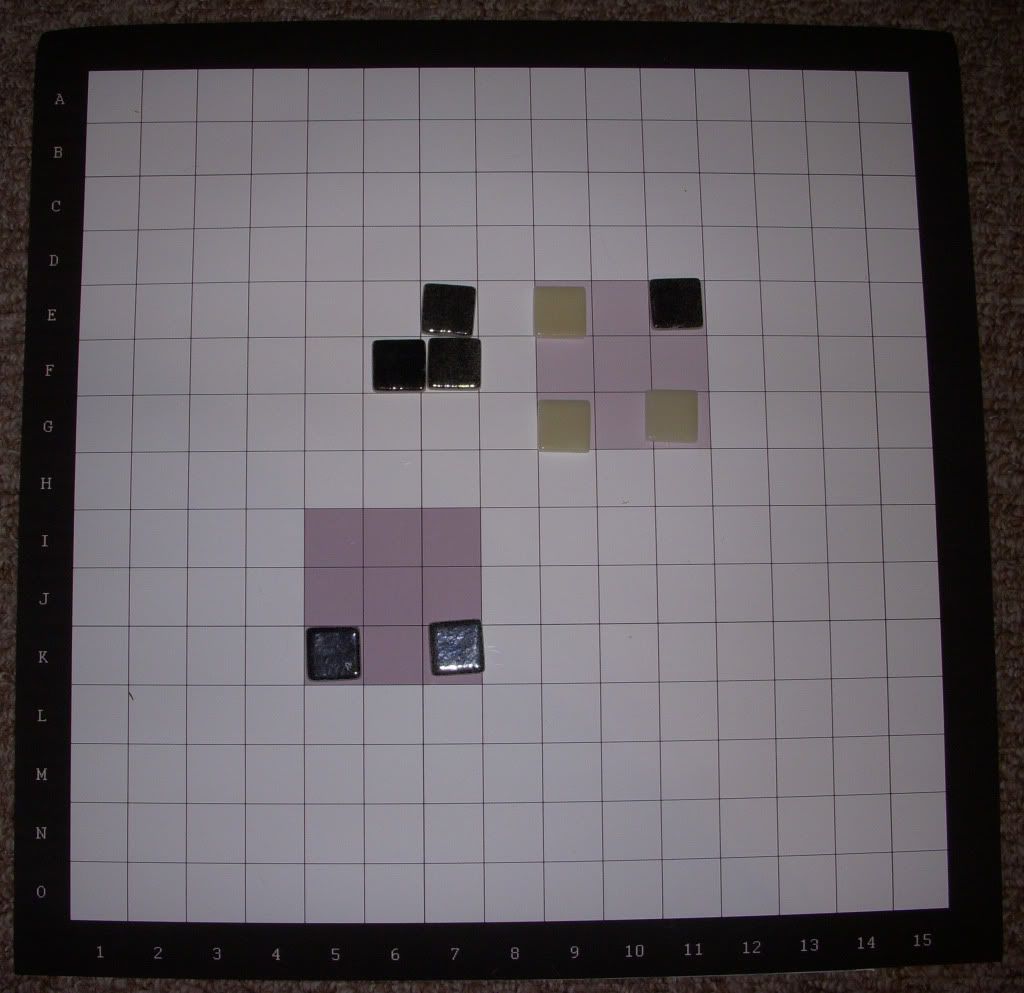 Close up of pouch:
Edited by Rev. Rob, Thu Feb 3, 2011 2:57 AM.