Everybody's favorite fabled

frosty

firefighter is back! But so are those pesky fireballs, and they're hotter than ever! This year they've kidnapped Santa and some of his helpers, so it's up to you to put out the fireballs and rescue your friends from their fiery fate.

Your first

frosty

adventure was just a warm-up - now there are all new levels to conquer and challenges to face! Fortunately, you've found some new magic in that old silk hat of yours. Can you

stay

frostier, fight your way to the fireballs' frigid fortress, and freeze those fiendish flames?
AtariAge and the team behind the upcoming Atari 2600 homebrew
Stay
Frosty
2, lead by author Darrell Spice, Jr., have released a playable demo of this original, holiday-themed game!
Stay
Frosty
2 is a sequel to the original
Stay
Frosty
, released as part of a collection of mini-games in
Stella's Stocking
several years ago. This special demo version of
Stay
Frosty
2 contains a selection of levels featured in the full game. Can you conquer them and rescue Mrs. Claus? The full version of
Stay
Frosty
2 features more characters to rescue, 32 unique levels which repeat at increasing difficulties for 128 total levels, and many more surprises!
You can download the the demo version of
Stay
Frosty
2 attached to this post. Included are NTSC and PAL versions of the game you can enjoy in the
Stella
emulator (make sure you're using the latest version) or on a real Atari 2600 system with a
Harmony Cartridge
. The full version of
Stay
Frosty
2 will be available soon in the
AtariAge Store
!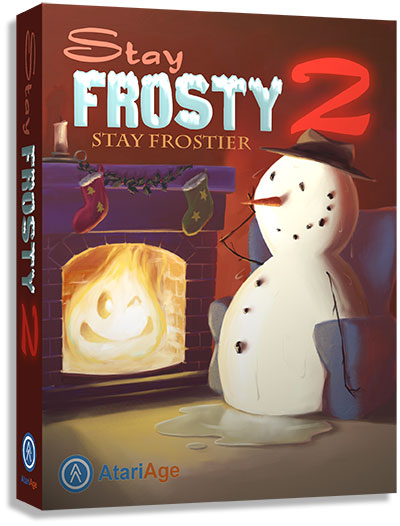 Enjoy!