Hawkquest
This is NOT part of the regular High Score Club Season as it's a PAL only game, but it needs to be played! NTSC users fire up the emulator and set the video settings to PAL.  
Downloads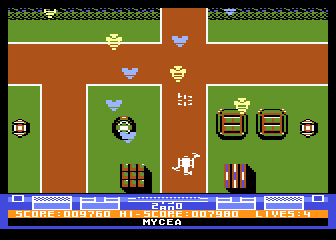 I would be interested to have seen how players reacted towards playing Hawkquest thoroughly - for obvious reasons... I put together the level designs for it's secondary games - and hoped that there was enough variety there - to keep the game interesting enough - but also a bit frustrating too - as a few were rather devious? to find where things were.

 

Seeing though it's a PAL only game - this may not be a popular choice to play here?

 

Harvey
Hi Harvey,
nice to hear from you, Hawkquest looks a really nice game, not one I know well. If you checkout the "H poll" I did want to play this but not supporting NTSC (as far as I can tell) was the problem so here we have a thread for some scores and comments (brace yourself!) Is there any documentation / instructions / can you remember which Page 6 magazine had the review and I'll post a link?
Thanks
Jason