Mr Robot & his Robot Factory
Bonus Game: Mr Robot Plus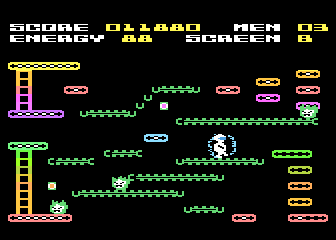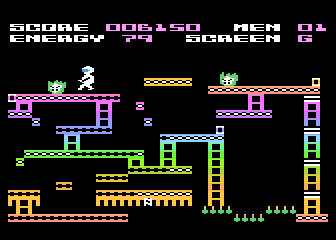 If you missed round 1 (Super Pacman) just post a late score and join in here
OK Mr Robot is fun but can be tricky for beginners on some levels, scoring is compromised as you restart each screen if you die, also you can get multiple extra men on certain screens so...
We'll play for levels completed
HSC hall of famers/anyone who has completed the game before: play from the start (level A) each time - no practicing screens, no skipping screens. On the screens with extra lives (M?) just collect 1 set, if you lose a man do not collect them again!
everyone else: you can use Select [F3] to skip over screens that are too difficult. Keep a track of which ones you have completed e.g. Screen A, B, E, G, M etc.
In the bonus game Mr Robot Plus, the screens are by goochman and myself. Fandal kindly made them into a proper game - and no I don't have an advantage, as it was a long time ago and I didn't play them seriously, seriously!
There are three sets of 26 levels, top players start from A on each set, other players can start on each screen individually (there is no level skip in game). Use the joystick to select the starting level. I would say the "Unknown" levels are easier and some of mine are real stinkers including the first level on Vol.1
  Press select [F3] after each go to return to the menu,
Hope this makes sense and will let everyone enjoy the games
Scoring
Mr.Robot: # levels completed.
Mr. Robot Plus: # levels completed on all 3 sets of screens combined.
Links
Fandal Mr Robot , Mr Robot Plus
Atarimania Info
Round closes Sunday 19th Feb, 10am UK time
Edited by therealbountybob, Mon Feb 6, 2017 7:20 AM.