Round 10 is an extended round giving everyone a chance to join back in to the action.
TIME PILOT "FINAL VERSION"
Download here
So you all want to play Time Pilot eh? Me too 
The "wip" was too easy so let's see what they've done to this one!
Full HSC points
STAR RAIDERS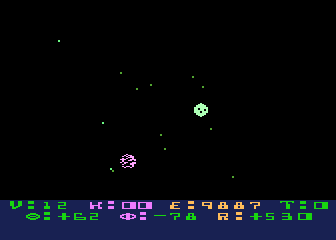 We'll also play Star Raiders as a bonus game, using Deteacher's rules on the 2nd post (he may update them!). I'm rusty on this one so will need to get my pad out with all the key presses! Atarimania has the docs, page 10 has the Simplified Novice Instructions !
Scoring based on performance?
SEASON 15 CATCH-UP MISSED GAMES AND IMPROVE SCORES
Play any games from rounds 1-9, post scores here please
There's lots of goodies and some better than average bonus games. I'm sure someone will list them all but just page down the HSC forum's 1st page to see the blighers
(including classics like Wizard of Wor, Oils Well, Rainbow Walker, Qix, Blaster and newbies Bosconian and Atari Blast!)
Points will be based on improvements in the tables.
Round ends Sunday 17th June 10am UK time
JOIN IN - HAVE FUN - PLAY ATARI