Apologies for having 2 expanded rounds in a row but now is the time to support the guys who are creating programs for our great 8-bit systems
This will be another three weeker ending 10am Sunday 20th April 2019
Berks 4
This is the main game, I know nothing about it but am really looking forward to seeing what Jon Williams, the creator of Jet Boot Jack and other cherished English Software Co. games has been up to!
Atariage Link: Berks Four (64K)
Scoring: Full HSC points
Bonus games
Baby Berks, Major Blink, Train, Joyas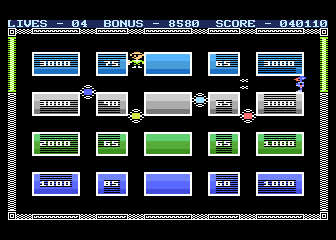 Atariage Links: Baby Berks v2 and Major Blink plus Baha Software's Train (1+2) and dmsc's Joyas (extended Ver)
Scoring: tba
Ten Liners 2019
Possibly many will be simple concepts and might not take any HSC competition play, but we'll see.
Scoring: 1pt for each one played with additional scoring for any that are competetive.
atariage Link:  BASIC Ten-Liners contest
The contest covers all 8-bit systems so if anyone has other systems or emulators to run other entries they can boost their points total. I see carlsson has created something too
perhaps he can tell us about emulation so we can cross over to the dark side and play it? or better still he can now port it to the Atari
Bonus points for commenting on any of the games featured in this round, either here or on their threads.
If anyone needs any help getting anything working please post. Everyone welcome to join in. We will return to regular HSC action after this round