Star Castle Arcade Label Contest
November 27, 2013 - Winner Selected!
Congratulations go out to Jordi Cabo for winning the Star Castle Arcade Label Contest! As usual for these contests, we had many fantastic submissions, which always makes for a difficult choice in the end! The game's authors, Chris Walton and Thomas Jentzsch, enjoyed Jordi's depiction of the game, harking back to the classically painted artwork that Atari created for many of their games back in the day. For his winning label design (pictured below), Jordi Cabo will receive a $100 gift certificate in the AtariAge Store, as well as a copy of Star Castle Arcade once it is available for purchase.
Here's an image of an Atari 2600 cartridge adorned with Jordi Cabo's winning label: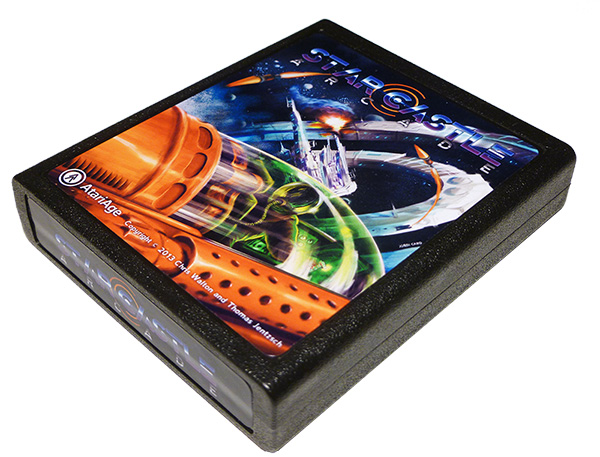 Congratulations again to Jordi Cabo and to all the participants who took the time to enter the contest and show off their talents! You can view all submissions below and discuss the contest (and results) with other AtariAge visitors in our Contests Forum.
If you'd like to be notified about our next label contest, please use our Contact Page to drop us a line. See you next time!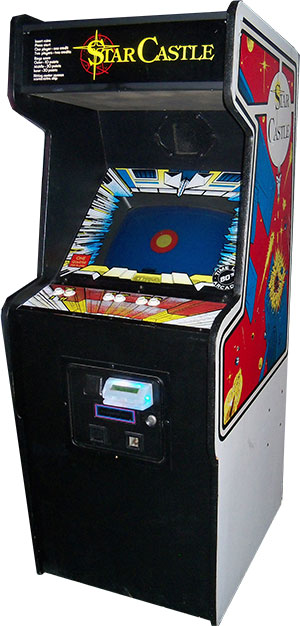 AtariAge and homebrew authors Chris Walton and Thomas Jentzsch are proud to announce a label contest for the upcoming Atari 2600 game Star Castle Arcade! The winning label design will be featured on the Star Castle Arcade cartridge, manual and box. The winner will receive a $100 gift certificate in the AtariAge Store, as well as a copy of Star Castle Arcade in cartridge form featuring their winning label design.
Star Castle Arcade is a 32K game that pushes the boundary of what's possible on the Atari 2600. Star Castle is a 1980 vector arcade game produced by Cinematronics. The game involves obliterating a series of defenses orbiting a stationary turret in the center of the screen. Chris Walton and Thomas Jentzsch have created a fantastic port of Star Castle for the Atari 2600, one of two versions of Star Castle developed in parallel. You can learn more about the first version of Star Castle that was released over at Kickstarter.
The object of Star Castle is to destroy an enemy cannon which sits in the center of three concentric, rotating energy shield rings while avoiding or destroying 'mines' - enemies that spawn from the core, pass through the energy rings, and then home in on the player's ship. They can stick back to the shield if the player maneuvers in such a way that a ring is between the ship and the mines. The player-controlled spaceship can rotate, thrust forward, and fire small projectiles. The cannon's shields are composed of twelve sections each, and each section takes two hits to destroy. Once a section is breached, rings beneath it are exposed to fire.
Improvements in this new version of Star Castle include:
Gameplay is much closer to the original arcade version:

Double hit segments
A different color for each ring
Animated ring transitions
Changing ring directions
Changing ring speeds
Mine AI (mines move with the rings, controlled randomness, lifetime)
Ship speeds and friction
Shots ranges, speeds and numbers
Gun AI (speeds, shot conditions)
Varying ship start positions
Much more free space to move around
Better sounds (e.g. the siren and the explosions)
Better in-game graphics (gun, explosions, animated mines, background starfield)

Fair difficulty ramp up
Varying ring colors
Impressive title screen with music
Four game variations
Highscore tables
Pause mode
NTSC/PAL color support in one ROM
If you'd like to try the game yourself, you can download the Star Castle Arcade beta release here. You'll need the latest version of the Stella Atari 2600 Emulator to run Star Castle Arcade.
Here's a photo of the game being played at this year's Portland Retro Gaming Expo: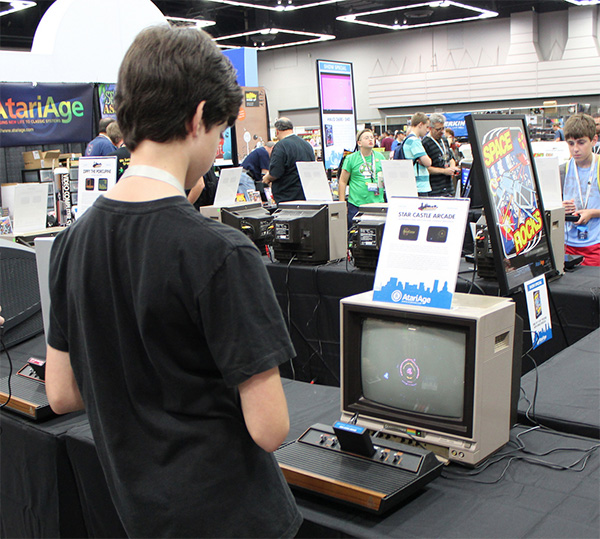 The winner of the contest will receive a copy of Star Castle Arcade in cartridge form, featuring their winning label design. The winner will also receive a $100 gift certificate in the AtariAge Store.
The contest will run until 11:59pm (CST), Sunday, November 24, 2013 and all submissions must be received by this time!
After the contest has ended, AtariAge, Chris Walton, and Thomas Jentzsch will review the contest entries and select the winner.
Here's a few screenshots for additional inspiration (click any image for a larger view):
Take a look at a brochure for the original arcade game (click any image for a larger view):
Label submissions and questions about the contest must be sent to [email protected]. For your label to be considered, please understand these guidelines and conditions:
End and Main Labels Required

Both a main label and an end label must be included with your submission.

Main Label Requirements

The main label should be the focus of your design efforts. Artwork for the main label will also appear on the front of the box and manual. Therefore, you should create the artwork at sufficiently high enough resolution to be suitable for these larger applications (600dpi raster art or vector artwork).

The title of the game, Star Castle Arcade, should appear prominently on the label.

The following text should appear on the main label, preferably near the bottom of the label. This text can be small in size as long as it is legible at printed size. If you do not include this text on your label entry, it will be added later:

Copyright © 2013 Chris Walton and Thomas Jentzsch

End Label Requirements

The end label must contain the game's title, Star Castle Arcade.

Clearly Legible Text

All text on the label must be clearly legible at the size the label will be printed (see below for actual dimensions). Please keep this important consideration in mind while you are designing your label.

Multiple Submissions

While we will gladly accept multiple submissions, we ask that each label be unique from your any previous submissions in some significant fashion. We reserve the right to reject labels that differ only in color or some other minor attribute from previous entries. We will gladly replace previous submissions with new entries if you so request.

Use of Copyrighted Images

If you use any copyrighted images, you must seek permission from the copyright holder before using that image as part of your label. Likewise, any labels that use artwork from a previously submitted label will be rejected. If we determine you have used copyrighted images on your label (or labels) and you have not obtained the rights to use those images, your entries will be rejected.

Grant of Rights/Warranty/Indemnification

By submitting an entry (or entries) to this contest, you: (i) grant to AtariAge the full right and license to use and reproduce your submission(s) for all purposes, including without limitation for use as the cartridge label for Star Castle Arcade on the Atari 2600; (ii) warrant and represent to AtariAge that all materials you submit are original to you and that they do not infringe upon any rights of any third parties; (iii) shall indemnify AtariAge from any and all claims which might be brought against them pertaining to your warranty above; and, (iv)acknowledge that the above stated grant of rights is made freely without the expectation of any compensation whatsoever, except in the event you are selected as the contest winner you will be given a copy of the game in cartridge form and an AtariAge $100 gift certificate as stated elsewhere in these contest terms and conditions.
Label submissions and questions about the contest must be sent to [email protected]. We will post submissions publicly on this page as we receive them. The contest may also be discussed in our Contests Forum. For some inspiration, you can view some of the many labels submitted in previous label contests.
Remember, the contest ends at 11:59pm (CST), Sunday, November 24, 2013!
Labels should be saved in a non-lossy image format such as PNG, TIFF, PCX, or BMP. If you need to save your image using JPEG for some reason, please use a minimal amount of compression. In order for the label to look good when printed, it should be saved at 300dpi or better. If you are concerned about large file sizes you can drop us a line before mailing the file, but generally this will not be a problem.
Label Templates:
Please take care to make sure your label is proportioned correctly. You may download these graphics to assist in this effort:
Please do not send your labels already attached to these templates, they are provided only to help you properly frame your label. We will shrink and crop your label to the correct size and place it on the templates for inclusion on this page where others may view them.
Actual label sizes when printed are 2 3/4" x 3 3/8" for the main label and 2 3/4" x 9/16" for the end label. If you have artwork that goes to the edge of the label, you will also need a 1/8" bleed around the edges. This bleed isn't necessary for the contest, but if your label design is chosen as the winner it will be necessary in order to print the label.
Logos:
You can download Star Castle and AtariAge logos here:

Star Castle Logo (vector and raster formats)

AtariAge Logo (vector and raster formats)
Click on any image for a larger version.
Total Submissions: 31